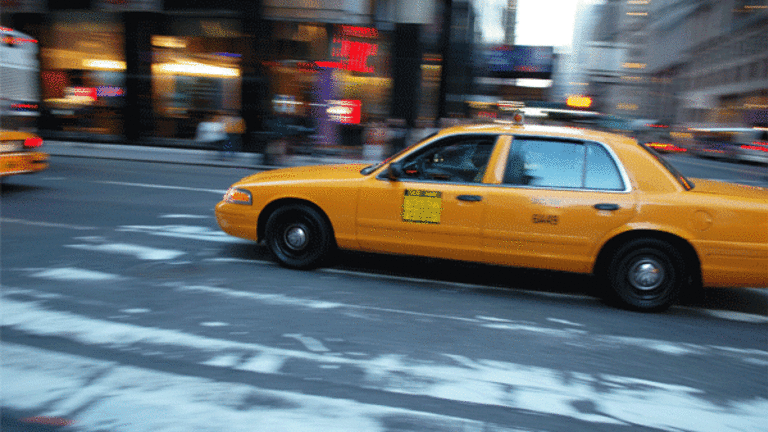 'Fast Money' Recap: Market Still Looks Good
The trading panel said the market responded well after Monday's huge rally.
The trading panel said the market responded well after Monday's huge rally.
The markets pulled back Tuesday after reality sent in on the Treasury's financial rescue plans.
The
Dow Jones Industrial Average
fell 115.65, or 1.49%, to 7,660.21, while the
S&P 500
lost 16.58, or 2.01%, to 806.34. The
Nasdaq
slipped 37.34, or 2.40%, to 1,518.43.
Pete Najarian said on
CNBC
's "Fast Money" TV show that the pullback "made sense" after the 500-day rally on Monday. He noted the financials surprisingly had a run while
Fed
chairman Ben Bernanke and Treasury Secretary Timothy Geithner were being grilled in Congress today.
Guy Adami remained very bullish about the market. "By Friday, we will get back all we lost and add 150," he said.
Tim Seymour said the market performed well technically. "We could have given up a whole lot more," he said.
Dylan Ratigan turned to Karen Finerman for her assessment of Day 2 of the Treasury's plan to deal with toxic assets. Finerman had a "mixed" response. While there is a great deal of interest from the PIMCO's of the world in picking up these distressed assets, she wondered what the price is going to be for these assets. "It's important because a low price will hurt the capital base of the banks," she said.
Ratigan pointed that investment banks like
Goldman Sachs
(GS) - Get Report
and
Morgan Stanley
(MS) - Get Report
have performed well. Seymour said both stocks have behaved fantastically, especially Morgan, which punched through its 200-day moving day average.
Seymour also said Goldman has moved up on chatter about its plan to sell off its stake of a Chinese bank and using it to return the TARP money.
Najarian said Morgan is moving in the right direction with its huge retail banking operation and great investment banking unit.
Adami mentioned two other names in the financial sector that investors should consider:
Jefferies
(JEF) - Get Report
and
Greenhill
(GHL) - Get Report
.
Ratigan pointed out that Goldman has benefited from the
AIG
's
(AIG) - Get Report
bailout to the extent that it was a buyer of credit insurance from AIG that the federal government now is paying 100 cents on the dollar on claims at taxpayer expense.
Finerman was concerned that Goldman may have to sell off more assets than sell its stake in the bank in China if it is going to repay in full the TARP money it received.
In analyzing today's commodities action, Seymour said the most interesting trade is natural gas, adding he was particularly interested in the latest inventory numbers on that commodity that are coming out Wednesday. He said oil has been on a good run but doesn't think it is going to go higher.
Adami said the oil trade is getting "long in the tooth" and agreed with Seymour that natural gas is the way to go.
With gold down three days in a row, Najarian said it's the opportunity for investors to get in on the pullback to pick up the commodity for diversification purposes.
Seymour said he would buy platinum and sell gold because platinum has contracted way too much even with the sell-off in industrial uses.
Ratigan asked Finerman to comment on the Fed's launch Wednesday of an ambitious program to buy long-term Treasurys. Finerman said she was concerned about the huge amount of securities going on sale and the potential for inflation, as evidenced in the recent run-up in oil prices. As a result, she expects Treasury bonds will trade much lower Wednesday.
Najarian said private equity companies like
Blackstone
(BX) - Get Report
and
Fortress
(FIG)
have risen from the ashes because they have the expertise to deal with these distressed assets.
Seymour expressed doubts about China's reported plans for an alternative currency to the dollar. He said it's highly doubtful that will happen in the short run because the dollar is the currency used in international trade and commodities. He said it's just a lot saber rattling from a country that is very frustrated by the demise of the dollar.
Ratigan brought in Dan Clifton, head of policy research with Strategas Research, to discuss what President Obama must do when he talks with the CEOs of major banks Friday.
According to Clifton, Obama has to make the point that "we're all in this together to get these bad assets off the balance sheets."
With pressure from Congress, financial institutions and public, Obama is walking a very fine line, but Clifton thinks he can do it.
Clifton said Congress will rip into Obama's budget Wednesday on everything from farm subsidies to more TARP money. He said Obama will see members of his own party question individual items in the budget.
Clifton said the country is entering what he called a "generational shift" in which the nation will see higher taxes and increased regulation.
Jonathan Finger, whose firm owns 1.1 million shares of
Bank of America
(BAC) - Get Report
appeared on the show to talk about his firm's campaign to oust Ken Lewis, the bank's CEO, and two others from the board because they failed to disclose material information regarding the purchase of
Merrill Lynch
( MER). The stock fell from $28 at the time of the purchase to $7 today.
Finger characterized his firm's campaign as one seeking a change in the culture that emphasizes size, foot print and market share to one that builds and protects shareholder value.
Adami wondered whether this campaign along with those of other large shareholders would have materialized if the stock is at $28. "It's sour grapes off a lousy position," he said. "They had ample time to sell. The stock didn't go from $28 to $7 in a day."
Technology has been the one sector that has up this year.
Amazon.com
(AMZN) - Get Report
has done well with its Kindle reader.
Today, Amazon rolled out the latest Kindle, which retails for $359 and holds 359,000 electronic books. Mark Mahaney, an Internet analyst for Citigroup, said he's not sure whether the latest product launch will lift the stock. He did say to look out for
Apple
(AAPL) - Get Report
to come out with a competing product.
Ratigan asked the analyst whether there is enough technological innovation to make a real difference this year. Mahaney said he doesn't see as much "as we need." "Where is the Kindle of Internet advertising? That's what investors are looking for," he said.
He agreed with Finerman that the rise of the Kindle will make it extremely tough for such companies as
Barnes and Noble
(BKS) - Get Report
and
Borders
( BGP).
In the final trades, Adami was for
Stryker
(SYK) - Get Report
, Finerman for
Axsys Technologies
( AXYS) and Najarian for
Akamai
(AKAM) - Get Report
"Check out
"'Fast Money'Portfolios of the Week" on Stockpickr every Thursday.