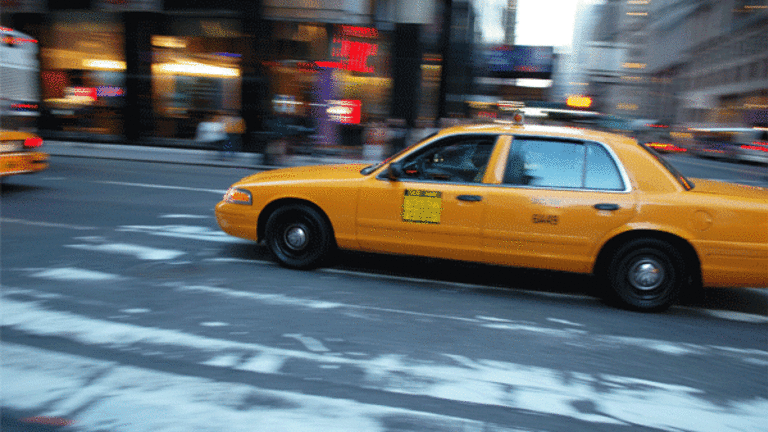 'Fast Money' Recap: Market: Sideways or Up?
The trading panel debated which direction the market is taking.
The trading panel debated which direction the market is taking.
The markets climbed Monday despite some pessimism whether there was any momentum behind it.
The Dow Jones Industrial Average
rose 90.99, or 1.08% to 8,529.38, while the S&P 500 added 8.33, or 0.91%, to 927.23. The Nasdaq was up 5.84, or 0.32%, to 1,844.06.
Tim Seymour said on
CNBC's
"Fast Money" TV show that today's runup was more than just "wishful thinking" and "window dressing." He alluded to a 5.9 % increase in industrial production in Japan and a rise in consumer confidence in Europe.
Guy Adami was a little more pessimistic, saying the transports didn't participate while the rails were lower. "I just can't embrace this rally right here," he said.
Karen Finerman said the market is moving sideway until there is some real data, which, she said, would be earnings. She said the earnings and forecasts will provide a real clue as to where the economy is heading.
Joe Terranova said the market looks like a replay of 2003 where the it is heading higher and higher.
Adami said there have been huge trading opportunities in this market, noting that
Potash
(POT)
and
Apple
(AAPL) - Get Report
were up today.
Melissa Lee shifted the discussion to oil, which was up today, on reports that China was increasing its oil reserves by 160% over the next five years and more unrest in Nigeria.
Terranova said oil is the poster child for investors taking risk, with oil up 44% for the quarter despite horrific fundamentals. He said he thinks investors will want more exposure to oil in the next quarter.
Adami said he didn't trust today's action in oil. He said he would hesitate to invest in oil based on statements from China.
Retail stocks were lifted by an upgrade of
JC Penney
(JCP) - Get Report
, but Adami said the easy money has already been made in this sector. Still, he said some retail names, including
Gap
(GPS) - Get Report
and
Home Depot
(HD) - Get Report
have done very well because they have been efficiently run.
Finerman said she was impressed with a statement from
Hewlett-Packard
(HP) - Get Report
that it would be increasing the number of notebooks it will ship, from 34 million units to 38 million units. She said that shows something about consumer confidence.
Lee shifted the discussion to
Apple
(AAPL) - Get Report
and Steve Jobs' return to work.
Mike Abramsky, RBC Capital Markets managing director, said investors feel comfortable team with the management team and that innovation is live and well. He is high on Apple because the smartphone market is the only high-growth market in the tech industry with prospects for growth as high as 50%. He said the iPhone is exposed to that, adding it is a 10-year platform with a lot of innovation to come.
Will the bull market in commodities market continue? Lee put that question to Greg Weldon, Weldon Financial CEO president, said there is still plenty of upside to the commodities, which he said is a function of the dollar and by extension, Fed policy.
With the weakening dollar, he likes trades in gasoline, sugar and precious metals. He's also bullish on steel and iron ore as an infrastructure play in China.
Moving on to proprietary trade ideas, Lee asked Finerman to talk about
Emulex
(ELX)
, an infrastructure company that was a target of an unsolicited bid a couple of months ago.
Finerman said
Broadcom
(BRCM)
needs to raise its bid fairly soon, now that the stock is trading above the rejected bid price.
Lee brought in Cliff Gallant, property and casualty analyst for Keefe, Bruyette & Woods, to comment on his call today of an outperform price target of $107,000 on
Berkshire CLA
( BRKa).
Despite the criticism Berkshire has been taking on its equity portfolio, he said Berkshire has 100% ownership of Geico and has an impressive reinsurance business. "There's a lot of quality underlying businesses here that you can't go out and buy every day," he said.
He said Berkshire's derivatives portfolio has had no cash impact on the company. Finerman said it's important to note that Berkshire is not so much interested in the current earnings power of a company as he is with the value of the franchise and its strategic position, especially with respect to a rebound in the economy.
In the Rising Star segment, Adami picked
Solarwinds
(SWI) - Get Report
, a maker of network management software that enjoyed a successful IPO earlier this year and is up 15.27% year to date.
He likes the company's online distribution, which keeps its operating costs low, along with its "compelling" valuations. He said it has a diverse client base and a great revenue stream. "It's a stock you would to own for the long haul," he said.
Microsoft
(MSFT) - Get Report
has had a great run this year? Will it continue?
Brendan Barnicle, research analyst with Pacific Crest, said the company, which is up 31.7% for the quarter, might have something with its new Bing search engine, not only in terms of gaining market share but making some money.
He said his company's research of 80 CIOs says they are going to upgrade to Windows 7 in the fall when it's released.
In a segement focusing on all-American trades, Tim Seymour was high on
Caterpillar
(CAT) - Get Report
, which has seen its overseas exposure grown as it increases sales in Asia and the Middle East.
He said the demand for cranes continues in places like Dubai, where the infrastructure development hasn't ceased. Adami likes the company but thinks the stock is a bit rich.
Terranova added two stocks he likes in this space:
Joy Global
( JOYG) and
( BUCY).
In the final trades, Seymour liked
Alcoa
(AA) - Get Report
, Adami was for
NIKE
(NKE) - Get Report
, and Finerman liked Hewlett-Packard. Terranova was for
American Express
(AXP) - Get Report
,
Microsoft
(MSFT) - Get Report
and
IBM
(IBM) - Get Report
.
"Check out
"'Fast Money'Portfolios of the Week" on Stockpickr every Thursday.