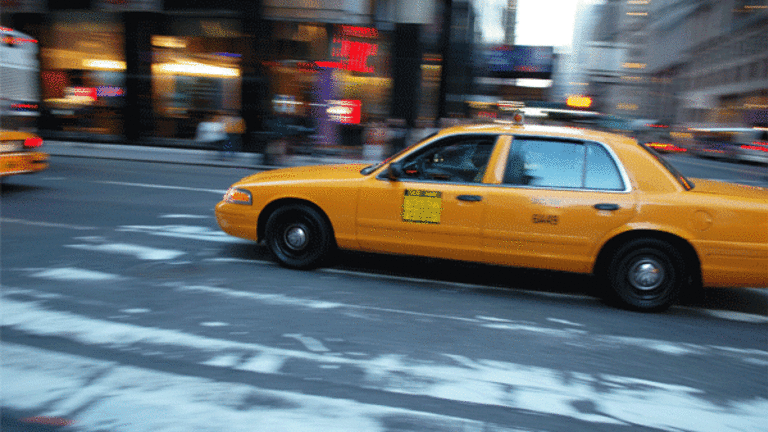 'Fast Money' Recap: Market Roundup
The trading panel reflected on this week's market and had looked ahead.
The trading panel reflected on this week's market and had looked ahead.
The markets ended mixed Friday, marking a week of indecision.
The
Dow Jones Industrial Average
dropped 34.01, or 0.40%, to 8,438.39, while the S&P fell 1.36, or 0.15%, to 918.90. The
Nasdaq
added 8.68, or 0.47%, to 1,838.22.
Guy Adami said on
CNBC
's "Fast Money" TV show that he doesn't see the next catalyst for the market and believes the S&P is heading to 870.
Joe Terranova agreed with Melissa Lee, the moderator of the show, that the next catalyst could be the next round of earnings in a week. He said the correction has been shallow so far, adding the market has shown an ability to digest negative information and hang in there.
Lee referred to some research from
Bank of America
(BAC) - Get Report
and Merrill Lynch that showed a higher return in the market when the 50-day moving average rises above the 200-day moving average, as it did on June 23.
According to the research, when this "golden cross" occurs, the return on the market is 7% after three months, 8% after 6 months and 19% after 12 months.
Lee shifted the discussion to
Palm
(PALM)
up another 15.7% today to $16.22. Najarian said he really liked the direction of the company, especially its hot-selling Pre smartphone. Terranova said there are bullish signs that Palm could see an expansion of subscribers and return to profitability.
Najarian said he thought this week's deal between
Nokia
(NOK) - Get Report
and
Intel
(INTC) - Get Report
was big, especially for Intel because it will mean it will be getting into the business of phone chips.
Seymour, who has been high on Nokia, said the phone company is offering 10 new 3G models for the fast-growing market in China.
Terranova said technology is "where you want to be in 2009," whether it's with smartphones or the resilient chip sector.
Lee asked the panel for their thoughts about oil, which closed below $70 a barrel. Seymour said oil has been affected this week by supply disruptions, especially in Nigeria.
Terranova said it's problematic for oil futures when oil does not run higher on a weakening dollar. He also said gasoline does not want to participate. He said he would put his money in the integrated oils, including
Petrobras
(PBR) - Get Report
,
Hess
(HES) - Get Report
and
Suncor
(SU) - Get Report
.
Adami said the oil service names are in no man's land now, adding he sees
Schlumberger
(SLB) - Get Report
heading lower.
Lee said
Goldman Sachs
(GS) - Get Report
is nearing $150. Adami said Goldman is performing well because it has managed to get a "bigger piece of the pie with less competitors." Long term, Goldman is a buy, he added.
Seymour said Goldman is simply far ahead of its competitors with its business model and the talent they've been able to retain.
Shifting the discussion to ETFs, Lee asked Luciano Siracusano, chief investment strategist for Wisdomtree Investments, for his thoughts on the fast-growing investments.
Siracusano said he was concerned with the direction of the dollar. As a result, he advised investors to get exposure to emerging market currencies in countries such as South Africa and Brazil. He also favors getting exposure to a basket of money markets around the globe.
Because of the volatility of emerging market currencies, he favors a basket of equally weighted currencies to temper the volatility. He said his firm launch such a fund a month ago called
Wisdomtree Dreyfus
(CEW) - Get Report
.
Mike Gurka, a global assets strategist for Empowerglobal Funds, said he liked ETFs in South Africa, Brazil and Taiwan.
Jim Robbs, senior managing director for
State Street
(STT) - Get Report
Global Advisors, said investors should pay attention to what kind of ETF they are buying. It's important to understand the underlying exposure of the ETF and decide whether you want to make it a part of your portfolio, he advised.
As for trends, he said he's seen an expansion in the fixed income arena in the past six to nine months. He also sees increasing usage of ETFs as part of a package product, whether they are wrapped into funds or other ETFs.
Joe Theisman, the famed NFL quarterback, told Lee that he is continuing to get into ETFs. He said he's long in the
U.S. Natural Gas Fund
(UNG) - Get Report
, and he's shorting the financials with
UltraShort Financial Proshares
(SKF) - Get Report
.
Looking ahead to next week, which will be shortened by a holiday, Lee asked the panel for any playbook ideas. Seymour said the jobs report will come out next week and the consensus is that it will be a "good" number (400,000 jobs lost). He said, however, the unemployment number isn't important because it trails equities.
Adami agreed, saying it "doesn't feel like we are trading that number now." Indeed, Terranova said the trading pattern on the jobless report day has been to buy into it.
Najarian put in a plug for utility trades, saying they offer nice dividend yields ranging from five to seven percent.
In the final trades, Theisman was for
Rambus
(RMBS) - Get Report
, Adami liked
Potash
(POT)
, Terranova was for the
Nasdaq 100 Trust Shares
(QQQ) - Get Report
, and Najarian liked Intel.
"Check out
"'Fast Money'Portfolios of the Week" on Stockpickr every Thursday.