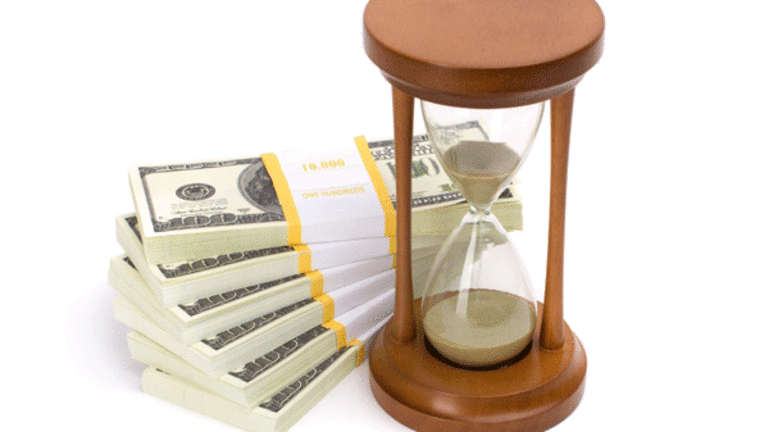 'Fast Money' Recap: Market Drifts Sideways
The trading panel said the markets show signs of consolidating in the face of troubling news.
The markets slipped again Tuesday on growing concerns of the economic impact of the swine flu crisis and the need for banks to raise more capital.
The
Dow Jones Industrial Average
fell 8.05, or 0.10%, to 8,016.95, while the
lost 2.35, or 0.27%, to 855.16. The
Nasdaq
dropped 5.60, or 0.33%, to 1,673.81.
Guy Adami said on
CNBC
's "Fast Money" TV show that the market is moving sideways and that it's not a "bad thing." He said crude can't get above 51 and the S&P is performing in the same fashion. His advice: "Trade the market you have, not the one you want."
Tim Seymour said the swine flu crisis remains a concern because of the fragile state of the global economy.
Pete Najarian added the S&P is trading between 850 and 870, with the volatility index at the high level of 38. "This tells you there's a lot of apprehension and questions out there," he said.
Karen Finerman said it's "extraordinary" for the market to be hanging in there. She said going sideways and consolidating is good after the big run in the past six weeks.
In his book, Adami said
Marriott International
(MAR)
remains a sell and
Smithfield Foods
(SFD)
a buy.
Moving on to the technology space, Adami was impressed with
IBM
(IBM)
, saying it looks like a $120 stock.
He also said today's dip in
Corning
(GLW)
came after the stock reached a peak Monday in the short term. He sees the stock moving lower with an opportunity for investors to get back in it at $12.50 to $13.
Najarian noted the drop in
Baidu
(BIDU)
and said it reflects
Google
(GOOG)
taking market share away from the company in China.
In the energy space, Najarian said
BP
(BP)
looks a bit cheap given its PE and attractive 8% dividend yield. He said he likes what he's seeing in the big integrated energy names, especially
Shaw Group
(SGR)
which stands to benefit from China's big push to build 30 nuclear power plants.
Finerman sharply criticized the $112 million compensation pay package for Chesapeake Energy CEO Aubrey McClendon in 2008. She said it was a "really outrageous" package, especially one glaring item that called for the company to pay $12 million for his map and watercolor collection.
"I don't know how compensation committees can feel comfortable doing this sort of thing," she said.
In reply to the company's statement that McClendon was paid at that level because he created "unique opportunities," she asserted, "That's his job. What else is he supposed to do?"
Jim Goldman,
CNBC
's Silicon Valley bureau chief, appeared briefly to comment on reports that
Apple
(AAPL)
is in talks with
Verizon
(VZ)
on a new iPhone and tablet device.
Goldman doubted very much Apple would move in that direction, given its exclusive contract with
AT&T
(T)
that runs until 2010 and its commitment to GSM phone technology.
Melissa Lee, the moderator of the show, asked Joe Lavorgna, chief US economist for Deutsche Bank, to comment on tomorrow's first quarter GDP report. The consensus forecast is calling for the GDP to be down 4.7%, but Lavorgna sees it plunging to as low as 8%.
The economist said a 8% decline actually might be good for equities because "you'll see a big inventory drawdown" and a "nice production snapback" in the current quarter.
He also said a savings rate of 8% would mean a very weak economy. Finerman said she didn't think the lower GDP numbers would have much of an impact on the market.
With gold closing below $900, Adami said the Gold COMEX chart for April doesn't look very healthy, with lower high's and lower low's. With a snap of his fingers, he said there could be a plunge of $60 to $100 if gold falls below $860.
Lee asked the panel to comment on Obama's performance in the first 100 days with respect to banks. Adami singled out companies such as
Jefferies Group
(JEF)
are doing well because they are building up while everyone else is tearing down.
Seymour said the stress tests may expose weakness in the regional banks because of higher haircuts in their commercial real estate loans.
Finerman said the Obama administration has done well in getting the market to believe it has a systematic methodology in addressing undercapitalized financial institutions.
David Trone, a senior analyst with Fox-Pitt, Kelton, came on the show to talk about his firm's upgrade of the banking sector to market weight after having it underweight for five years.
He said the loan loss reserves are returning to a range of normalcy. He also said his firm ran its own tests ahead of the stress tests and found that none of the top 19 banks needed any actions.
Mike Huckman commented on the unusual 45% plunge in shares of
Dendreon
(DNDN)
before trading was halted.
Huckman said the move was strange since the company reported good news about its Provenge drug for prostate cancer patients. The drug extended the survival rate of patients by four months, increased the 3-year survival rate by 38% and reduced the risk of death by 22.5%, he said.
In the final trades, Seymour was long on
Mobile TeleSystems
(MBT)
. Adami was for Smithfield Foods and Finerman liked
America Movil
(AMX)
. Najarian was upbeat about
McDonald's
(MCD)
"Check out
"'Fast Money'Portfolios of the Week" on Stockpickr every Thursday.