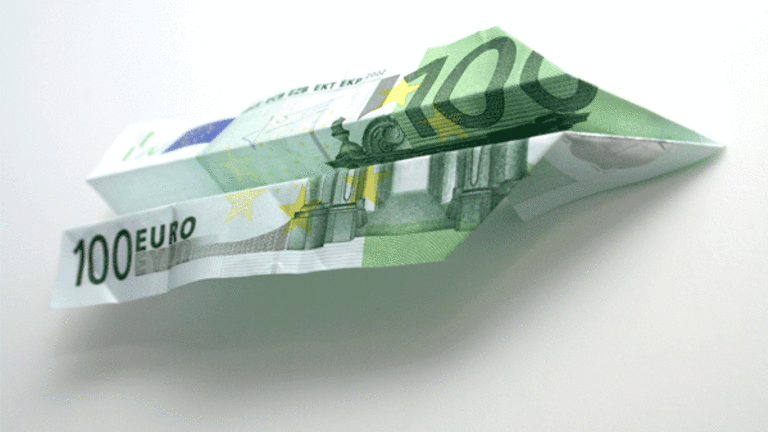 'Fast Money' Recap: Market Angst Over Debt Problems
The trading panel discusses the market impact of today's selloff in the Treasurys.
A big selloff in the Treasurys sent the markets lower Wednesday.
The
Dow Jones Industrial Average
fell 173.47, or 2.05%, to 8,300.02, while the
S&P 500
dropped 17.27, or 1.9%, to 893.06. The
Nasdaq
lost 19.35, or 1.15%, to 1,731.88.
Melissa Lee, the moderator of
CNBC
's "Fast Money" TV show, asked the trading panel whether the rally might be derailed by Treasury yields which spiked to new highs over concerns about the government's increasing debt load.
Joe Terranova said investors are frustrated because they are trading in a consolidating market that has moved between 875 and 930 this month. "You have to be surgical in your picks and trading. And right now, if you're bullish, you have to be on the defensive," he said.
Guy Adami said it was a discouraging day and expects the market to head lower.
Steve Grasso said the hedge funds are dictating the action in the markets, with the pension funds and mutual funds sitting on the sidelines.
Pete Najarian said he senses a change in market sentiment from the dramatic decline in volatility.
Lee wondered whether borrowing costs for consumers will head higher and derail the rally. Terranova said it's important to understand that the Chinese are only interested in the front end of the yield curve for the Treasurys: the 2-, 5- and 7-year Treasurys. He said they and other foreign central banks are not interested in taking on 20- to 30-year debt exposure.
Lee brought in David Faber, a
CNBC
business reporter who had some breaking news: Pequot Capital Management will be winding down over the next few months and spin out two of its funds.
Lee shifted the discussion to the impending bankruptcy of
General Motors
(GM) - Get General Motors Company Report
. Terranova said the bankruptcy is a foregone conclusion and has been priced into the stock.
He said he's been looking at
Ford
(F) - Get Ford Motor Company Report
,
Toyota
(TM) - Get Toyota Motor Corp. Report
and
Tata Motors
(TTM) - Get Tata Motors Ltd. Report
as potential investments.
Grasso said he thinks an insurance company like
Aetna
(AET)
should replace GM on the Dow.
Moving on to tech and the 2% rise in
Apple
(AAPL) - Get Apple Inc. Report
, Mike Abramsky, managing director of RBC Capital Markets, said Apple, in a move to increase sales by 30% to 40%, is cutting the price of its current iPhone. He said the other market catalyst is the arrival of a new iPhone in the summer.
Najarian said he was more interested in Apple's plans for a net book. Adami said it might be a little late to buy the stock now, although he would stay long in the stock until the company's developers conference on June 6.
With oil rising above $60 a barrel, Terranova said his real star in this space continues to be
Petrobras
(PBR) - Get Petróleo Brasileiro SA Report
, which is up 71% this year.
Adami told viewers to stay away from the miners, while Najarian reiterated his enthusiastic endorsement of engineering stocks such as
Fluor
(FLR) - Get Fluor Corporation Report
and
Foster-Wheeler
undefined
, whom he said are starting to produce.
Lee brought in Brian Kelly, president of Kanundrum Research, who has some reasons to be bullish about the market. Calling it the three R's, he feels bullish about the market because of the reflation trade in the commodities and basic metals.
Next, he said, is the recapitalization trade that has sent banks and other companies into the debt-equity markets. The third reason to be bullish is the retail trade with opportunities to invest in stocks like
Apple
(AAPL) - Get Apple Inc. Report
and
Research In Motion
( RIMM)."
Lee asked the panel for their thoughts about
Dell
(DELL) - Get Dell Technologies Inc Class C Report
which reports its earnings this week. Najarian wasn't high on Dell because the company hasn't shown him any plans for growth. Instead he's looking at
HP
, which introduced three new net books today and plans to grow in China.
Adami said investors should look at two things in Dell's earnings report: operating margins of around 5% and gross margins of around 18%, both of which they should beat.
Grasso said money is going into Dell because all of its negatives have been known for quite awhile.
Zachary Karavell, president of River Twice Research, came on the show to talk about the recession, which he predicts will officially end on Aug. 31 at 2:37 p.m. eastern time.
He said the talk about the end of the recession is really irrelevant because the turn in the economy occurs three to seven months ahead of it and the markets usually reflect that turn.
He said to be on the look out during the summer for those companies whose earnings start to pick up while their stock prices are going nowhere. He said that's the time for investors to make a move. One stock he likes is
Manitowoc
(MTW) - Get Manitowoc Company, Inc. Report
.
Lee brought in Healther Bellini, an analyst for USB, to talk about search engine fight between
Microsoft
(MSFT) - Get Microsoft Corporation Report
and
Google
(GOOG) - Get Alphabet Inc. Class C Report
.
She said Microsoft's new search engine, Bing, is not going to help gain market share. What will work is some sort of tie-up with
Yahoo!
(YHOO)
, she said.
She said Microsoft's challenge will be whether they can keep on delivering with better operating expenses, and whether Windows 7, which is scheduled for release in September or October, is going to help its client revenue stream.
In the final trades, Grass liked
Amazon
(AMZN) - Get Amazon.com, Inc. Report
and Adami was for
Ultrashort 20+ Year Treasury Proshares
(TBT) - Get ProShares UltraShort 20+ Year Treasury Report
. Terranova said to sell
Mastercard
(MA) - Get Mastercard Incorporated Class A Report
and Najarian liked
Applied Materials
(AMAT) - Get Applied Materials, Inc. Report
.
"Check out
"'Fast Money'Portfolios of the Week" on Stockpickr every Thursday.