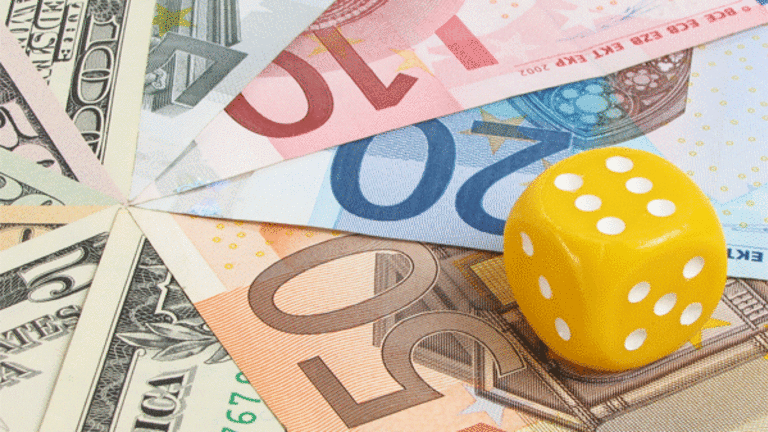 'Fast Money' Recap: Lost on Lehman
The trading panel says the troubled investment bank offered no clarity.
Dylan Ratigan hosted CNBC's "Fast Money" Wednesday night. He kicked the show off with a discussion about Lehman Brothers( LEH). Karen Finerman said the most surprising thing about the conference call from Lehman toady was that the company gave the market no clarity. She said the company gave out no details on its real estate portfolio. "Lehman has no plan, and it can't raise funds," added Jeff Macke.
Guy Adami explained that Lehman is trading on fundamentals and that's why it goes lower. Pete Najarian told viewers to take a look at
Goldman Sachs
(GS) - Get Free Report
, because everyone on the Street is cutting estimates. He feels the stock could be in trouble here ahead of earnings next Tuesday.
Next, Ratigan asked the traders for their thoughts on
Washington Mutual
(WM) - Get Free Report
. Finerman explained that WaMu's debt is trading for 50 cents on the dollar, and that tells you there's real fear in the market about this company.
Ratigan moved the conversation into the energy sector. Adami pointed out that
Baker Hughes
(BHI)
is now trading at 9 times forward earnings and trades near a 52-week low. He also likes
Schlumberger
(SLB) - Get Free Report
which he mentioned is trading at trough valuations. "I think you will wish you owned these stocks come December," he said.
Adami mentioned that
FedEx
(FDX) - Get Free Report
raised its first-quarter guidance but said he wouldn't buy the stock here. Najarian told viewers to look at the rails if they want to play transportation. He said UBS upgraded
Burlington Northern
( BNI) and
Norfolk Southern
(NSC) - Get Free Report
today.
Meanwhile, in the Lab
Ratigan switched gears and moved the discussion to the biotechnology sector. Najarian said it's very odd that
ImClone Systems
(IMCL)
wouldn't disclose who offered it $70 a share to take over the company. Adami said
Celgene
(CELG) - Get Free Report
is cheap at these levels. Finerman mentioned that she is long
Genentech
( DNA). Najarian said he noticed heavy call options trading on Genentech today.
Ratigan moved the talk toward the technology sector. Macke said
Research In Motion
( RIMM) looks fine. Adami expressed concerns over the rally in
Texas Instruments
(TXN) - Get Free Report
. He said the run higher in TXN was disappointing when you consider the quality of the news.
The "Chart of the Day" was
Google
(GOOG) - Get Free Report
. Najarian explained that the chart for Google is broken and said there is no need to get in front of this southbound train.
Najarian highlighted heavy options action in
Kroger
(KR) - Get Free Report
. He said 22,000 calls traded on the stock today with 11,000 trading on the September 30 calls. He believes the stock is heading higher.
Back to the Banks
Bill Fleckenstein of Fleckenstein Capital joined the traders to discuss the financial stocks. He thinks Lehman Brothers is still in trouble, but an even bigger problem might be with Washington Mutual. "If I was going to short anything financial right now it would be credit card companies like
Capital One
(COF) - Get Free Report
," he added.
He saidthe big problem right now is that we have a recession that's going to get worse, and things won't get better until people realize this. Fleckenstein said he sees more downside for some technology stocks like Research In Motion. "The new flip-phone is no big thing," he added.
Financial Winners
The traders discussed some winners in the beaten-up financial sector. Adami says
Jefferies
(JEF) - Get Free Report
,
Knight Capital
(NITE)
and
Raymond James
(RJF) - Get Free Report
will be the winners. Macke said to stick with
Ameritrade
(AMTD) - Get Free Report
. Najarian recommended Ameritrade,
Morgan Stanley
(MS) - Get Free Report
and
U.S. Bancorp
(USB) - Get Free Report
. Finerman said she still likes Goldman Sachs.
Lower Energy Trade
The crew looked at some ways to trade falling oil and gasoline prices. Macke says
Las Vegas Sands
(LVS) - Get Free Report
could be a buy on the dip with prices at the pump going lower.
Najarian explained that
Target
(TGT) - Get Free Report
and
Kohl's
(KSS) - Get Free Report
have been trading with the movements in crude oil. He likes
Wal-Mart
(WMT) - Get Free Report
,
Costco
(COST) - Get Free Report
and
Macy's
(M) - Get Free Report
if oil can crack through $100. Finerman mentioned she is short Kohl's here because the stock has made a huge run.
Adami said look to buy
Gap
(GPS) - Get Free Report
around $17. He also likes
Urban Outfitters
(URBN) - Get Free Report
for its high short interest.
Gold Lows
The traders discussed the gold trade with Jeffrey Christian of the CPM Group. Christian said in the physical market he sees net buyers, but traders are selling in the paper markets for futures and options. He thinks investors will continue to look to diversify their portfolios into the euro and gold. He believes the gold chart isn't broken and is bouncing off the upward trendline around 770-780 per ounce.
Trader Radar
Shares of
Whirlpool
(WHR) - Get Free Report
were among the most actively traded stocks on the
NYSE
today.
Technical Trades
The traders discussed two stocks that are making significant technical moves. First up was natural gas distributor
Piedmont Natural Gas
(PNY)
, which is breaking out to a new high. Najarian said he would be hesitant to jump in now on the breakout. Next was
Newmont Mining
(NEM) - Get Free Report
, which hit a three-year low. Adami told viewers to watch NEM here because the stock reversed after hitting the new low.
Final Trade
Macke said short gold. Adami selected Celgene. Najarian went with Kroger.
This article was written by a staff member of TheStreet.com.