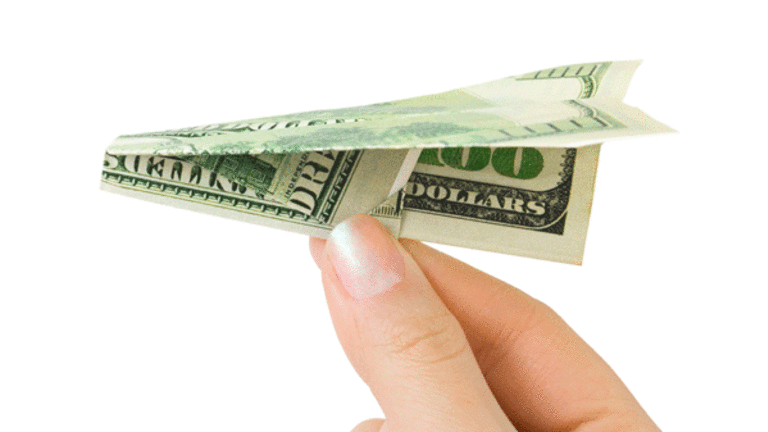 'Fast Money' Recap: Looking at the Spike
The trading panel considers whether this surge is positive or just another case of volatility.
Dylan Ratigan hosted CNBC's "Fast Money" show Tuesday night. He started the show with a discussion of the single biggest advance for the markets in nearly two weeks. Guy Adami explained that people who sold this market, such as hedge fund managers, have been forced to turn around and buy it. He says "we are still in a range and will test 9500 next on the Dow."
Tim Seymour said the volatility we're seeing is being driven by enormous amounts of short-covering. He pointed out that it's encouraging that the market shrugged off a weak consumer confidence number. Karen Finerman said this move doesn't feel any more healthy than moves of equal magnitude down. She says "there is no focus on fundamentals at all." Jeff Macke told viewers to relax, take a step back and sell the rips.
The "Chart of the Day" was the volatility index. Ratigan explained that when the volatility index spikes dramatically higher, the stock market sees a big advance six months later. Macke said this is a trader's market, and you have to be fast and two-sided.
Ratigan brought up the intensity in the movements of bank names today to the upside, as with
Citigroup
(C) - Get Free Report
. He mentioned that
Goldman Sachs
(GS) - Get Free Report
didn't participate in the bank rally.
Finerman mentioned that market rumors were swirling on the Street that Goldman Sachs and
Morgan Stanley
(MS) - Get Free Report
were short
Volkswagen
(VLKAY)
. Shares of Volkswagen soared 86%. Both Goldman Sachs and Morgan Stanley denied the rumors. Macke explained that Goldman said it had a little bit of exposure and Morgan said it had none at all.
Barton Biggs, managing partner of Traxis Partners, joined the traders to discuss the value proposition that equities represent right now. He said we went through a huge financial panic and we are still in it. Biggs says "the U.S. market has put in an important bottom in the last two weeks."
He said Goldman Sachs and Morgan Stanley make a lot of sense as buys right now. He told viewers that stocks are very cheap and people have gotten way too bearish. He said the hedge fund redemption cycle is way overdone and it's the fear that has obsessed everyone. He says "we had a panic on the way down, and now we're going to have a really big panic on the way up."
Ratigan moved the discussion to the retail sector, which he said shook off the weak consumer confidence numbers today. Macke mentioned that hedge fund manager Bill Ackman is getting long
Target
(TGT) - Get Free Report
and plans to unlock value with its real estate assets. He said he's long
Wal-Mart
(WMT) - Get Free Report
for a play on retail.
Adami said he likes Target and
Gap
(GPS) - Get Free Report
from a valuation perspective. Seymour says "we haven't seen enough job losses to find value in the retail sector." Finerman pointed out that the move in oil will help retail, but the job issue will play a more important role in consumer spending.
Ratigan pointed out that some emerging markets saw 20% moves to the upside today. Seymour said investors should look to play emerging market currencies in South Africa and South Korea. He also likes China's stock market at current valuations and said Russia's market is "ridiculously cheap."
Fed Cut
The crew spoke with
CNBC's
Steve Liesman about the possibility of a
Fed
rate cut on Wednesday. Liesman said the expectations in the market are for 50-basis-point cut. He says "there is some confusion in the Fed funds futures market as to what exactly the market is after." He explained that a rate cut should help people who have home equity loans that are tied to the prime rate. He mentioned that the Fed doesn't want to be in a position to disappoint the market by not cutting rates.
Global Energy
Joe Terranova of Virtus Investment Partners joined the traders to talk about whether the global recession fears are overblown. Terranova said that this time the cycle is more specific to the energy names. He pointed out that
Exxon Mobil
(XOM) - Get Free Report
is only down 3% this month, while oil is down 40% during the same period. He says "you might see a commodity recovery in the equity names instead of the actual commodities themselves."
Seymour mentioned that
BP
(BP) - Get Free Report
is raising its dividend yield and
ConocoPhillips
(COP) - Get Free Report
and
Total
(TOT) - Get Free Report
also have large dividend yields. Finerman told viewers that energy equities are cheap, but she is short the
United States Oil Fund
(USO) - Get Free Report
for a hedge. Adami says "wait for the new year when the commodity funds that blew up get their money back."
Terranova said investors should look at energy names with strong balance sheets, such as Exxon Mobil and
National-Oilwell Varco
(NOV) - Get Free Report
. He pointed out that
Tesoro
(TSO)
is trading where it is because of the large amount of debt on their balance sheet.
Market Rip Call
Jeff DeGraff, a technical analyst at ISI, joined the traders to discuss today's market rally. He said today's rally was the sixth-best rally in the
since 1925. DeGraff says, "If you look at volume, breadth and the way the rally set itself up, I am more bullish here than in a long time." He explained that we have more shorts in the market than longs right now, which is a contrarian indicator. He said the best strategy to play this market is to put on a call spread for the S&P 500. DeGraff mentioned the rally he sees coming will just be a bounce.
Trader Radar
Shares of
Rent-A-Center
(RCII) - Get Free Report
were among the most actively traded stocks on the
Nasdaq
Tuesday.
Final Trade
Macke told viewers to sell some of this rally. Adami picked
Rockwell Collins
(COL)
. Finerman said to play
Genentech
(DNA)
options. Seymour said to buy
America Movil
(AMX) - Get Free Report
, but don't buy it Wednesday.
This article was written by a staff member of TheStreet.com.