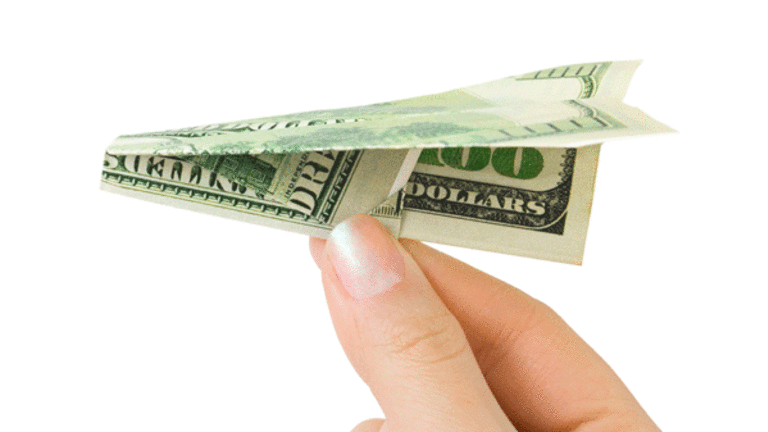 'Fast Money' Recap: June 24
The trading panel fretted over the possibility that Bernanke may not be reappointed in January.
The trading panel fretted over the possibility that Bernanke may not be reappointed in January.
The markets drew little comfort Wednesday from the fate of
Federal Reserve
Chairman Ben Bernanke.
The
Dow Jones Industrial Average
fell 23.05, or 0.28%, to 8,229.86, while the
S&P 500
added 5.84, or 0.65%, to 900.94. The
Nasdaq
rose 27.42, or 1.55%, to 1,792.34.
Joe Terranova said on
CNBC
's "Fast Money" TV show that the market was upset over the talk of Bernanke in connection with allegations by a congressman of a cover-up in the acquisition of Merrill Lynch by
Bank of America
(BAC) - Get Report
.
Terranova said "you don't change pilots in the middle of an emergency landing."
Guy Adami said he felt scared going into Friday. He said the market had every opportunity to rally based on the Fed's comments, and it didn't.
Jon Najarian, though, said he believes the market will rally as a lot of people will come out and defend Bernanke.
Lee shifted the discussion to
Jefferies Group
(JEF) - Get Report
, which was up 8% after turning in a bullish forecast for second-quarter earnings and revenue.
Adami said Jefferies, which he picked early on, has been doing everything right, including hiring people while others were firing. However, he said the valuation at $20.45 doesn't make sense and investors should take some profits.
Najarian said there was strong options activity in
Legg Mason
(LM) - Get Report
. He said Legg Mason and Jefferies eventually may be take-out candidates.
Lee shifted to the technology stocks, which were led by
Oracle
(ORCL) - Get Report
up 7% for the day. Terranova liked the company, noting its strong sales and licensing revenue and a $25 price target from Goldman Sachs. The stock closed at $21.26.
Adami wasn't impressed with Goldman's guidance, adding investors shouldn't be piling in on the short term. He did like it for the long term.
Terranova commented on oil slipping to $68.40 a barrel today, saying the commodity is losing the support of gasoline, which is under pressure.
Lee brought in Patricia Edwards, founder of Storehouse Partners, to get her take on the S&P for the second half of the year.
She said she sees it heading lower as consumers pull back on their expenditures. In this price-conscious environment, she likes
Wal-Mart
(WMT) - Get Report
, which she said is the "best on the downside" and can hit $60 again. The stock closed at $48.51 today.
Edwards also liked
Kohls
(KSS) - Get Report
for a doing a good job of selling fashionable apparel at reasonable prices.
Lee invited Dr. John Najarian, a transplant surgeon whose two sons are on the trading panel, to talk about Steve Jobs' liver transplant.
Najarian said the survival rate for liver transplants is 73% at the end of five years. He said Jobs did what he was supposed to, getting on to lists around the country and seeking the one with shortest wait, which happened to be in Tennessee.
He said Jobs should do very well because his tumor was "totally treatable."
Finerman again said
Apple
(AAPL) - Get Report
should have done a better job of informing shareholders of Jobs' medical condition. She said the company's credibility is "zero," adding investors essentially wrote off Jobs after he left the company on medical leave.
Lee asked Benjamin Schachter, an analyst with Broadpoint Am Tech, to comment on
Yahoo!
(YHOO)
's shareholder meeting Thursday.
The analyst said he didn't expect any newsworthy announcements. Rather he said the company is in transition and is refocusing its priorities.
Palm
( PALM) also reports Thursday. Jim Suva, a Citigroup analyst, said its quarter is not important. He said all eyes are on the Pre, which is being asked to meet some lofty expectations.
He has a price target of $14 for the stock and said the company would have to sell 450,000 Pre's in the August quarter to support the current valuation.
Down the road, the expectations are really high, with some suggesting 8 million to 10 million units in 2010 and 2011, he said.
Suva had some issues with the Pre's battery life, saying his Pre hasn't been able to last a day.
Will sales of the Pre fade after a hot start? That's the big question, he said.
Are hedge funds back in the money? Samuel Hockins, head of prime brokerage for BNP Paribas, thinks so. He said the average return for hedge funds in May was over 5%, the best month in nine years.
He said the challenge for hedge funds will be to match performance with inflows, which reached $4 billion for the month.
He said redemptions are starting to come down while net inflows are rising. Moreover, he said large institutional investors like China Investment Corp. will drive hedge funds. "Those are positive signs," he said.
In the "rising star" segment, Najarian called the performance of
IMAX
(IMAX) - Get Report
"crazy."
The company, which operates 2-D and 3-D movie theaters, has seen its stock jump 62% this year. Movies like
Transformers
,
Revenge of the Fallen
and
Harry Potter
have helped propel IMAC, with tickets selling out in advance of the shows, he said.
According to Najarian, IMAX has 2% of the theaters but accounts for 10% of the receipts on big weekends.
As for the "stock of the day," Adami spoke highly of
Claymore Global Solar ETF
(TAN) - Get Report
, a play for those who want to move out of oil and into alternative energy. The stock is up 64% in the past six months.
He said the index, features 26 stocks with an average weight of 3.8%. The two most heavily weighted are
First Solar
(FSLR) - Get Report
, up 5% today, and
Trina Solar
(TSL)
, up 10%. The two are weighted 5.5% each.
In the final trades, Terranova was for
Bed, Bath & Beyond
(BBY) - Get Report
, Adami for
Nike
(NKE) - Get Report
; Finerman for
Anadarko
(APC) - Get Report
; and Najarian for Palm.
"Check out
"'Fast Money'Portfolios of the Week" on Stockpickr every Thursday.