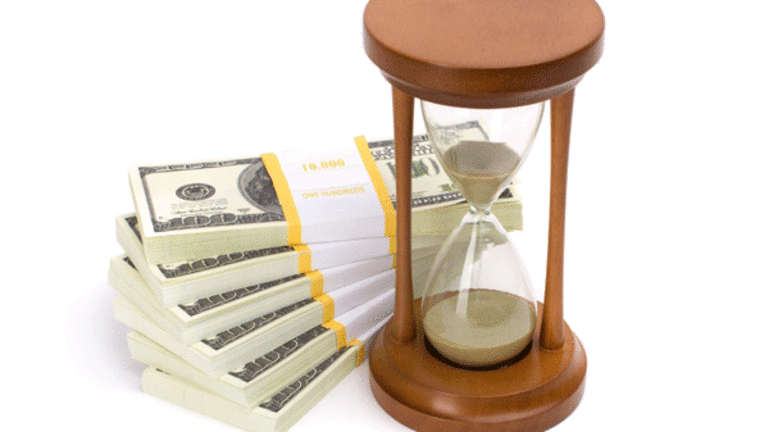 'Fast Money' Recap: Jobless Worries
The trading panel debated the impact of the jobless report on the market.
The trading panel debated the impact of the jobless report on the market.
NEW YORK (
) -- The markets sank again Thursday ahead of the monthly jobless report.
The
Dow Jones Industrial Average
fell 24.71, or 0.27%, to 9256.20, and the
S&P 500
dropped 5.64, or 0.56%, to 997.08. The
Nasdaq
declined 19.89, or 1%, to 1973.16.
Guy Adami said on
CNBC
's "Fast Money" TV show, that a lot of investors were trying to get out of the market ahead of Friday's unemployment report for July. He also said that a lot people were telling him that "bull markets end on great data." "You might see that tomorrow," he said.
Joe Terranova noted a wave of selling of major financial stocks like
Morgan Stanley
(MS) - Get Report
and
JPMorgan Chase
(JPM) - Get Report
after they had come out strong early in the trading session.
For a breakdown of stocks from a recent "Fast Money" show, check out Dan Fitzpatrick's "3 Stocks I Saw on TV."
3 Stocks I Saw on TV
var config = new Array(); config<BRACKET>"videoId"</BRACKET> = 32438729001; config<BRACKET>"playerTag"</BRACKET> = "TSCM Embedded Video Player"; config<BRACKET>"autoStart"</BRACKET> = false; config<BRACKET>"preloadBackColor"</BRACKET> = "#FFFFFF"; config<BRACKET>"useOverlayMenu"</BRACKET> = "false"; config<BRACKET>"width"</BRACKET> = 265; config<BRACKET>"height"</BRACKET> = 255; config<BRACKET>"playerId"</BRACKET> = 1243645856; createExperience(config, 8);
Pete Najarian told viewers to be careful of
Wells Fargo
(WFC) - Get Report
, saying the put activity has been heavy on the stock. "Maybe there's a secondary there to pay back the TARP it owes," he said. Adami said he would short Wells Fargo here.
Shifting to technology, Pete Najarian said
Cisco
(CSCO) - Get Report
bounced back after being down when investors saw an opportunity to get in on a slight pullback. Najarian said the news from Cisco's earnings reports wasn't that bad.
Adami sees
Intel
(INTC) - Get Report
, which has been hovering around the $19 level, heading down. He still likes
Western Digital
(WDC) - Get Report
, which had a "ridiculous quarter" and is at its 52-week high.
Seymour said there was a lot of good news in Cisco's earnings, adding the company could take over the mantle for tech if need be.
Melissa Lee, the moderator of the show, brought in Eric Schiffer, CEO of
99 Cents Only Stores
( NDN), which has been on a big run this year. Schiffer said the company has seen a tremendous growth in sales and transaction count. "When the economy took a turn for the worse, word spread like fire about our stores," he said.
Adami said investors might want to get out of the stock if the economy improves.
Lee shifted the discussion to some zombie stocks like
AIG
(AIG) - Get Report
,
Fannie Mae
( FNM) and
CIT Group
(CIT) - Get Report
, which have resurrected recently.
Seymour said stocks like Fannie Mae will head down if there is a bad payroll number tomorrow.
Adami feels there is still a lot of upside to
Hartford Financial
(HIG) - Get Report
after a good earnings report and guidance. He said it's still relatively inexpensive and can easily move up to $33. The stock closed at $17.80, up nearly 8% for the day.
Charlie Gasparino, a
CNBC
reporter, said the inside chatter in the upper echelons of Morgan Stanley says its CEO John Mack will be stepping down in the next quarter and the leading candidate to replace him is James Gorman, co-president of the brokerage unit.
Lee brought in David Rosenberg, chief economist for Gluskin Sheff and a noted bear. Rosenberg said the market is moving into bear territory. He said the S&P, which would be lucky to get $50 in operating earnings this year, has priced in $70 in operating earnings for next year. He said the index is priced for nirvana with 30% to 40 percent profit growth and 4% GDP growth. "If we don't get consumer demand, all bets are off for sustainability," he said.
News Corporation
(NWS) - Get Report
has announced it is going to charging for access to all of company's news sites. David Joyce, an analyst with Miller Tabak, said the company has to charge if it is to pay for the high quality of the content.
In the "Slow Money" segment running this week, Najarian touted
Joy Global
( JOYG). He said the company is going to benefit from the stimulus package and its exposure overseas, especially in China and Taiwan.
Rick Santelli, a
CNBC
reporter, appeared briefly on the show to talk about the jobless report. He said the traders he's spoken with think the number will be 350,000 with a two-tenths uptick in the jobless rate. He said what will be more significant will be a downward revision in the May and June numbers.
Seymour disputed the significance of the report, saying what's more important is the consumer is stabilizing and credit card delinquencies are stabilizing. Adami says the jobless report, once though of as a lagging indicator, has become a leading indicator that influences consumer spending.
For the "earnings edge" segment, Lee brought in Richard Gelfond, CEO of
Imax
(IMAX) - Get Report
, which has been on a huge run, up 108% year to date.
Gelfond used the analogy of HBO to explain the success of his company. He said HBO works off a fixed cost of revenue and profits from a growth in subscribers. Likewise, he said, IMAX profits off the growth of its network of theaters, in which two to three new theaters are being added every week.
Jared Levy spoke briefly about
iShares Silver
(SLV) - Get Report
, as an alternative to gold. He said it's cheaper, slightly volatile and has performed better than gold. He said silver trades inversely to the strength of the dollar.
In the final trades, Seymour was worried
Petrobras
(PBR) - Get Report
. Adami said to take profits on
GAP
(GPS) - Get Report
, while Terranova said he liked IMAX. Najarian said he liked
PPL
(PPL) - Get Report
.
-- Written by David Tong in San Francisco
"Check out
"'Fast Money'Portfolios of the Week" on Stockpickr every Thursday.