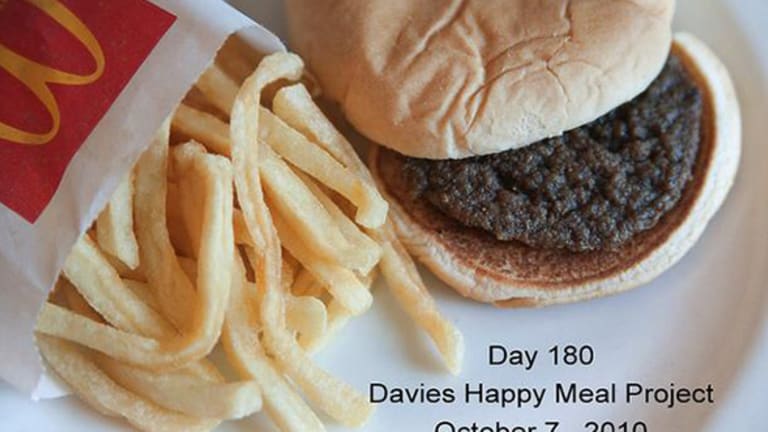 'Fast Money' Recap: Is McDonald's Serving Up an Investment Worthy Stock?
The trading panel discussed whether investors should buy the Golden Arches' stock, as well as which two companies should be hitching up in this current market climate.
NEW YORK (TheStreet) -- Investors may love biting into a Big Mac, but whether they should be biting into McDonald's (MCD) stock is another matter, according to the CNBC 'Fast Money Halftime' panel.
The panel discussed Wednesday not only McDonald's but also which two companies should be hitching up in a merger and the general condition of the markets and whether stocks are overvalued.
In tackling the markets, guest speaker Peter Boockvar, chief market analyst with the Lindsey Group, said stocks are overvalued in the U.S., and that investors should consider looking overseas for better deals. "You should look at the world as your investing oyster and go overseas where there are better valuations," Boockvar said.
Pete Najarian, co-founder of optionmonster.com, disagreed. He pointed to the financial, pharmaceuticals and technology sectors as still ripe for good deals. "These sectors still have plenty of upside," he said.
However, Boockvar expressed concern that the nearly zero interest rates the U.S. has been enjoying for nearly seven years are potentially creating a situation where the bond market is in a bubble that will burst once interest rates rise and that stocks may suffer some collateral damage when that occurs.
Stephen Weiss, managing partner with Short Hills Capital Partners, advised investors to keep cash on hand to go after stocks if such an event occurs.
McDonald's, which announced it will stop releasing a key sales metric every month and instead report its same store sales on a quarterly basis, is a company on which the panel was largely divided regarding whether investors should bite into the stock immediately.
"I would buy it on significant dips, but we haven't had a significant dip. This is just a blip," said Jon Najarian, co-founder of optionmonster.com. McDonald's started the morning slightly down, but by mid-day had risen a hair above its previous closing price of $98.46 on Tuesday.
McDonald's has traded within a tight range of the mid-$80s to $100, but will usually fall back once it hits three digits, observed Josh Brown, CEO of Ritholtz Wealth Management. "I would wait for the breakout and see what goes on before diving in," he said.
Weiss remains neutral on the stock, while Pete Najarian believes investors should own the Golden Arches because of all the changes McDonald's is implementing, such as a simplified menu, shying away from high-end burgers and focusing on a $1 to $3 range menu.
As for retailer Michael Kors Holding (KORS) , the panel largely was in agreement that it's a stock to be avoided for now. "They opened too many stores, too fast," said Pete Najarian. Brown noted the stock has been on a downward trend since February 2014 and shows no signs that selling will abate. He suggested investors stay away from the stock. Weiss said the company's growth is not sustainable.
Tiffany & Co. (TIF) is a another retailer that Brown would avoid. The high-end jewelry store jumped after its first quarter earnings release, climbing as high as $96.29 in mid-day trading. "I think it gets turned around at $100," said Brown. "I think this is all you'll get."
When it comes to mergers and acquisitions, the trading panel offered up their sweetheart pairings. Weiss would love to see Dick's Sporting Goods (DKS) buy Finish Line (FINL) , while Brown is a fan of a Google (GOOGL) snapping up Twitter (TWTR) .
Brown said that he relies on Twitter to conduct searches of real-time information that he is seeking, rather than turning to a Google search. As a result, he believes the two companies would be complimentary to each other.
Jon Najarian chose a Google and Viacom (VIA) merger for the rich content that Viacom would bring to Google. His brother selected Apple (AAPL) and Netflix (NFLX) for a similar reason with an added layer of including GoPro (GPRO) into the merger mix.
In sizing up where they stand on a number of trades in blitz fashion, Brown believes drug store chain CVS Health (CVS) is poised for a breakout that will take the stock higher, Pete Najarian is a fan of Hormel Foods (HRL) and thinks its stock too will rise. Weiss pointed to the airlines as a compelling place to invest, such as in United Continental (UAL) , Delta Airlines (DAL) , JetBlue Airways (JBLU) and American Airlines Group, (AAL) . 
This article is commentary by an independent contributor. At the time of publication, the author held no positions in the stocks mentioned.