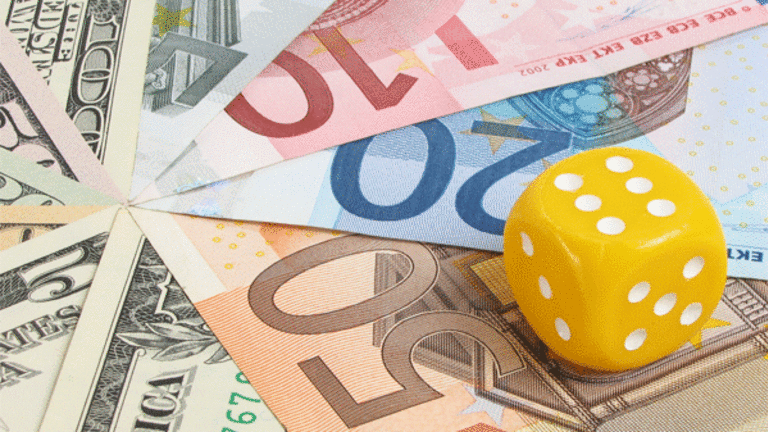 'Fast Money' Recap: Is Bank of America Desperate?
Members of the trading panel discuss Bank of America's decision to sell half of its stake in China Construction Bank, and offer up their final trades.
NEW YORK (
) -- Stocks continued last week's rally on Monday as Hurricane Irene was
.
The blue-chip index rose 252 points, or 2.2%, to finish at 11,537. The
S&P 500
advanced by 33 points, or 2.8%, to close at 1210 and the
Nasdaq
gained 82 points, or 3.3%, to settle at 2562.
Host Melissa Lee began
CNBC's
"Fast Money" TV show talking about
Bank of America
(BAC)
, which rallied again after announcing plans to sell roughly half of its stake in China Construction Bank, booking a gain of $3.3 billion. Add in the surge in the stock following last week's news of a $5 billion preferred investment by Warren Buffett, and the shares have bounced more than 30% in a short span.
For a breakout of some stocks from a recent "Fast Money" TV show, check out Dan Fitzpatrick's "3 Stocks I Saw on TV."
3 Stocks I Saw on TV
var config = new Array(); config<BRACKET>"videoId"</BRACKET> = 1124535169001; config<BRACKET>"playerTag"</BRACKET> = "TSCM Embedded Video Player"; config<BRACKET>"autoStart"</BRACKET> = false; config<BRACKET>"preloadBackColor"</BRACKET> = "#FFFFFF"; config<BRACKET>"useOverlayMenu"</BRACKET> = "false"; config<BRACKET>"width"</BRACKET> = 265; config<BRACKET>"height"</BRACKET> = 255; config<BRACKET>"playerId"</BRACKET> = 1243645856; createExperience(config, 8);
Tim Seymour, however, wasn't all that impressed, saying it's good for Bank of America but doesn't mean much for the financial sector as a whole.
Weighing in on the broad market, Seymour said he was surprised by the positive reaction to
Federal Reserve
Chairman Ben Bernanke's speech on Friday in Jackson Hole, Wyo., as he felt Bernanke didn't really say much that was rally-worthy. The better-than-expected personal spending number on Monday was viewed as an outlier by Seymour, who said since the data is from July, it's "ancient history."
"I'm cynical on the market's interpretation of the facts," Seymour said. "Today's rally is something you can sell."
Guy Adami said he's "sort of in Tim's camp" when it comes to the broad market but added that he felt the action over the last few days has been bullish.
Zachary Karabell of RiverTwice Research echoed Seymour's bearish view of the banks but says he still has faith in the overall global economy.
"There's no reason to be especially enthusiastic about the financial sector," he said, adding later: "But until there is evidence that real world economies are starting to implode, I think it's still just a crisis for the financials."
Stephen Weiss chimed in here, saying that he was genuinely concerned about the economy in Europe. He felt that, despite news of a merger between two of the bigger financial players in Greece -- Alpha Bank and Eurobank -- earlier on Monday, not much has really changed.
Guy Adami brought the conversation back to Bank of America, saying the timing of the sale of the China Construction Bank shares "seems odd."
Zachary Karabell pointed out that there was some urgency for Bank of America to act, given how weak the stock was in August, and Tim Seymour said he felt the transaction was "handled a bit clumsily."
"It's hard to be too positive about the sale," Seymour said. "And
BofA CEO Moynihan really had nothing to do with the gain they made."
Stephen Weiss characterized the asset sale as well as the bank's deal with Buffett as "desperation" moves, but Melissa Lee was quick to point out that the stock did catch a bounce on the news.
"It did stem the tide for them
BofA," Guy Adami added, but he still wasn't positive about Bank of America. He advised investors looking for exposure to the financials to get into what he believes is the safest one,
U.S. Bancorp
(USB)
.
"It won't get you the most beta, but you'll be able to sleep at night," Adami said.
Dennis Gartman then joined the group to talk about the situation in Greece, saying he doesn't see the bank merger as a big deal, given how far the stocks were down and how much these names were struggling.
"To think this is the end of the problems in Greece is a mistake," he said, voicing the opinion that Greece can't be saved without a strong euro and that it really needs its own currency.
This prompted Zachary Karabell to argue that it won't be possible to get Greece off the euro without "unraveling the whole thing." Gartman, who has been calling for the end of the euro for a while, agreed and said he doesn't know how the situation will ultimately be resolved, but he doesn't believe Germany will be able to go much further down the current road.
"The German people don't want to be led any farther to help the Greeks," Gartman said.
Melissa Lee then brought the conversation around to a perennial "Fast Money" favorite,
McDonald's
(MCD)
. Guy Adami noted the stock was hitting another all-time high and said it could get another pop when it reports same-location sales for August next week.
Stephen Weiss said he believes the way to play the strength in McDonald's is to buy
Coca-Cola
(KO)
or
PepsiCo
(PEP)
. He disclosed he had added to his Coke position.
Melissa Lee then switched gears to discuss the impact of Hurricane Irene on the insurers, which were strong on Monday, as the storm wasn't as catastrophic as expected. Randy Binner, an analyst with FBR Capital, said names like
Travelers Cos.
(TRV)
,
Allstate
(ALL)
and
Hartford Financial
(HIG)
could still lose a good deal of earnings on the news.
"This event was big enough to hit the bottom line but not enough to raise premiums," he said, adding that his opinion was that the Hurricane Irene relief trade is over. Still Binner was pretty positive on the stocks overall, especially Hartford Financial, which he believes is well positioned for the future.
CBS Corp.
(CBS)
was one of the names mentioned in the "Pops and Drops" segment of the show, prompting Tim Seymour to say the technical chart looks interesting.
Lululemon Athletica
(LULU)
had a 5%-plus jump on Monday but Stephen Weiss said he still doesn't like it.
Royal Caribbean Cruises
(RCL)
and
Carnival Corp.
(CCL)
both saw smart gains on Monday, but Zachary Karabell said he doesn't believe consumer spending will be strong enough to keep pushing these names higher.
Guy Adami remained bullish on
Dendreon
(DNDN)
after its 3% rise, saying "I think you buy it even with the move today." Jon Najarian was asked about
Zillow
(Z)
, which surged on news of a Citigroup initiation with a buy rating, and he said he likes the stock. Scott Nations was favorable about
General Electric's
(GE)
move, which he attributed to the stock following the broad market higher and the clearance of an acquisition.
Coffee prices were the next topic with Melissa Lee, noting prices are up 19% just this month. The panel was more bullish about
Starbucks
(SBUX)
in the wake of this news, saying its margins may get squeezed, but it still has the brand name and could likely raise prices to compensate.
Dunkin Brands
(DNKN)
, the operator of Dunkin' Donuts, may not be able to pass the higher prices onto consumers, said Zachary Karabell.
A discussion of the corn prices followed, which led Stephen Weiss to mention
Deere
(DE)
positively. "The stock is still very cheap," said Weiss, who owns the stock. "The quarter they just reported was very, very strong."
Scott Nations then weighed in on
Monsanto
(MON)
, saying he "hates" the stock.
"The genetically modified products don't do what they're supposed to do," Nations said. "All of their profits come from Roundup, and that's getting killed by generics."
Zachary Karabell stepped up to take the long side of the Monsanto trade, however.
Scott Nations proceeded to outline an options trade that he likes on
Tiffany
(TIF)
. He sees the stock rising from its current level of $71.52, and suggested buying the November 70-8- call spread on the stock, a trade that breaks even when the shares reach $74.
The "Final Trade" segment started out with Nations mentioning
Green Mountain Coffee
(GMCR)
, saying this is one of the few stocks where options were more expensive on Monday, so "there's plenty to be worried about."
Jon Najarian says he likes
NetApp
(NTAP)
"all day" and notes an industry conference is going on this week so investors should be watching the cloud stocks.
Tim Seymour, meanwhile, advised investors to sell the refiners following the pop in Hurricane Irene. Guy Adami was focused on
Ace Ltd.
undefined
, which rose nearly 4% on Monday. He said he believes the stock will continue to go higher, noting that Evercore Partners just put in place an $80 price target.
Zachary Karabell was positive on
Cummins Engine
(CMI)
, while Stephen Weiss settled on
ConocoPhillips
(COP)
, saying he's "sticking with it" because it has a good yield, provides refining exposure and will eventually be broken up.
--
Written by Michael Baron in New York.
>To contact the writer of this article, click here:
Michael Baron
.
To submit a news tip, send an email to:
.
To watch replays of Cramer's video segments, visit the Mad Money page on CNBC
.
Follow TheStreet.com on
Twitter
and become a fan on
Disclosure: TheStreet's editorial policy prohibits staff editors, reporters and analysts from holding positions in any individual stocks.