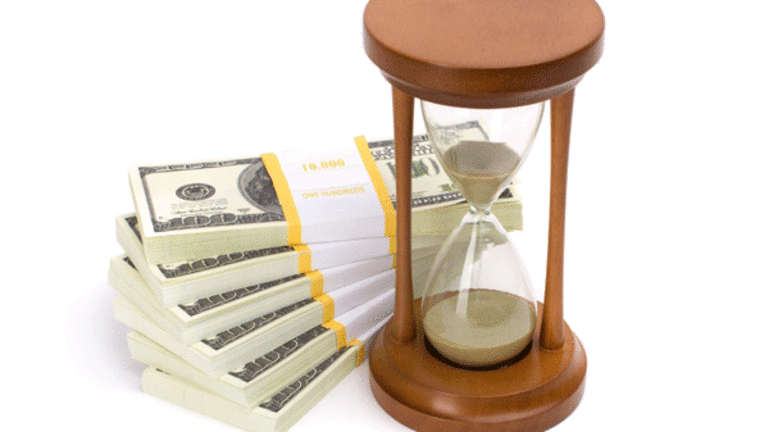 Publish date:
'Fast Money' Recap: Interest Rate Worries
The trading panel discussed the impact of higher interest rates on the markets in 2010.
The trading panel discussed the impact of higher interest rates on the markets in 2010.
NEW YORK (
) -- The markets staged a late rally Monday after retailers reported better-than-expected holiday sales results.
The
Dow Jones Industrial Average
was up 26.98, or 0.26%, to 10,547.08, while the
S&P 500
rose 1.30, or 1.20%, to 1,127.78. The
Nasdaq
added 5.39, or 0.24%, to 2,291.08.
Bob Pisani, the moderator of
CNBC
's "Fast Money" TV show, said the direction of interest rates - and not earnings - will be the dominant story in 2010. A Morgan Stanley analyst report predicted the 10-year note is going to hit 5.5%.
For a breakout of some stocks from a recent "Fast Money" TV show,check out Dan Fitzpatrick's "3 Stocks I Saw on TV."
3 Stocks I Saw onTV
varconfig = new Array(); config<BRACKET>"videoId"</BRACKET> = 59322444001;config<BRACKET>"playerTag"</BRACKET> = "TSCM Embedded Video Player";config<BRACKET>"autoStart"</BRACKET> = false;config<BRACKET>"preloadBackColor"</BRACKET> = "#FFFFFF";config<BRACKET>"useOverlayMenu"</BRACKET> = "false";config<BRACKET>"width"</BRACKET> = 265;config<BRACKET>"height"</BRACKET> = 255;config<BRACKET>"playerId"</BRACKET> = 1243645856;createExperience(config, 8);
Steve Cortes didn't agree with that prognosis, saying he expects interest rates to remain low. He said the two-year note auction went well today but said the real test will be the next two days of Treasury auctions.
Steve Grasso said interest rates and the equities market actually have been moving higher in tandem.
Joe Terranova said the important trade in 2010 will be the impact of higher interest rates on the mortgage market. He said consumers might be motivated to try to lock in mortgage rates before they move higher. "I'll be one of them," he said.
Cortes said a Goldman Sachs bond strategist held the opposite view, saying interest rates will remain low so long as there is continued high unemployment.
Pisani said today's rally had a familiar ring to it. Pete Najarian has called the phenomena "Mutual Fund Mondays." For the past 11 out of 14 Mondays, the market has been up as money has flowed in to chase performance, he said.
Najarian said the Monday rallies have accounted for most of the recent movement in the S&P. "Forget the other days of the week," he said, adding tech and energy stocks have been driving the rally.
In addition to equities, Cortes said money was also going into bonds and Treasuries. Grasso said investors would be better off getting into stocks.
Joe Terranova said Jan. 8 is an important date for investors because that is when the unemployment report comes out, the impact of which will be felt on Jan. 11.
Pisani said retail stocks lead the market higher, noting the clear winner was
Amazon.com
(AMZN) - Get Report
, which sold more e-readers than physical books.
Keith Terry, an analyst with FBR Capital Markets, said Amazon was able to capitalize on bad weather to ring up impressive sales. He said the online retailer enjoyed a 51% year-over-year increase in sales on its top-selling day. "Everything broke its way," he said.
Grasso considered Amazon still a buy at $139 because of the Kindle story. He and Terranova hit on the theme of the frugal consumer, noting that investors will be moving out of
Macy's
(M) - Get Report
and into
Wal-Mart
(WMT) - Get Report
,
Target
(TGT) - Get Report
and
CVS Caremark
(CVS) - Get Report
. Najarian said he continues to like
Apple
(AAPL) - Get Report
on the strength of its upcoming tablet and holiday sales of iPhones and iMacs.
Pisani said oil ended higher today and was up 6% for the week. He said coal, sugar and copper were also up. Terranova said geopolitical risks in such areas as Iran have caused crude futures to move higher. Terranova also sees corn rising in value. Grasso was skeptical of the rise in crude, saying he was going to short it.
The attempted terrorist bombing of a passenger plane over the weekend caused airline stocks to tank today. Grasso said the rising price of oil is also another factor to consider.
Stephen Levenson, homeland security analyst for Stifel Nicolaus, said
American Science and Engineering
(ASEI)
could benefit from this situation because it has developed a body scanning technology that would have detected the explosives on the leg of the terrorist.
He said the technology can identify the density of the scanned objects and determine whether they are explosives and weapons.
In a segment called "Trading 2010," Jeffery Harte, managing director of equity research for Sandler O'Neill, defended his buy rating of
Citigroup
(C) - Get Report
and a price target of $5.50.
He cited four reasons: (1) the stock is cheap in terms of price to tangible book; (2) the tangible book value is real; (3) the management team has been upgraded; (4) Citigroup is doing a better job with disclosures; and (5) institutional investors own only slightly more than 20% of the stock.
He sees significant upside to the stock, which closed at $3.38, over the next 12 months. He said the institutional investors and mutual funds won't be buying the stock until the government decides to sell its shares.
In a short segment of tech stocks, Najarian said investors should keep a careful eye on any weakness in inventory and demand in the chip sector, which has been a leading indicator in the tech rally this year.
Shifting to the housing market, Cortes said he shorted the homebuilders today, selling
Toll Brothers
(TOL) - Get Report
and
Pulte Homes
(PHM) - Get Report
because he believes it will take years to work off inventory that has been excacerbated by rising foreclosures. Terranova said the residential market needs to see more improvement in home prices.
Pisani asked Tom Lydon , president of global trends investments, for etftrends.com for some tips on investing in ETFs in view of a possible hike interest rates. Lyon recommended
Powershares Dollar Bull
(UUP) - Get Report
,
Short 20-year Treasury ETF
(TBF) - Get Report
,
Vanguard Short-Term Bond
(BSV) - Get Report
, and
Consumer Staples ETF
(XLP) - Get Report
XLP.
Shifting to China, Amanda Drury, anchor of
CNBC
's Asia Squawk Box, noted a warning from of a Bank of America analyst of asset bubbles in stock and real estate markets in China if inflation accelerates there. She said asset bubbles have been a recurring theme in that country over the years. Grasso said it's difficult for him to be bullish on China because he cannot trust the data coming from the country.
In the final trades, Terranova liked
3M
(MMM) - Get Report
, while Cortes liked
General Dynamics
(GD) - Get Report
. Grasso liked
Devon Energy
(DVN) - Get Report
. Najarian said he liked
Akamai Technologies
(AKAM) - Get Report
.
-- Written by David Tong in San Francisco
To watch replays of Cramer's video segments, visit the Mad Money page onCNBC
.
"Check out
"'Fast Money'Portfolios of the Week" on Stockpickr every Thursday.
Follow TheStreet.com on
Twitter
and become a fan on