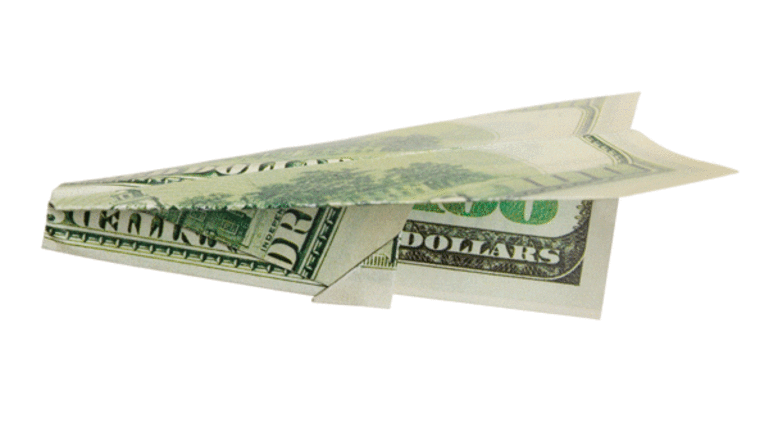 'Fast Money' Recap: Inflation Fears
The trading panel says the market is racked by inflation worries.
The trading panel says the market is racked by inflation worries.
The markets were spooked Wednesday by inflation jitters from a disappointing Treasury auction and higher oil prices.
The
Dow Jones Industrial Average
fell 24.04, or 0.27%, to 8,739.02, while the
S&P 500
dropped 3.28, or 0.35%, to 939.15. The
Nasdaq
lost 7.05, or 0.38%, to 1,835.08.
Melissa Lee, the moderator of
CNBC
's "Fast Money" TV show, said the market fell after the yield on 10-year debt jumped to a high of 4% while oil rose above $71 a barrel.
Jeff Macke said the high yields will kill the housing rally.
Pete Najarian said the market showed no defined leadership and was spared a triple-digit loss toward the end of the session by a late surge in Nasdaq stocks.
Joe Terranova said the resource names came back, underscoring his point that investors are fleeing to commodities because of asset allocation and not demand for the commodities themselves. He said the paper demand for these assets are being fed by fears of inflation.
Karen Finerman, who has warned all along about the significance of these Treasury auctions for the economy, said there isn't a silver lining in this upcoming Treasury calendar. "This will be a key focus for a long, long time, along with employment statistics," she said.
Terranova said the market teaches you to back off from buying Treasuries until you get a better yield. He doesn't believe the 30-year auction is going to go well tomorrow.
Rick Santelli, a
CNBC
reporter said
Fed
chairman Ben Bernanke has to exercise some monetary restraint by raising the federal funds rate and shutting down some programs that are not working.
Lee said the other headwind affecting the markets is oil, which rose above $71 a barrel today. Terranova said the price hike is going to affect the economy, raising gas prices and reducing the savings rate.
In this environment, Finerman said she was long
Wal-Mart
(WMT) - Get Report
and short
SPDR S&P Retail
(XRT) - Get Report
.
Christopher Zook, chairman and CIO of CAZ Investments, said the market is seeing resistance from the "battle of all this bad news" and "the liquidity on the sidelines" that feels it can't afford to miss being in the market. He sees a pullback that could get ugly if people don't protect themselves. He said he would be long in the energy space and commodities with tight stops and protection.
Chris Thornberg, a principal with Beacon Economics, said higher mortgage rates will dampen buying and refinancings. He said he is particularly worried about the impact higher rates will have on those holding residential and commercial adjustable rate mortgages.
Shifting to technology, Terranova thought the beneficiary of this week's developers conference of
Apple
(AAPL) - Get Report
was
Research In Motion
(RIMM)
.
At the end of the day, RIMM came out ahead because it is what Apple isn't, he said. RIMM gets the nod because it has the enterprise support, wider distribution network and 21% market share, he said.
Furthermore, Goldman Sachs raised its price target for RIMM to $96, while Bank of America-Merrill Lynch raised its target to $100, he said.
All this sets up beautifully for RIMM's earnings report on June 18, he said.
Dr. John Lechletter, CEO of
Eli Lilly
(LLY) - Get Report
came on the show to talk about the diabetes drug Byetta it is developing with Amylin, which is waiting for FDA approval.
He acknowleged his company is struggling with the problem of patent expirations. But he said his company isn't alone. He said the industry is suffering from an innovation drought but expressed confidence that his company can get what it has in its pipeline across the finish line.
He expressed reservations about President Obama's health care plans, saying the administration should keep medical innovations in mind as it seeks those reforms.
Continuing his "new normal" segment, Steve Cortes, founder of Veracruz, said consumers face a "bleak future" with higher energy and food costs and higher debt service costs.
In the final trades, Macke liked
US Oil Fund
(USO) - Get Report
. Terranova recommended going long
UltraShort 20+ Year Treasury ProShares
(TBT) - Get Report
. Finerman liked
Emulex
(ELX)
, and Najarian liked
Caterpillar
(CAT) - Get Report
.
"Check out
"'Fast Money'Portfolios of the Week" on Stockpickr every Thursday.