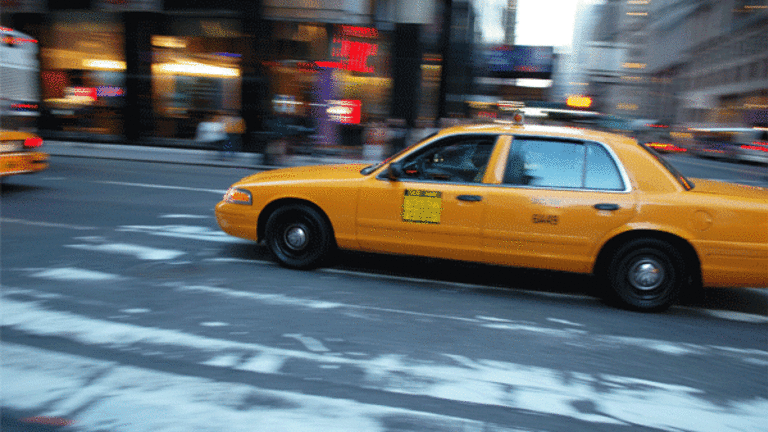 'Fast Money' Recap: In Need of a Catalyst
Joe Terranova said the market is looking for a catalyst to move it higher.
Joe Terranova said the market is looking for a catalyst to move it higher.
NEW YORK (
) -- The markets ended the week in the red on disappointing consumer sentiment figures.
The
Dow Jones Industrial Average
fell 76.79, or 0.82%, to 9321.40, and the
S&P 500
dropped 8.64, or 0.85%, to 1004.09. The
Nasdaq
lost 23.83, or 1.19%, to to 1985.52.
Melissa Lee, the moderator of
CNBC
's "Fast Money" TV show, noted a nice rebound off the session's lows.
Tim Seymour said the rebound was due to short-covering and worries of a "sloppy Monday" if the S&P falls below 992. He said he doesn't think any of the pullbacks will be steep.
Joe Terranova said the market is looking for a "fundamental catalyst" to move it higher.
For a breakout of some stocks from a recent "Fast Money" TV show,check out Dan Fitzpatrick's "3 Stocks I Saw on TV."
3 Stocks I Saw onTV
varconfig = new Array(); config<BRACKET>"videoId"</BRACKET> = 33799348001;config<BRACKET>"playerTag"</BRACKET> = "TSCM Embedded Video Player";config<BRACKET>"autoStart"</BRACKET> = false; config<BRACKET>"preloadBackColor"</BRACKET> = "#FFFFFF";config<BRACKET>"useOverlayMenu"</BRACKET> = "false"; config<BRACKET>"width"</BRACKET> = 265;config<BRACKET>"height"</BRACKET> = 255; config<BRACKET>"playerId"</BRACKET> = 1243645856;createExperience(config, 8);
Karen Finerman said she didn't put much credence to the consumer confidence number as opposed to more meaningful metrics such as inventory or purchasing. Mike Khuouw added it's been a slow week with not much volume.
Seymour said that although the S&P technically isn't expensive, people are just wondering where the next round of growth is going to come from.
Terranova, referring to a chart in Thursday's show, said there is a significant short open interest that is holding back the market.
Seymour said the market has gone higher in recent weeks because people are no longer satisfied with putting their money in cash and Treasuries and want to put it instead in equities and credit.
Lee shifted the discussion to the latest 13-F filings from major investors. Finerman noted that Ackman's Pershing Square had reported taking a 2.4 million- share stake in
McDonald's
(MCD) - Get Report
.
Terranova said Warren Buffet was getting out of
ConocoPhillips
(COP) - Get Report
and told investors to buy it. Seymour noted that John Paulson, who took a huge stake in
Bank of America
(BAC) - Get Report
also added to his gold position, a signal that he may be expecting inflation. And Lee said George Soros cut his stake in
Wal-Mart
(WMT) - Get Report
in half.
Lee said the disappointing consumer sentiment figure sent consumer stocks down. Finerman said there is more downside to come in the
SPDR S&P Retail
(XRT) - Get Report
, which was down 2.5% today. Terranova said the drop in consumer confidence points to a need for a second stimulus to get consumer spending back to where it should be.
Lee said retailers may be in further trouble in the fall if they have to engage in price cutting to lure consumers to spend.
With oil falling back to $68 a barrel today, Terranova said the trade in oil is "to be flat." Khuouw said investors should look at the situation as a buying opportunity in the integrateds and get it into a stock like
Chevron
(CVX) - Get Report
because it has a lower multiple and less natural-gas exposure than ConocoPhillips.
Seymour sounded a cautionary note on
Petrobras
(PBR) - Get Report
, which is facing declining margins, efficiency problems and a political struggle for its assets. "Be very careful," he said.
Seymour also was cautionary about China amid reports that it may cut back liquidity in the banking sector and tighten monetary policies. He said investors should not presume China is a "one-way ticket up," adding the country looks "wounded here."
For a chartist view of the markets, Greg Troccoli, director of technical research for Opalesque, said it would be OK for the S&P to drop to 950 and 960. However, he said a drop below 950 would send the index falling to 903. He also said he sees the yield on the 10-year Treasury note not falling below a yield of 3% for "years to come."
In a segment on what stocks to trash, Terranova said again that he would short
Avalon Bay
(AVB) - Get Report
and
KB Home
(KBH) - Get Report
, which he says face significant challenges and availability of credit. Seymour said he would get out of the rail stocks, and Finerman said she would short the REITs. Khuouw said he would take some profits from the retailers after a big run.
For the show's "earnings edge" segment, Lee went to Daniel Hamburger, CEO of
Devry
(DV)
, which replaced GM on the Dow.
He said most of its schools are not tied to the economy and perform well in good and bad times. He said the medical, veterinary and nursing schools are doing well, while the professional education segment is "hurting a little."
He said enrollment is up 51% for the quarter and 90% of its graduates find employment in their fields.
With
Hewlett-Packard
(HPQ) - Get Report
reporting earnings Tuesday, Khuouw said he was neutral on the stock. Terranova liked Hewlett-Packard, noting the benefits the hardware sector is seeing from the PC supply train's strength and Asian demand. Seymour noted also that orders at the two top chipmakers in Taiwan have been strong.
Lee asked Dennis Gartman to comment on the commodities markets which were hit today. He said a correction is needed in an extremely overbought market, where investors are shorting on dollar and long in the commodities markets.
In the final trades, Seymour liked
Monsanto
(MON)
. Terranova talked about a trade in which he bought puts in
Freeport McMoRan
(FCX) - Get Report
and sold them the following day. Finerman said she liked
Stryker
(SYK) - Get Report
. Khuouw said to sell calls against
iShares MSCI Japan Index
(EWJ) - Get Report
if it looks higher compared to where it has been trading.
-- Written by David Tong in San Francisco.
"Check out
"'Fast Money'Portfolios of the Week" on Stockpickr every Thursday.