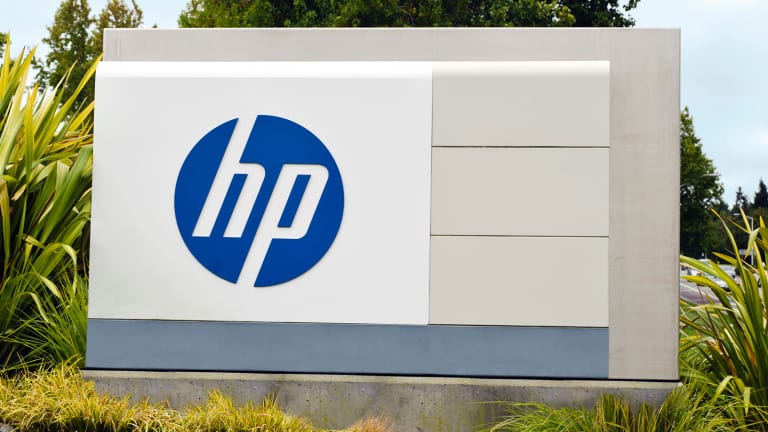 'Fast Money' Recap: HP's Mixed Bag, Questions for GAP, Apple's Upswing
The trading panel considered Hewlett Packard in the aftermath of a mixed earning report, GAP, Apple and Lumber Liquidators.
NEW YORK (TheStreet) -- The CNBC "Fast Money" panel had an old colossus on its mind Thursday. Tech giant Hewlett Packard (HPQ) - Get Free Reportfinished a mixed first quarter. Bottom-line results at the Palo-Alto, Calif.-based company beat expectations but top-line growth lagged. The price edged higher to nearly $34 a share. 
The panel praised HP's renewed emphasis on enterprise services and cost cutting. The company also announced earlier in the day that it was selling a controlling stake in its China server, storage and technology storage unit for about $2.3 billion to Tsinghua Holdings, part of state-owned Tsinghua University.
San Francisco-based retailer GAP's (GPS) - Get Free Report struggles over the past few years have been well-documented. The company announced Thursday its earnings fell below expectation for the quarter. During its conference call, Art Peck, who took over as CEO in late 2014, acknowledged the retailer had been "off brand" and that "our team's all over it." 
Finerman considered Peck's admission encouraging news. "That's what you want to hear," she said. I'm going to stick with them. I'm long GAP."

Seymour and Guy Adami, managing director of stock monster.com, said to be patient. "I'd stay with it," Seymour said. 
Apple (AAPL) - Get Free Report stock rose after Morgan Stanley analysts said the company's stock price would hit $190. The panel weighed this news against recent declining demand in the China smart phone market.
Seymour was long on the stock a week ago and held his ground. "I think the story is still positive," he said. Adami said the stock was headed to $150 "if patterns replicate which I feel the will do." Kelly said that he thinks the stock will "push up to new historic highs." 
Finerman has been "long for a while" but has been reluctant to buy more. She's uncertain what the right multiple of earnings for the stock. 
The panel spoke with Richard Clemmer, CEO of NXP Semiconductors (NXPI) - Get Free Report. Clemmer said his company benefited from Apple sales but also that his products serve "multiple platforms beyond one cell phone company."
Lumber Liquidators' (LL) - Get Free Report stock has been tanking, in part, since 60 Minutes raised questions about allegedly dangerous levels of formaldehyde in its flooring. The company's CEO Robert Lynch resigned Thursday. Kelly said that now the company could start afresh, although he didn't think the stock was a buy. Seymour agreed. "I think you sell even before today," he said. 
The panel considered biotech Sarepta Therapeutics (SRPT) - Get Free Report which faces FDA approval for Duchenne, a promising treatment for muscular dystrophy. Observers of the Cambridge, Mass.-based company considered it behind its main competitor, Novato, Calif.-based Biomarin (BMRN) - Get Free Report in the development of a treatment for degenerative muscle disease. 
Biomarin will be seeking the FDA's approval at approximately the same time for its therapy. The company that gets to the market first will have an edge in reaching the annual 20,000 people a year who are diagnosed with the disease. 
Adami called the dueling approvals "a binary event." 
Finerman remains long on Woonsocket, R.I.-based retail pharmacy chain CVS (CVS) - Get Free Report following its acquisition of Cincinnati, Ohio-based drug provider Omnivore (OCR) for a reported $12.7 billion. "It's a great deal for them," she said.
The slowdown in the Chinese economy has unsettled many investors. The drop in value of a financial services and real estate firm, Golden Financial and Golden Properties, was the latest news to raise concerns. Guest Dennis Gartman, editor of The Gartman Letter, said that he wouldn't buy Chinese stocks immediately. He said to let the Shanghai Index, which has doubled over the past six months, go down 15% to 20%. "I'll be bullish but not right here," he said. 
Kelly said that investors looking for opportunity might consider Alibaba (BABA) - Get Free Report "I think that BABA is the way to do it," he said. "It's already up quite a bit."
Shazam CEO Rich Riley said that his company had raised $1 billion. "That gives us a lot of flexibility," but he acknowledged that an IPO "is a possibility" in the near future. "We want to make sure we build the best company we can," he said. 
For final trades, Seymour was long on China Mobile (CHL) - Get Free Report, Kelly said to buy GoPro (GPRO) - Get Free Report, Fireman said "to sell biotech exposure," and Adami was long on retailer Urban Outfitters (URBN) - Get Free Report. "I think you buy it right here," Adami said. 
Follow TheStreet.com on Twitter and become a fan on Facebook