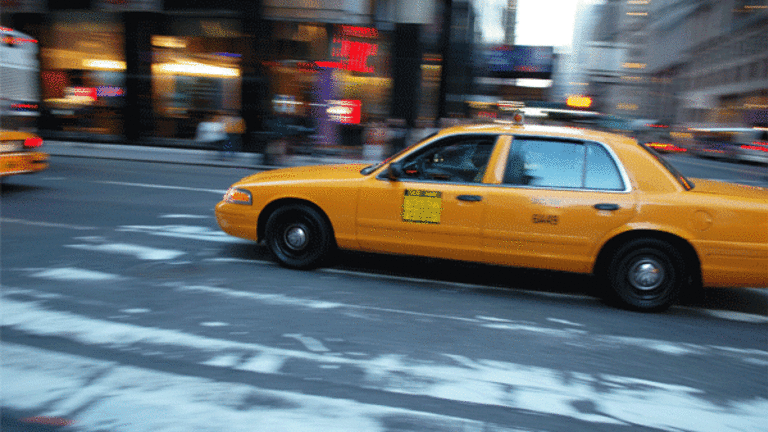 'Fast Money' Recap: How to Trade Gold
The trading panel discussed how to play gold and other commodities.
NEW YORK (
) -- The markets surged again Tuesday as gold hit a new high.
The
Dow Jones Industrial Average
jumped 131.50, or 1.37%,to 9731.25, while the
S&P 500
was up 14.26, or 1.37% to1054.72. The
Nasdaq
added 35.42, or 1.71%, to 2102.42.
Tim Seymour on
CNBC
's "Fast Money" TV show that the rallywas fueled by a move by the Australian central to set monetary policyby raising rates and rumors that Saudia Arabia was talking with othercountries to reprice oil in an currency other than the U.S. dollar.
Joe Terranova added that the Australia dollar is enjoying acurrency yield and providing a liquidity boost that is boosting allassets.
Pete Najarian said the market is getting leadership from thefinancials and technology along with a big increase in the volume ofoptions trading today.
For a breakout of some stocks from a recent "Fast Money" TV show,check out Dan Fitzpatrick's "3 Stocks I Saw on TV."
3 Stocks I Saw onTV
varconfig = new Array(); config<BRACKET>"videoId"</BRACKET> = 43752084001;config<BRACKET>"playerTag"</BRACKET> = "TSCM Embedded Video Player";config<BRACKET>"autoStart"</BRACKET> = false;config<BRACKET>"preloadBackColor"</BRACKET> = "#FFFFFF";config<BRACKET>"useOverlayMenu"</BRACKET> = "false";config<BRACKET>"width"</BRACKET> = 265;config<BRACKET>"height"</BRACKET> = 255;config<BRACKET>"playerId"</BRACKET> = 1243645856;createExperience(config, 8);
Melissa Lee, the moderator of the show, said that the tell for themarket might have the dollar, which sank to nearly a new low forthe year.
Lee shifted the discussion to the soaring price of gold, which hita nominal high of $1042.80 an ounce. Najarian said there has beenincredible activity in the
Market Vectors Gold Miners
(GDX) - Get VanEck Vectors Gold Miners ETF Report
andusually strong options activity in
Gold Fields
(GFI) - Get Gold Fields Limited Sponsored ADR Report
.
Adami warned investors about not getting carried away by the momentumtrade, saying the valuation don't make sense at this level. He said there arecompany and organizational risks in being long on the gold miningstocks. He said he would rather be in
SPDR Gold Shares
(GLD) - Get SPDR Gold Trust Report
.
Seymour said he believes gold is going higher, adding goldwill wind up higher for the ninth consecutive year. "That hasn'thappened since the 1940's," he said.
In addition to gold, he said he would be looking into investing inplatinum and palladium.
Najarian said there are other commodities that offer betterreturns than gold, which he said is up 26% for the year. He said coalis up 75% and copper is up 100%. Given the choice between oil, whichis also up 26% for the year, and gold, he said he would choose oilbecause it's what he called one of the "commodities of use."
Terranova said gold has become the "ultimate currency" becauseevery other currency has devalued except for the Australian dollar.
Shifting to crude which crossed $71 barrel and prompted aprediction from T. Boone Pickens that oil will be well over $80 nextyear. Seymour said oil isstarting to trade on demand and supply disruption. Adami said he liked
Apache
(APA) - Get Apache Corporation Report
and sees it heading to $105. Najarian said anotherchoice would be the integrated oil companies which have underperformedthis year.
Lee invited Dennis Gartman, a commodities expert, to talk aboutthe gold trade. "Everybody and his brother is shorting the dollar," hesaid.
Goldman said he was on the sidelines today, tryingto get less exposed to the dollar. He said he has been buying gold inthe British pound sterling. He said there might be some credence toreports that the Gulf states are talking with China, Russia, Franceand Japan about diversifying away from the U.S. dollar.
Bob Pisani, a
CNBC
reporter, said the consensus among thetraders he talked with is that they were in the "double-dip camp" even as theymaintained net long positions in the market. "Never was so much moneymade and so many miserable about it," he said.
Pisani said the hedge funds managers he talked with just didn't havethe nerve to be short.
In the segment called "Take Your Position," Lee noted that
Aloca
was going to kick off the third-quarter earningsseason tomorrow. Seymour was high on Alcoa, saying the company'sbusiness seems to be improving. Adami, though, was worried because he said it's difficult to work off the glut of aluminumthat's still out there. "I wouldn't get into it ahead of earnings," hetold Lee.
For a chartist view of the rally, Greg Troccoli, director oftechnical research for Opalesque, said the general market is still onthe long side with investors moving in to buy on the dips.
Lee brought in Charles Gasparino, a
CNBC
reporter, to talkabout the successor to Ken Lewis, the CEO of
Bank ofAmerica
(BAC) - Get Bank of America Corp Report
.
Gasparino said insiders close to the bank believe the twobest internal candidates are Greg Curl, chief risk officer, and BrianMoynihan, head of retail, with Sallie Krawcheck, the brokerage chief, along shot. He said an interim CEO might be chosen from the board with board members Chad Gifford and Bill Boardman mentioned as the best prospects. The interim CEO would help groom Lewis'successor. He said there is also talk about choosing an externalcandidate.
Lee said the demise of four publications by
Conde Naste
,including
Modern Bride
and
Elegant Bride
could be anopportunity for
Knot
(KNOT)
which has a wedding Website. CEODavid Liu said the biggest challenge will not be circulation as itwill be picking up the advertisers from the two folded publications.
Adami said he was noncommittal about the company. Although thecompany has enjoyed a huge run, he said he still doesn't understand the storyline.
In the final trades, Seymour liked
Rio Tinto
(RTP) - Get REINVENT TECHNOLOGY PARTNERS CLASS A Report
. Adami liked
Yum! Brands
(YUM) - Get Yum! Brands, Inc. (YUM) Report
. Terranova liked
Mosaic
(MOS) - Get Mosaic Company (MOS) Report
and Najarian said to buy
McDonald's
(MCD) - Get McDonald's Corporation (MCD) Report
.
-- Written by David Tong in San Francisco
To watch replays of Cramer's video segments, visit the Mad Money page onCNBC
.
"Check out
"'Fast Money'Portfolios of the Week" on Stockpickr every Thursday.
Follow TheStreet.com on
Twitter
and become a fan on