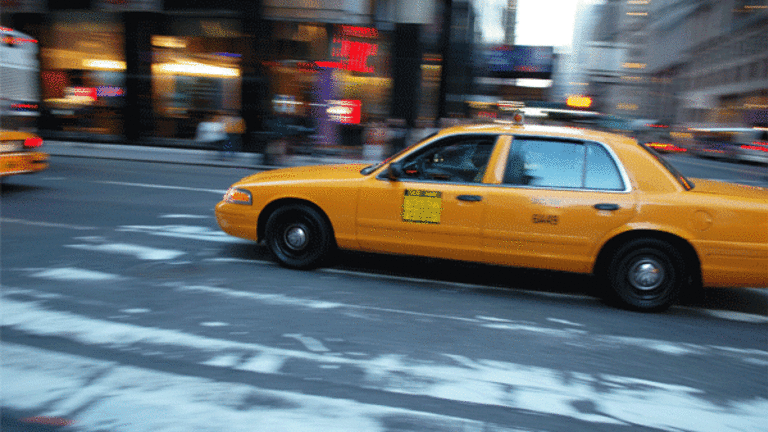 Publish date:
'Fast Money' Recap: Heading Much Lower
The trading panel discussed the chances of the S&P dipping to 980.
The trading panel discussed the chances of the S&P dipping to 980.
NEW YORK (
) -- The markets nosedived Tuesday as global economic fears intensified.
The
Dow Jones Industrial Average
fell 268.22, or 2.65%, to 9,870.30, while the
S&P 500
dropped 32.21, or 3%, to 1,042.36. The
Nasdaq
lost 85.47, or 3.85%, to 2,135.18.
Pete Najarian said on
CNBC
's "Fast Money" TV show that the last hour of the trading session looked "ugly," although there was a glimmer of hope when there was a show of support for the S&P at 1,040.
Tim Seymour took a darker view, arguing that the selling pressures will continue, with the S&P is "destined" to head down to 1,020 and then to 980.
Anthony Scaramucci said the hedge funds are de-risking their portfolios, taking off both longs and shorts and focusing on defensive names.
For a breakout of some stocks from a recent "Fast Money" TV show,check out Dan Fitzpatrick's "3 Stocks I Saw on TV."
3 Stocks I Saw onTV
varconfig = new Array(); config<BRACKET>"videoId"</BRACKET> = 105123229001;config<BRACKET>"playerTag"</BRACKET> = "TSCM Embedded Video Player";config<BRACKET>"autoStart"</BRACKET> = false;config<BRACKET>"preloadBackColor"</BRACKET> = "#FFFFFF";config<BRACKET>"useOverlayMenu"</BRACKET> = "false";config<BRACKET>"width"</BRACKET> = 265;config<BRACKET>"height"</BRACKET> = 255;config<BRACKET>"playerId"</BRACKET> = 1243645856;createExperience(config, 8);
Guy Adami said the market is heading "significantly lower," adding "the bond market is trying to tell you something."
Seymour said the markets will be looking at China's PMI numbers on Wednesday night. He said that those will be important because if "people don't have a lot of confidence in China, they are not going to have it anywhere."
Melissa Lee, the moderator of the show, alluded to a report by Oppenheimer technical guru Carter Worth, who pointed out that only two of the 23 companies above $100 billion in market cap had decent charts --
Apple
(AAPL) - Get Report
and
Berkshire Hathaway
(BRK.B) - Get Report
.
Adami said it was disturbing to see leading indicator stocks such as
Goldman Sachs
(GS) - Get Report
,
Caterpillar
(CAT) - Get Report
and
Potash
(POT)
headed downward.
Barry Ritholtz, CEO of Fusion IQ, said the crossing of the 50-day moving average over the 200-day moving average in the
NYSE Composite Index
(NYA)
had negative short-term implications for the market. "It doesn't bode well for the next three months," he said.
Najarian said it might be a good time to use the downturn to get into fundamentally strong stocks like
Apple
(AAPL) - Get Report
and
Akamai
(AKAM) - Get Report
.
Scaramucci took the other opposite view, arguing it could be an opportunity to buy stocks. He referred to the heavy amount of cash on the balance sheets of S&P companies, the move by 22 of the 50 highest yielding companies to boost their dividends this year and the fundamentals of large-cap companies.
Gary Kaminsky said equities won't move higher until the bond market changes its tune. "The bond market doesn't lie."
Dennis Gartman said equities won't do well if there is deflation. He said the G-20 leaders moved in the wrong direction when they pushed to cut spending and raise taxes.
Gartman said he was surprised to see how well gold traded today. He said his favorite gold trade is
SPDR Gold
(GLD) - Get Report
.
Najarian said the VIX move above 34 today. He said anything north of 35 will spur institutional traders to move in take profits.
Shifting to the tech sector, which was down today, Gene Munster, an analyst with Piper Jaffray, said he liked Apple and
Yahoo!
(YHOO)
on a pullback.
He also continued to like
Baidu
(BIDU) - Get Report
despite its high long-term growth rate. He said the company is well-positioned in the fastest growing ad market in the world and has the backing of the government.
In yet another chapter in the financial regulation bill, Eamon James, a
CNBC
reporter, said the House-Senate conference committee has reopened discussions on the bill to seek a compromise over a controversial bank tax to win over the vote of Sen. Scott Brown, R-Mass.
The compromise reportedly would involving using TARP savings to offset costs in the reform bill and kill the bank tax.
Lee brought in another bear, Gary Schilling, president of Gary Shilling & Co. Schilling said the chances of a double-dip recession are 50-50 and rising. His argument: the European debt crisis is spreading; the U.S. stimulus is running out; housing has gone back in the tank; job growth is not picking out; and China is in the midst of a "stop-go policy."
He said the only thing that can reverse this trend is a revived economy. He told the panel he is long Treasury bonds, short stocks, long dollar against the euro and aussie, short China, and short commodities, particularly copper.
In a display of green power,
Tesla Motors
(TSLA) - Get Report
was up more than 40% on its market debut. Seymour said the company won't turn a profit for some time, but the IPO worked because of the pent-up demand to put some green money to work.
Lee asked the panel what they would do on the last day of quarter. Seymour said he wouldn't do anything and advised investors not to be lured into selling good stocks. Scaramucci said he would use the opportunity to buy and get set for the back half of the year. Ritholtz said he was 75% in cash and is going to stay that way.
In the final trades, Ritholtz liked
BJ Wholesale Club
(BJ) - Get Report
. Seymour liked
Itau Unibanco
(ITUB) - Get Report
, while Adami liked
BP
(BP) - Get Report
. Scaramucci liked
Ford
(F) - Get Report
. Najarian thought
Caterpillar
(CAT) - Get Report
was a good pick on a pullback.
-- Written by David Tong in San Francisco
To watch replays of Cramer's video segments, visit the Mad Money page onCNBC
.
"Check out
"'Fast Money'Portfolios of the Week" on Stockpickr every Thursday.
Follow TheStreet.com on
Twitter
and become a fan on