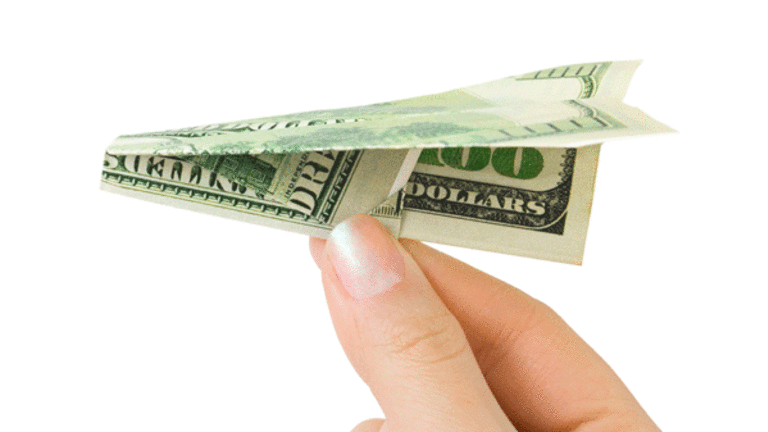 'Fast Money' Recap: Good as Goldman
The trading panel says the estimates on the broker have fallen too low.
Melissa Lee hosted
CNBC's
"Fast Money" Thursday night, starting the program on a positive note, since all three major indices closed higher -- brushing off fears over Hurricane Gustav.
Jon Najarian said "GDP being revised up was the key for today," referring to the rally in the major indices. He said there was "a lot of short-covering and program trading" that contributed to the rally, which he finds bullish.
Joe Terranova is keeping an eye on natural gas, stating that it is interesting to know inventories have been building up.
Karen Finerman went to talk about the financials. She said she is "skeptical on the financials" and is currently shorting some banks in her fund, since she does not find the rally is sustainable in the sector.
Bill Kevins came on the program and relayed the latest forecasts on Hurricane Gustav.
Terranova said "the story is not over yet with Hurricane Gustav." He went on to say how he is long formulated gas-o-line and sees "no trade for crude oil."
Najarian said feels a stock ripe to benefit from the Hurricane Gustav, if it causes severe destruction, is the insurance firm he recommended yesterday,
Aflac
(AFL)
.
Lee mentioned that
Dell
(DELL)
"dived" after-hours by 10% to $22.60 after reporting earning results below analysts' expectations.
Adami mentioned how Najarian was right yesterday, when Najarian mentioned to wait on buying Dell when it reaches $22-$23. Adami said he was wrong for liking Dell into the earnings but said "I still like Dell here."
Najarian said it was "a lucky call." The said the reason he was nervous about Dell yesterday was that he noticed a lot of puts being sold yesterday. He went on to say, "I didn't like at $25 but I like it here."
Lee mentioned how
Hewlett-Packard
(HPQ)
and
Intel
(INTL)
are trading fractionally lower in after-hour trading because of Dell's earnings.
Najarian and Terranova say that Hewlett-Packard is a great company and should continue operating with strong results.
Back to Financials
Lee mentioned how
Freddie Mac
undefined
and
Fannie Mae
undefined
continued their rallies today -- Freddie rose by 11% to $5.28, and Fannie surged 23% to $7.95.
Najarian said, "I saw huge call option activity in
Financial Sector SPDR
(XLF)
." He said the "extraordinary volume" in call options makes him very enthusiastic for the financial sector.
Other Action
Retailers rose up today, Lee pointed out. She brought up how
Sears Holdings
(SHLD)
rose 4% to $90.62 and that
Tiffany
(TIF)
traded higher as well, up by 11% to $43.85.
Adami warned that investors "can't rush into
Tiffany
(TIF)
in these levels." He said the stock's movement had a lot to do with shorts covering their positions. He went on to say that Karen Finerman recommended the stock a couple of weeks ago at much lower levels.
Paul Corby, Senior Vice President of Planalytics, came on the program to discuss Hurricane Gustav. He said he feels Hurricane Gustav will be a Category 3 hurricane. Also, Corby said he agrees with Terranova that investors should "stay out of the natural gas markets."
Afterward, Zachary Karabell, president of RiverTwice Research, joined the program. He mentioned that the upward revision in GDP was boosted by "strong exports." However, he warned that "negative GDP does not necessarily mean negative corporate earnings, and positive GDP does not necessarily mean positive corporate earnings." Therefore, he said, investors should be careful when reading such data numbers. However, he said he does feel positive about the economy and believes it is doing better than many have expected.
Going for Brokers
David Trone, Analyst of Foxx-Pitt Kelton, came on the program to discuss
Lehman Brothers
undefined
. He said that if the stock continues to underperform, then management might want to try and take the company "private at $13." In order for the company to raise most of its money to enable it to go public, he said, it will have to sell Nuember Berman -- it could prove difficult to convince shareholders to approve such a tender, said Trone.
Terranova brought up
Goldman Sachs
(NKE)
, stating that at some point the downgrade on earnings reaches a point where the stock has been downgraded too much. He said he believes the estimates on Goldman is far too low and said he is bullish on the stock.
Finerman said Goldman is a "premium franchise." She currently owns the stock and remains bullish on the stock despite its recent performance.
Dennis Gartman, president of
The Gartman Letter
, said he remains bullish on the dollar and sees it continuing its rise as the months progress. He said he is bearish on the euro and currently has a short position on the currency.
Final Trade:
Terranova said he likes
Amazon.com
(AMZN)
; he said he sees the stock going to $100.
Adami likes
Lockheed Martin
(LMT)
.
Finerman reiterated how she still likes Goldman Sachs.
Najarian continues his support for Aflac.
Peter Garcia is a finance major at Seton Hall. He provides invaluable research support as an intern at TheStreet.com.