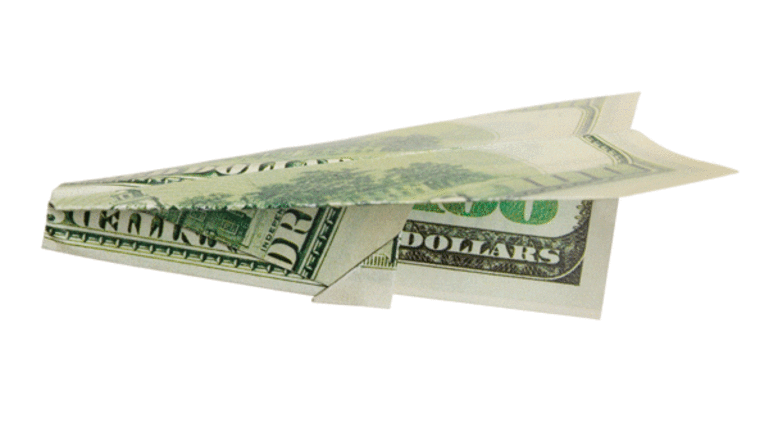 Publish date:
'Fast Money' Recap: Goldman's Jolt
The trading panel wondered how much of an effect Goldman's upgrade will have on the market.
The trading panel wondered how much of an effect Goldman's upgrade will have on the market.
The markets rebounded Monday on a boost from the financial sector.
The
Dow Jones Industrial Average
jumped 185.16, or 2.3%, to 8,321.85, while the
S&P 500
added 21.92, or 2.5%, to 901.95. The
Nasdaq
rose 37.18, or 2.1%, to 1,793.21.
Pete Najarian said on
CNBC
's "Fast Money" TV show, that the markets snapped back on the strength of the financials, in particular Meredith Whitney's bullish outlook for
Goldman Sachs
(GS) - Get Goldman Sachs Group, Inc. (GS) Report
and to a certain extent, technology.
Karen Fineman, though, downplayed today's action, saying it was more of a bounce without much direction and volume.
Guy Adami agreed with Whitney's call on Goldman but wonders whether the company can follow through.
Finerman said
Bank of America
(BAC) - Get Bank of America Corp Report
may see significant headwinds in the future because of its exposure to consumers.
Both Najarian and Tim Seymour said
Morgan Stanley
(MS) - Get Morgan Stanley (MS) Report
, whom Seymour called "Goldman lite," is relatively cheap and could pull off an earnings surprise.
Adami said Whitney's call could lead to a huge volume day for Goldman on Tuesday, a reversal to the downside and a testing of the S&P at 870. "That could be scary," he said.
Moving on to the earnings of
Dell
(DELL) - Get Dell Technologies Inc Class C Report
, Lee said the PC maker said it expected slight sequent revenue growth in the second quarter and reported a decline in gross margins and customers deferring purchases.
Finerman said the deferring of consumer purchases was "not good news." She said that message doesn't bode well for
Hewlett-Packard
(HP) - Get Helmerich & Payne, Inc. (HP) Report
and
Intel
(INTC) - Get Intel Corporation (INTC) Report
. "This is more indication that these green shoots are not so green," she said.
Najarian, however, said Intel is in a much stronger position than Dell because of its partnership with
Nokia
(NOK) - Get Nokia Oyj Sponsored ADR Report
.
Commenting on Intel's earnings which come out Tuesday, Craig Berger, senior vice president of equity research at FBR Capital Markets, said he expects the chipmaker to issue a pretty good report.
He said Intel's problems with end markets is improving and global inventory looks lean in the second half of the year. He agreed with Adami that gross margins will be key for the company, with anything less than 51% a disappointment.
Aside from Intel, he likes Marvell
(MRVL) - Get Marvell Technology Group Ltd. Report
, Broadcom
undefined
and Fairchild Semiconductor
undefined
(FCS), which he expects to crush third-quarter guidance.
In the health care sector, Najarian said he liked
Johnson & Johnson
(JNJ) - Get Johnson & Johnson (JNJ) Report
because it offers diversification, incredible performance and a habit of beating earnings. Adami tabbed
Abbot Labs
(ABT) - Get Abbott Laboratories Report
, saying its valuation is fair and noting its patents expire in 2017. He said the stock could easily get to $49 or $58.
Shifting the discussion to
CIT Group
(CIT) - Get CIT Group Inc. Report
, Lee invited Moshe Orenbuch, managing director of Credit Suisse, to talk about the bank's problems.
In the event of a collapse of Citigroup, he said any number of banks could step in and provide loans to small and mid-sized businesses. He also said the collapse would hurt the retail commodity and bondholders. And he said he would be a seller of the stock because of the earnings pressure on the bank.
On the eve of Goldman's earnings, Chris Whalen, managing director of Institutional Risk Analytics, said Goldman should perform well for balance of year.
He asked the panel why wouldn't they want to own a piece of fund that had access to discount window, government subsidies and Fed Chairman Ben Bernanke and Treasury Secretary Tim Geithner as lobbyists in Washington.
He said Goldman should do well as long as the market remains stable and political perceptions don't work against them, as they did with
AIG
(AIG) - Get American International Group, Inc. Report
.
Shifting to the commercial real estate sector, Finerman said she was out of her trade in
IShares Dow Jones US Real Estate
(IYR) - Get iShares U.S. Real Estate ETF Report
. She said she decided to bow out, even though the sector is showing signs of improvement.
In the "Rising Star" segment, Seymour touted
USEC
(USU)
, noting it is the only U.S. company enriching nuclear uranium with the backing of the U.S. government.
He said the company, which supplies commercial nuclear plants, should get a boost in six to eight weeks in the form of an announcement of a $1.5 billion loan from the federal government to complete a project. He said the loan will create 5,000 to 6,000 jobs and keep nuclear energy on the front burner for an alternative energy friendly adminstration.
Lee invited Neal Wolkoff, CEO of ELX Futures, which opened Friday, when it handled 20,000 contracts. Wolkoff said the exchange is doing well, adding there was a 40% increase in business today. He said the exchange has set realistic targets, not making any predictions about market share and focusing on one set of products.
Thus far, he said the results have exceeded analyst expectations, noting there has been good participation from investors.
Commenting briefing on trading ideas for the earnings season, Najarian emphasized buying protection, while Adami urged investors not to chase headline earnings releases but to focus on chart patterns, citing his discussion of
Jefferies
(JEF) - Get Jefferies Financial Group Inc. Report
, as an example.
In tribute to the Major League Baseball All-Star Game's home run derby, Najarian picked
Excel Maritime Carriers
(EXM)
, saying the shipping stock has a good chance of working.
Lee invited Youssef Squall, managing director of Jefferies & Co., who raised his price target on
Google
(GOOG) - Get Alphabet Inc. Class C Report
to $465. He said Google should enjoy a pretty good quarter. He said the search-engine giant is enjoying massive traffic growth, seeing pricing stability and has a CEO intent on lowering costs. He rated the stock a buy ahead of earnings.
In the final trade, Seymour was for shorting
Posco
(PKS)
; Adami liked Abbot Labs; Finerman was long
Pride International
(PDE)
; and Najarian liked
Visa
(V) - Get Visa Inc. Class A Report
.
"Check out
"'Fast Money'Portfolios of the Week" on Stockpickr every Thursday.