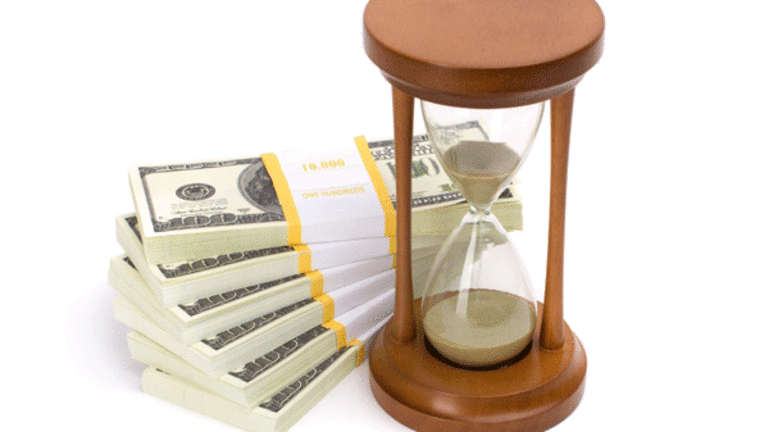 'Fast Money' Recap: Goldman's Big Day
The trading panel discussed the implications of the SEC's settlement with Goldman Sachs
NEW YORK (
) --
Goldman Sachs
(GS)
shares were sharply rising in afterhours trading Thursday after it reached a $550 million settlement with the Securities and Exchange Commission over incomplete marketing materials in a subprime mortgage securities portfolio.
The news came after a tepid trading session in which the
Dow Jones Industrial Average
declined 7.41, or 0.07%, to 10,359.31, while the
S&P 500
gained 1.31, or 0.12%, to 1,096.48. The
Nasdaq
was off 0.76, or 0.03%, to 2,249.08.
Guy Adami said on
CNBC
's "Fast Money" TV show that the penalty was less than some had estimated. He also wondered which firm would be next and stressed that there were no senior management changes, although he feared that CEO Lloyd Blankfein may step down in the coming weeks.
For a breakout of some stocks from a recent "Fast Money" TV show,check out Dan Fitzpatrick's "3 Stocks I Saw on TV."
3 Stocks I Saw onTV
varconfig = new Array(); config<BRACKET>"videoId"</BRACKET> = 115407353001;config<BRACKET>"playerTag"</BRACKET> = "TSCM Embedded Video Player";config<BRACKET>"autoStart"</BRACKET> = false;config<BRACKET>"preloadBackColor"</BRACKET> = "#FFFFFF";config<BRACKET>"useOverlayMenu"</BRACKET> = "false";config<BRACKET>"width"</BRACKET> = 265;config<BRACKET>"height"</BRACKET> = 255;config<BRACKET>"playerId"</BRACKET> = 1243645856;createExperience(config, 8);
Tim Seymour said the SEC's "new products" group will be pursuing other cases.
Jon Najarian said options trading didn't accelerate until the last half hour of trading. He said few believed that a settlement was near, though there were news reports during the day that such was the case.
Joe Terranova said the settlement was good for shareholders, adding his price target for Goldman is $155.
CNBC
contributor Kate Kelly said insiders in Goldman were relieved to get the case behind them because it had been a huge distraction. She said the SEC won an important victory because it could use the settlement as a deterrent against other wayward Wall Street firms. And she said the SEC said it reserves the right under the settlement to reopen the case if necessary.
Melissa Lee, the moderator of the show, reported the SEC saying it is pursuing other cases.
Gary Kaminsky said the senior officers in the investment banking unit were glad to have the issue out of the way. He said it's now imperative for the company to get back to its investment banking roots.
Brad Hintz, an analyst with Sanford Bernstein, said the settlement was a win for Goldman and the SEC. He said the terms of the settlement will make it difficult for the chances of a civil suit succeeding. He put the "fair value" of Goldman stock at $200, a figure Terranova characterized as a "stretch" given the tough economic climate.
Anthony Scaramucci said the settlement and the passage of the financial regulator bill resulted in a "fantastic day for industry." He said the penalty represents just 3.5% of Goldman's earnings in the past four quarters. He also said the stock is going to go much higher than $155. And he said power presentations in the future at Wall Street firms will look more like perspectuses, with the inclusion of all sorts of disclosure material.
Despite the Goldman settlement, Lee noted there was little market reaction among the other major publicly traded Wall Street firms. Brian Kelly said the news in the financial sector did not impact what consumes and China are going to do.
Tom Curran, a securities lawyer at Peckar and Abramson, said the settlement will set a SEC precedent that would make it difficult for the agency to take harsh action in future cases. He said Goldman's lawyers did well in steered the settlement in such a way that the firm did not to admit to any fraudulent actions.
Lee brought in Maria Bartiromo, a
CNBC
anchor, to interview Sen. Christopher Dodd, D-Conn., after Senate passage of the financial regulatory bill. Dodd said the legislation will not prevent a crisis but it will help to prevent one from "metastasizing." He said the bill put in place the necessary oversight over products and practices and reach the shadow banking system.
In another major business story,
BP
(BP)
shares were up 8% in afterhours after reports of oil stoppage from the damaged well in the Gulf that is in the process of going through an integrity test.
Pavel Molchanov, an analyst with Raymond James, said BP is not out of the woods yet, but Seymour argued that BP still faces tens of billions of dollars of significant liabilities and remains a "dart throw" for investors. Najarian said BP management would be foolish to sell its assets when it has enough from cash flow to deal with its liabilities. And Terranova said it will take BP years to salvage its reputation.
Shifting to tech and
Google
(GOOG)
, Gene Munster, an analyst with Piper Jaffray, said the stock was slammed after its earnings report because it's spending like "drunken sailors," when it hired 1,200 workers instead of the 800 that were expected. He also said
Apple
's
(AAPL)
announcement on its fix for the iPhone 4 will put the issue behind it.
In the final trades, Adami liked
Apache
(APA)
. Terranova liked
Ultra Petroleum
undefined
, while Najarian liked Apple.
-- Written by David Tong in San Francisco
To watch replays of Cramer's video segments, visit the Mad Money page onCNBC
.
"Check out
"'Fast Money'Portfolios of the Week" on Stockpickr every Thursday.
Follow TheStreet.com on
Twitter
and become a fan on