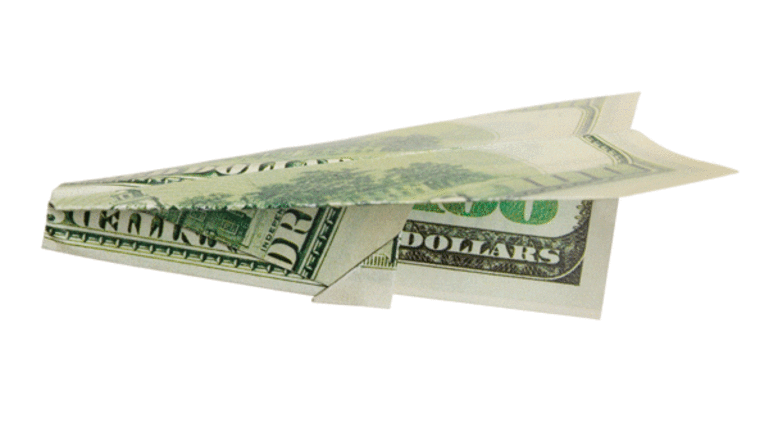 'Fast Money' Recap: Gold Glitters in Flat Market
The trading panel says gold is the only trade that is working in today's market.
Gold was the only trade showing signs of life in Wednesday's listless market.
The
Dow Jones
Industrial Average added 3.03, or 0.40%, to 7,555.63, while the
S&P 500
lost 0.75, or 0.10%, to 788.42. The
Nasdaq
dropped 2.69, or 0.18%, to 1,467.97.
Dylan Ratigan, the moderator of
CNBC
's "Fast Money" TV show, said the gold trade is working well despite the fact that it means investors are shorting America.
Guy Adami said that everyone is long gold because it's the "only trade right now," and because it reflects the fear and uncertainty in the market.
Tim Seymour said it's amazing that
SPDR Gold Trust
(GLD) - Get SPDR Gold Trust Report
has become the seventh largest holder of gold in the world.
Pete Najarian said he likes SPDR Gold Trust because it allows investors to have puts and buy protection along the way.
Ratigan shifted the discussion to Obama's new housing plan in which the president plans to stem the tide of foreclosures by reducing interest rates, extending the length of mortgages and encouraging loan modifications.
Joe Terranova wondered whether the plan will do much to stop the decline in home prices. He said the government might be better served stepping back and letting the market take over.
Seymour, though, saw some positives in the plan, which he said will force interest rates down and modify loans so that people can keep their homes.
Tech stocks have been a bright spot in the market, but
HP
(HPQ) - Get HP Inc. (HPQ) Report
may have put a damper on the sector when it missed its revenues in its latest quarterly report and lowered its outlook. The stock was down 4% in after-hours trading.
Najarian remained upbeat about the company, saying it still has EDS, added some "monster" service revenue numbers and was on the upper-end of its full-year forecast. He told Ratigan he would buy HP on the dip.
Seymour was cautious about HP because 60% to 70% of its revenues comes from overseas where countries such as China, Russia and India are dealing with stagnant growth.
Seymour said he liked stocks like
Potash
(POT)
and
Petrobras
(PBR) - Get Petroleo Brasileiro SA Sponsored ADR Report
because they were the first ones hit in the deleveraging process and will be first one to rebound when things turn around.
Najarian said he liked
Monsanto
(MON)
because it will be providing products that will increase crop yields in drought-ridden areas of the world.
Ratigan asked Najarian to explain what is happening at
Wells Fargo
(WB) - Get Weibo Corp Sponsored ADR Class A Report
, which has fallen to a 12-year low. Najarian said the drop might be due to a perception in the market that it hasn't been able to avoid the problems that have bedeviled other large banks.
Terranova said he believes Wells' fall might have to do with the problems of banks that are tethered to consumers as opposed to those in the capital markets.
Ratigan brought on Barry Ritholtz, CEO of Fusion IQ, to talk about the housing crisis. Ritholtz said home prices still have some ways to go before the situation stabilizes. He said prices, which have dropped 25% since 2006, need to fall another 15%. "We're just in the fifth inning," he said.
Ritholtz said Obama's new housing plan is not going to stop the market from taking prices to where they will eventually go.
Dan Fitzpatrick, president of stockmarketmentor.com, told Ratigan that some investors are wrong if they believe the bottom has arrived and that it's time to jump in.
Fitzpatrick, a chartologist, said it won't be until late summer that the S&P 500 intersects the 200-day moving average. He said the Nasdaq and tech is where investors want to be because the index is 12% above its November low. And he said there won't be an uptick in oil prices until there is a normal relationship between gold and oil, which is currently decoupled.
In looking at investments outside of stocks, Seymour talked about investing in metals other than gold. For ferrous metals such as iron, he recommends
SPDR S&P Metals & Mining ETF
(XME) - Get SPDR S&P Metals & Mining ETF Report
. For base metals, he likes
Powershares DB Base Metals Fund ETF
(DBB) - Get Invesco DB Base Metals Fund Report
.
And for precious metals, he favors
PowerShares DB Precious Metals ETF
(DBP) - Get Invesco DB Precious Metals Fund Report
.
In the rising star segment, Najarian touted
Crucell
(CRXL)
as the a great pure play on a vaccine maker. He said the company boasts a great balance sheet, cut costs and jumped 43% in the past 52 weeks.
In the final trades, Terranova was for
Roche
(RHHBY)
. Adami liked
Celgene
(CELG) - Get Celgene Corporation Report
. Seymour was up for
Stillwater Mining
(SWC)
, and Najarian liked
Genentech
(DNA)
.
"Check out
"'Fast Money'Portfolios of the Week" on Stockpickr every Thursday.