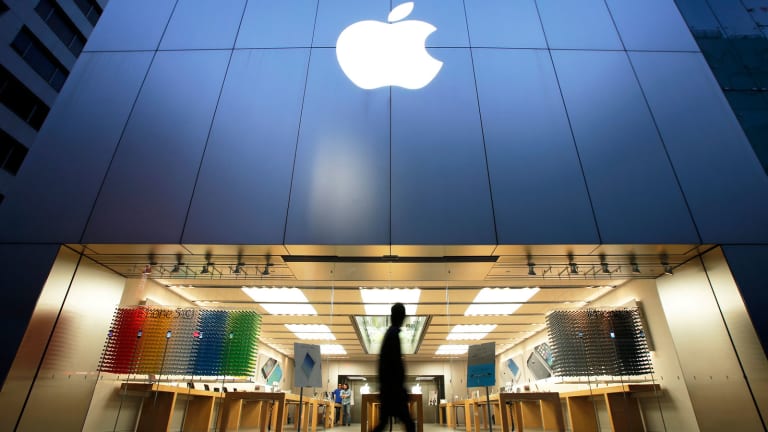 'Fast Money' Recap: Getting to the Core of Apple, Twitter
The trading panel discussed Apple's iPhone sales in China, Twitter's earnings guidance and whether the Fed will be hawkish or dovish in its next statement.
Apple (AAPL) - Get Apple Inc. Report  shares were flat in after-hours trading Tuesday following the company's revenue and earnings beat. Guidance was roughly in line with analysts' expectations, while revenue from China climbed 99% year-over-year. 
On CNBC's "Fast Money" show, Dan Nathan, co-founder and editor of riskreversal.com, said the stock has underperformed other large-cap peers including Amazon (AMZN) - Get Amazon.com Inc. Report and Alphabet (GOOGL) - Get Alphabet Inc. Report , partly because its growth has slowed. Aside from the holidays, there isn't much of a catalyst to boost the stock higher and its valuation is unlikely to increase, he argued. 
Karen Finerman, president of Metropolitan Capital Advisors, disagreed. After the company's impressive results, the valuation deserves to go higher. The valuation is already very low, partly due to the company's slower growth rate, she explained. 
The Apple story remains largely about the iPhone, according to Tim Seymour, managing partner of Triogem Asset Management. Despite the negative spin investors keep putting on China, the country is certainly more of a positive than a negative for Apple. 
Dan Ives, senior analyst at FBR Capital Markets, interpreted Apple's results as relatively bullish. Investors should buy the stock following these results because it's clear the company will be able to "bridge" the gap between the iPhone 6 and the iPhone 7 with the successful launch of the iPhone 6s, he said. Growth is not contracting, and the iPad Pro will give Apple a boost in the holiday quarter, Ives added. 
Meanwhile, shares of Twitter (TWTR) - Get Twitter Inc. Report plunged nearly 13% in late trading after it released earnings. 
The quarter was actually really good but the guidance was pretty lousy, according to Guy Adami, managing director of stockmonster.com. Despite the weak guidance, Adami said this could be the time when the company finally turns things around and he pointed out that ad engagement soared 167% year-over-year. Investors should buy the stock on this decline.
Bob Peck, managing director at SunTrust Robinson Humphrey, agreed with Adami, saying investors should use this pullback as a buying opportunity. The company's guidance comes across as overly conservative. It's still too early to see how the company's initiatives - such as its deal with Alphabet and its new products like Moments and Periscope - will help Twitter next quarter. 
The stock is up around 30% from its recent lows, so investors are likely just taking some profits, Peck reasoned. 
With a current enterprise value of just $17 billion, Nathan said the valuation is too low given the "scarcity value" of Twitter's social platform. Give new CEO Jack Dorsey time and he'll likely turn things around, said Nathan, who is long the stock. 

Seymour is long and is bullish on Twitter over the long term, too. The stock has limited downside from current levels, but he acknowledged that the guidance was disappointing. 
Wednesday is when the Federal Reserve will release a statement following its two-day meeting. 
Seymour said too many investors have a sense the Fed won't say anything hawkish when in reality that's not necessarily the case. The market has rebounded nicely since the last meeting and the Fed may very well be more in favor of a rate hike than investors currently anticipate, he added. 
There's no reason for the Fed to be hawkish and "back itself into a corner" by saying it will raise rates before it is ready to do so, Finerman countered. 
Nathan suggested that too dovish of a statement could also hurt stocks because that would mean the economy isn't doing as well as hoped, and that too could weigh on investor sentiment. 
Follow TheStreet.com on Twitter and become a fan on Facebook.