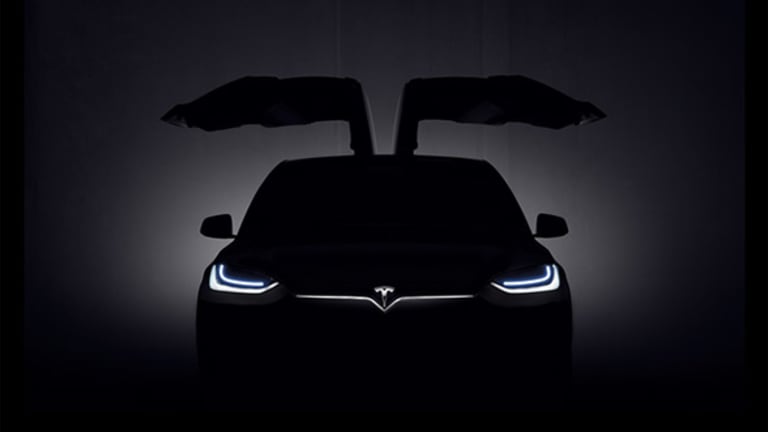 'Fast Money' Recap: Get Ready to Ride With Tesla
The trading panel discussed Tesla's Model X, the drop in biotech stocks and if Apple's iPhones will really make a difference.
The trading panel discussed Tesla's Model X, the drop in biotech stocks and if Apple's iPhones will really make a difference.
NEW YORK (TheStreet) -- After falling 2.5% on Monday, the S&P 500 ETF (SPY) - Get Reportbarely closed in positive territory on Tuesday. 
Guy Adami, managing director of stockmonster.com, said the S&P 500 is likely to retest its October 2014 low around 1,820. That will probably bring previous market leaders such as Facebook (FB) - Get Report and Apple (AAPL) - Get Report down to $85 and $103, respectively. However, given how poorly the S&P 500 has traded lately, Apple has actually done surprisingly well, despite falling 3% on the day, Adami added. 
Shares of Apple are now negative on the year, but Pete Najarian, co-founder of optionmonster.com and trademonster.com, said the selling is likely from investors trying to raise cash after losses in other securities. He's optimistic Apple's new iPhone 6s and 6s Plus will continue to do well. 
David Seaburg, head of equity sales trading at Cowen and Company, disagreed. He doesn't think Apple's new device will do as well as investors are hoping. Other tech stocks look attractive. Seaburg likes Facebook below $90, Amazon (AMZN) - Get Report below $500 and Google (GOOGL) - Get Report near current levels. The selloff in Facebook is a "gift," he added. 
Facebook is anything but a "gift," according to Dan Nathan, co-founder and editor of riskreversal.com. The stock trades at 15 times sales and can easily fall back to $80. He called both Facebook and Amazon "speculative" stocks at this point. He's bearish on Apple. 
One stock that has held up despite the overall market selloff has been Tesla Motors (TSLA) - Get Report, which is down less than 1% over the past month. The company was scheduled to deliver its first Model X Tuesday. If the market were trading better, Tesla would be higher on this news, Adami said. But because it is a high valuation stock, it will have trouble gaining momentum on rallies. Look for support around $220. 
Najarian wants to wait and see where support comes into the stock. It could be near current levels, as the 50-day moving average is just a few dollars above the current stock price, he explained. 
Seaburg likes Tesla Motors for the long term, saying the company's ability to deliver the first Model X before the start of the fourth quarter is another sign of strong execution. While the valuation is high, the stock can move higher over the long term as long as management continues to execute. 
Colin Rusch, managing director at Oppenheimer & Company, has a buy rating and $340 price target on Tesla. There will likely be some issues in the early stages of ramping up production as the company works out the kinks in manufacturing.
The increase in production will also weigh on gross margins for the next few quarters, too, he added. However, investors are already aware of this, so it shouldn't hurt to the stock price too much. He expects the the Model X to make up roughly 20% of the company's 2020 production estimate for 500,000 vehicles. 
The biotech sector initially rose Tuesday but the iShares Biotech ETF (IBB) - Get Report ultimately closed 0.4% lower. It's getting to the point where exchange-traded funds such as the IBB weigh on the big holdings including Celgene (CELG) - Get Report, Amgen (AMGN) - Get Report and Gilead Sciences (GILD) - Get Report. Najarian said these stocks have low valuations and impressive growth but are being sold down with the sector. He likes all three of the stocks.
Adami agreed but said he would avoid buying stocks in this sector right now. Instead, wait for Celgene to report earnings on Oct. 23 before getting long again. 
Follow TheStreet.com on Twitter and become a fan on Facebook.