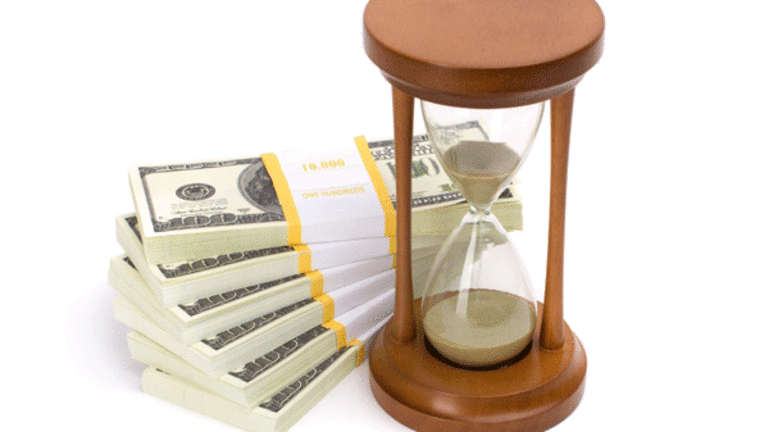 'Fast Money' Recap: Find the Best Banks
The crew disagrees about whether it's time to get involved with the ailing financial stocks.
"Fast Money's" Guy Adami said Thursday that in order to be successful, investors must find the best-in-breed banks.
He said that
US Bancorp
(USB) - Get U.S. Bancorp Report
is a "huge buying opportunity," and that they have the best management in the industry.
Tim Seymour disagreed, saying that he is "not in a position to get very excited about financials." He continued, saying that wages have been falling, the markets are as bad as 1990, and that he is "not buying this rally."
Moving into
Goldman Sachs
(GS) - Get Goldman Sachs Group, Inc. Report
, Dylan Ratigan mentioned its rather "squirrelly," nature as of late, which allowed Adami to weigh in.
Adami said "don't bet against Goldman Sachs," because they always crush earnings.
Seymour suggested another play,
Ultra Financials
(UYG) - Get ProShares Ultra Financials Report
, saying "I think you've got a shot here."
Quint Tatro said that he is currently watching the
Financial Select Sector SPDR
(XLF) - Get Financial Select Sector SPDR Report
because it is coming into the 50-day moving average. He said that GS "bothers me," due to it being slightly off the lows of the day.
Jeff Macke said "whatever you want to do, the financials have been a trade all year," referring to the financials price movements.
Discussing the commodities, Seymour led off saying that he thinks the commodities are "going to continue to ride," and that it is a "tough place for a short trade."
Adami, speaking on oil, said that "yesterday was not a reversal at all," and that with the statistics and geopolitical tensions that happened, crude should have gone up $8.
Macke said that the most important aspect to look at is the "follow-through." He said to take a peek at
U.S. Steel
(X) - Get United States Steel Corporation Report
, which he said is "giving it back today." Macke advised investors to show respect to the shippers because "they are following through."
Discussing the retail side, Macke said that "
Wal-Mart
(WMT) - Get Walmart Inc. Report
and
Costco
(COST) - Get Costco Wholesale Corporation Report
are setting the bar higher," and that he is "remaining long."
Bringing up technology, Seymour supported
Research In Motion
(RIMM)
, saying that "everyone keeps upgrading this stock," and that it has a long way to go.
Adami said that he still like
Celgene
(CELG) - Get Celgene Corporation Report
and it "remains my favorite company." He said that CELG is the best in the space.
Regular contributor Jon Najarian spoked on several investment plays. He said to look into
Briggs & Stratton
(BGG) - Get Briggs & Stratton Corporation Report
because it "missed on earnings, missed on revenue and guided lower." Najarian said if that is not tipping you off, nothing is.
Najarian continued commenting on picks with unusual activity, saying to look at
Nvidia
(NVDA) - Get NVIDIA Corporation Report
, which had a "huge gap created from July 3 miss." He said the stock has now surged into that gap. His next pick was
Watson Pharmaceuticals
(WPI)
, saying that it has "very strong, unusual activity." Najarian wrapped up saying that he is long both NVDA and WPI.
Moving onto currencies, Macke said that his dollar exchange-traded fund was "working for me fine."
Seymour agreed, saying that the "fundamentals couldn't be better," and that investors should "get long the dollar." He expressed his concern about "a number of emerging market securities," because he is seeing them come back down.
Finishing up the show with retail, Macke spoke on
Kohl's
(KSS) - Get Kohl's Corporation Report
, which he said has "rallied too far," and got ahead of itself. He advised investors to sell positions in
Target
(TGT) - Get Target Corporation Report
because it is "rallying huge today," and that was due only to Wal-Mart's reporting today.
Speaking on
General Motors
(GM) - Get General Motors Company Report
, Seymour said that it is "being rewarded today," up nearly 13% because the firm is speeding up its restructuring process. This prompted Macke to warned that if investors go long GM, they must short
Toyota
(TM) - Get Toyota Motor Corp. Report
.
Adami said to take a look at
Home Depot
(HD) - Get Home Depot, Inc. Report
because it is "showing life," over the past couple of weeks and it currently has fair valuations.
This article was written by a staff member of TheStreet.com.