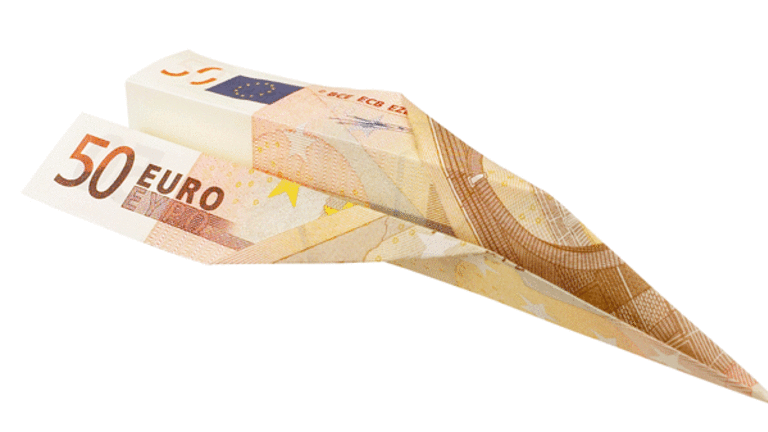 'Fast Money' Recap: Financials Sparkle
The trading panel discussed the impressive strength of the financials.
The trading panel discussed the impressive strength of the financials.
NEW YORK (
) -- The market surged higher Tuesday on a weakening dollar.
The
Dow Jones Industrial Average
rose 51.01, or 0.52%, to 9829.87, while the
S&P 500
added 7 or 0.66%, to 1071.66. The
Nasdaq
gained 8.26, or 0.39%, to 2146.30.
Tim Seymour said on
CNBC
's "Fast Money" TV show that the decline in the dollar has lifted commodity stocks and oil.
Joe Terranova said the "overbought" market leaves money managers in a precarious position as the end of the year nears. As a result, he sees the possibility of a "super spike" in the S&P to 1100.
For a breakout of some stocks from a recent "Fast Money" TV show,check out Dan Fitzpatrick's "3 Stocks I Saw on TV."
3 Stocks I Saw onTV
varconfig = new Array(); config<BRACKET>"videoId"</BRACKET> = 41430584001;config<BRACKET>"playerTag"</BRACKET> = "TSCM Embedded Video Player";config<BRACKET>"autoStart"</BRACKET> = false;config<BRACKET>"preloadBackColor"</BRACKET> = "#FFFFFF";config<BRACKET>"useOverlayMenu"</BRACKET> = "false";config<BRACKET>"width"</BRACKET> = 265;config<BRACKET>"height"</BRACKET> = 255;config<BRACKET>"playerId"</BRACKET> = 1243645856;createExperience(config, 8);
Guy Adami, who's been bearish about the rally, told investors to enjoy the ride while it lasts. He noted the reversal in
AIG
(AIG) - Get Report
, warning it's a sign that the stock could be heading south. The stock closed at $45.80, down 5.37%.
Pete Najarian said what's remarkable about the market has been the lack of selling pressure. He said the market is looking for leadership and the financials provided some of that today.
Expanding on that point, Melissa Lee, the moderator of the show, said the money on the sidelines seems to be attracted to the higher quality financial stocks such as
Goldman Sachs
(GS) - Get Report
,
Morgan Stanley
(MS) - Get Report
and
JPMorgan Chase
(JPM) - Get Report
.
Guy Adami also mentioned some other stocks that he said deserves recognition:
Raymond James Financial
(RJF) - Get Report
, up 6.8% today, and
Greenhill
(GHL) - Get Report
, which hit a 52-week high today at $85.65, and which he sees going to $90.
Terranova said to watch out for
Wells Fargo
(RJF) - Get Report
, which is approaching $30. Seymour said
Bank of America
(BAC) - Get Report
, may have the most potential for the upside if it is able to achieve "normalized earnings."
Najarian, though, said Goldman Sachs looks like the better bet than Bank of America after it received an upgraded price target price of $225 from $180. "They're looking at close to 20 bucks per share for 2010," he said.
Terranova said money managers face the frustration of not having the correction materialize and being drawn in to buy to improve their year-end performance levels.
Lee noted that gold jumped to $1,014 an ounce, snapping a three-day losing streak. Seymour said the move in gold is not surprising because the biggest institutions, in an asset allocation play, own the commodity.
Najarian said he was tired of all the focus in gold because it ignores the explosive growth in other commodity stocks like
Freeport- McMoRan
(FCX) - Get Report
, which hit a 52-week high.
Terranova added that natural gas has found a bottom, making stocks like
Apache
(APA) - Get Report
and
XTO Energy
( XTO) attractive.
Lee noted that biotech stocks were losing momentum. Terranova said the best way to avoid the volatile stocks in the sector is to trade in the
SPDR S&P Biotech ETF
(XBI) - Get Report
.
Lee turned to David Goldberg, a UBS homebuilders analyst, to get his fall outlook on the housing industry. Goldberg said the homebuilders stocks are overvalued and priced for a V-shape recovery.
He said the stocks need to come down so they are more in line with the fundamentals. He doesn't know what that catalyst will be for that to happen. He said it could be higher mortgage interest rates, the end to the government's $8,000 tax credit to first-time homebuyers or higher unemployment.
He said the other unknown is timing: just when any of these catalysts might kick in. He expressed concerns about the shadow housing supply made up of foreclosed homes and homes not up for sale that he said is two times larger than the number of homes currently on the market.
In the options space, Najarian noted unusually heavy activity in
Palm
( PALM) where rumors of a bid by
Nokia
(NOK) - Get Report
is driving up the stock. He also saw heavy activity in
RealNetworks
(RNWK) - Get Report
.
Lee brought in Simon Hobbs, a
CNBC
reporter from Europe, to comment on the
Fed's
upcoming two-day policy meeting. Hobbs expressed his frustrations about the overbought, inflated U.S. market that he said could come down quite hard on small investors.
Najarian said that won't happen because investors have bought put protection.
In a "Price Is Right" segment, Guy Adami told viewers that the entry point for
Abercrombie & Fitch
(ANF) - Get Report
is $27.75, while the entry point for
Hewlett-Packard
(HPQ) - Get Report
is $43.50.
In a segment on financial institutions that survived the shakeup, Lee focused on JPMorgan Chase, which has prosper from its acquisitions of Bear Stearns and Washington Mutual. David Trone, an analyst for Fox-Pitt, Kelton, said CEO Jamie Dimon has done a good job of risk controls and holding down costs. He said the stock is pretty fully valued now at $46 to $47.
In the final trades, Seymour liked
Vale
(VALE) - Get Report
; Adami was for
UnitedHealth
(UNH) - Get Report
and Terranova liked
Ford
(F) - Get Report
. Najarian liked
Smith International
( SII).
-- Written by David Tong in San Francisco
To watch replays of Cramer's video segments, visit the Mad Money page onCNBC
.
"Check out
"'Fast Money'Portfolios of the Week" on Stockpickr every Thursday.
Follow TheStreet.com on
Twitter
and become a fan on