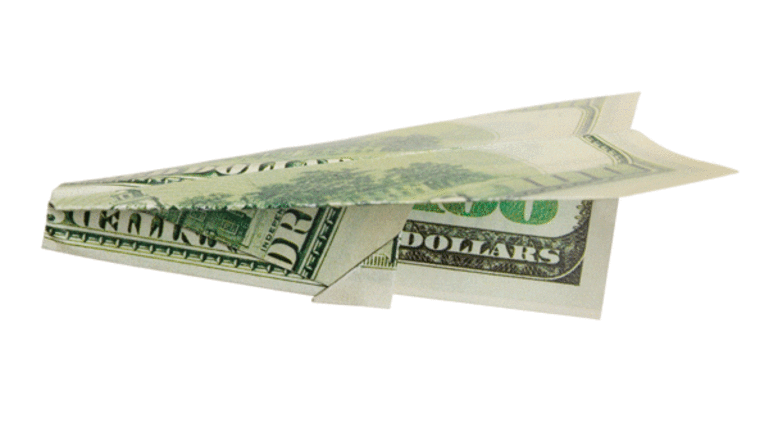 'Fast Money' Recap: Financials Show the Way
The trading panel said the rally has been spurred by the bank stocks.
The markets picked up momentum Thursday as the rally moved into its third day.
The
Dow Jones
Industrial Average jumped 239.66, or 3.46%, to 7,170.06, while the
S&P 500
rose 29.38, or 4.1%, to 750.54. The
Nasdaq
added 54.46, or 4%, to 1,426.26.
Guy Adami said on
CNBC
's "Fast Money" TV show it's one of the most significant rallies he's seen for a while. He added the S&P is set up to move to 900.
Both Tim Seymour and Pete Najarian voiced concern about the VIX in the past few days.
Najarian said he was impressed with the hefty moves in financial stocks such as
Morgan Stanley
(MS) - Get Report
,
Goldman Sachs
(GS) - Get Report
and
Northern Trust
(NTRS) - Get Report
.
Najarian attributed those moves to the market's favorable response to regulatory changes down the road. "That tells you people like what they are hearing about the mark-to-market rule, the uptick rule, etc. They are buying into it," he said.
Karen Finerman agreed, saying the mark-to-market chatter is definitely behind the big move in bank stocks. Still, she remained skeptical of the rally because of its size and speed.
Seymour tied the rally in the equities to the better-than-expected results of huge Treasury offerings and 30-year bond issues this week.
Melissa Lee, the moderator of the show, shifted the discussion to the 13% surge in
General Electric
(GE) - Get Report
despite a cut in its credit by S&P to AA+ and a stable outlook.
Najarian said the stock began its move up at $6.60 when both the level of calls and trading volume started to pick up. Lee astutely pointed out the adjusted book value of the stock happens to be $6.67.
Deal-making among the drug makers was also in the news today with Roche finally reaching an agreement to buy the rest of
Genentech
(DNA)
for $46.8 billion.
Adami said that deal means that designated biotech hedge funds will be taking their money out of Genentech and setting their sights on other companies like
Celgene
(CELG) - Get Report
,
Amgen
(AMGN) - Get Report
and
Gilead
(GILD) - Get Report
, which announced it will buy
CV Therapeutics
(CVTX)
for $1.4 billion.
Seymour noted that
Pfizer
(PFE) - Get Report
has lined up 34 lenders to finance its purchase of rival
Wyeth
(WYE)
.
He said M&A activity is alive in the pharma sector and the banks want to be part of the action.
Crude oil was up another 10% today, finishing at $47 a barrel. Adami said he expects higher gasoline prices and crude to rise to $50 or higher.
Seymour said he thinks the demand that was taken out by OPEC is starting to bite. He particularly likes the refiners and drillers, while Najarian favored the "hot" engineering stocks like
Fluor
(FLR) - Get Report
and
McDermott International
(MDR) - Get Report
.
Even gold was up today, which prompted Adami to say he thinks it will head lower if the rally in the equities markets continue. Meanwhile, Seymour said the dollar is very weak on fears that inflation may come sooner than expected.
Lee brought on Jon Najarian to comment on the impact of an easing in mark-to-market rules on the financial stocks. Najarian said he believes the Financial Accounting Standards Board will act shortly to ease the rules. He said the expectation of that happening is definitely what is behind the big rally.
Carter Worth, Oppenheimer's chief market technician, said his reading of chart movements of the semiconductor sector and broker dealers like Morgan Stanley and Goldman Sachs indicate they are due for probably a "big direction move up."
Lee brought on William Fleckenstein, president of Fleckenstein Capital, who sharply criticized former
Fed
chairman Alan Greenspan for trying to deflect blame for the bubble to massive investments by China that the latter said brought down long-term interest rates.
Fleckenstein called Greenspan's excuse "silly." He put the blame on Greenspan for advising people to take out floating rate mortgages in early 2004, championing securitization, advocating all forms of deregulation and helping out in the repeal of Glass-Stegel.
He said Greenspan refused to have the Fed look at mortgages that were being written up that anyone would have known weren't any good.
Asked about the current rally, Fleckenstein said he thinks it's a bear-market rally and not the final end of the bear market.
In the final trades, Seymour was for
Millicom International Cellular
(MICC)
. Adami liked Amgen, Finerman was for
Transocean
(RIG) - Get Report
and Najarian liked McDermott.
"Check out
"'Fast Money'Portfolios of the Week" on Stockpickr every Thursday.