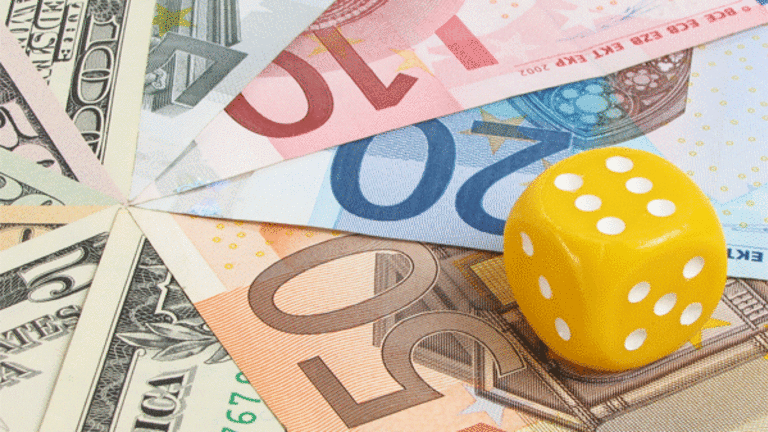 'Fast Money' Recap: Emerging Changes
The trading panel discusses the Fed's policy regarding emerging markets.
Dylan Ratigan hosted CNBC's "Fast Money" show Wednesday night. He kicked off the show off with a discussion of General Electric (GE) - Get Free Report. He explained that CEO Jeffrey Immelt made some comments at a dinner in Spain that had nothing to do with the company's future expectations but caused GE shares and the stock market to drop. Jeff Macke said the market is easy to take down because it's built on a house of straw.
Ratigan moved the conversation to the
decision to cut rates by 50 basis points to 1% for the federal funds rate. Tim Seymour said it's enormous news that the Fed also announced that it plans to give emerging-market governments access to its balance sheet.
He told viewers to look at playing these developments with the
iShares MSCI South Korea ETF
(EWY) - Get Free Report
,
iShares MSCI Brazil
(EWZ) - Get Free Report
and
iShares MSCI Emerging Markets ETF
(EEM) - Get Free Report
.
Pete Najarian told viewers that there are some great opportunities in this market and that traders should look to use volatility to their advantage. He says "look at the coal, steel and agriculture names which are beginning to base." He said he bought
Petroleo Brasileiro
(PBR) - Get Free Report
for a play on the energy space and Brazil.
Ratigan asked the traders how they would play alongside the U.S. government. Guy Adami said to buy the good banks like
JPMorgan Chase
(JPM) - Get Free Report
,
Wells Fargo
(WFC) - Get Free Report
and
U.S. Bancorp
(USB) - Get Free Report
. He says "banks are set up to have the most profitable period of all time."
Seymour pointed out that the yield curve is steepening, and that will make banks more profitable. Macke joked, "I would want to run
General Motors
(GM) - Get Free Report
if I was going to trade with the government."
Ratigan brought up the move higher in commodities and the large fall in the U.S. dollar today. Adami told viewers to avoid the commodity sector right now. Najarian pointed out that the
Oil Service HOLDRs ETF
(OIH) - Get Free Report
is up 25% in two days, so investors need to be careful. Seymour pointed out that China cut rates, and he said that will be bullish for commodities in the longer term.
Mike Darda, chief economist at MKM Partners, joined the traders to discuss whether lower rates will save the economy. He mentioned that the rate cut was positive and that the Fed is pushing a massive amount of liquidity into the system. He said the real problem is the fourth quarter, which will be the real "sticker shock" for the economy. He says "we will see a long slow road to normalcy for the credit markets and for the real economy."
Darda said he expects the real economy to get much worse before it gets better. He said it's different now with the fed funds rate at 1% than it was five years ago at the same rate.
Fed Failures
William Fleckenstein, president of Fleckenstein Capital, joined the crew to talk about how the Fed is making the same mistakes again. He said the Fed's "operational philosophy" has been that it can do no wrong with target interest rates, but all that has caused is excessive risk-taking.
He says "the Fed should target the money supply and credit growth, which are loose variations of the gold standard, instead of targeting interest rates." Fleckenstein explained that right now we have no self-regulating aspect to the Fed, which has done nothing but create bubbles. He told viewers that the consequences of the Fed printing so much money will be "severe" and probably cause higher rates in the future.
Inside Pete's Head
Ratigan started a new segment called "Instant Replay," which will look to get inside Najarian's head during the trading day to determine how and why he makes a move. Najarian explained that
Microsoft
(MSFT) - Get Free Report
made a big spike around $23 per share today after traders began to purchase a large amount of upside call options for November and December. He told viewers he bought the stock and sold premium into the move as volatility spiked up.
GM-Chrysler Tie-Up
The traders spoke with
CNBC's
Phil LeBeau on whether a merger between
General Motors
(GM) - Get Free Report
and Chrysler makes sense for the economy. LeBeau says "the deal is all but a done deal." He said General Motors is going to get $10 billion from the U.S. government to complete the merger. He explained that the merger will give GM a lifeline until 2010. However, he expects the company to cut a large number of jobs.
Trader Radar
Shares of
Williams-Sonoma
(WSM) - Get Free Report
were among the most active names on the
NYSE
Wednesday.
Final Trade
Adami told viewers to sell 9500 on the
Dow
if you see it Thursday. Seymour said play the Korean banks such as
KB Financial Group
(KB) - Get Free Report
and
Woori Finance
(WF) - Get Free Report
. Najarian says "play
Energy Conversion Devices
(ENER)
off of
First Solar's
(FSLR) - Get Free Report
earnings."
This article was written by a staff member of TheStreet.com.