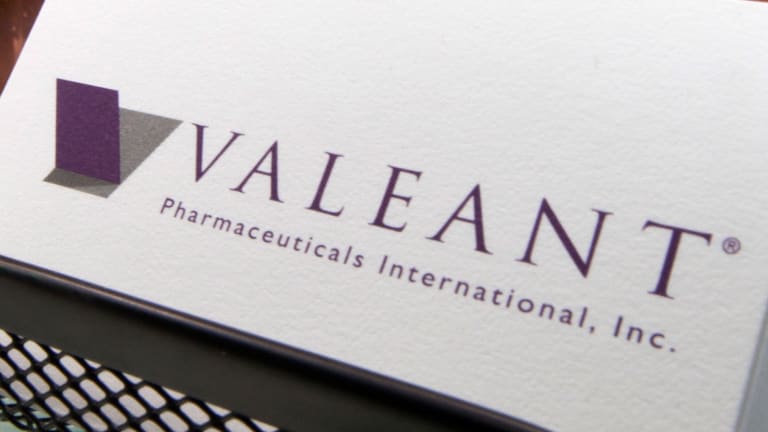 'Fast Money' Recap: Don't Follow Bill Ackman Into Valeant
The trading panel discussed gambling on Valeant, oil stocks and Twitter.
Shares of Valeant Pharmaceuticals (VRX) were the focus on Wednesday after closing down over 19% on the day and falling as much as 39% at session lows. The stock is now down 33% over the past three days and 50% over the past month.
This is a broken company, Guy Adami, managing director of stockmonster.com, said on CNBC's "Fast Money" TV show. Investors who step in to buy or sell the stock at this point are merely gambling, he added. 
Karen Finerman, president of Metropolitan Capital Advisors, said there is no clarity where the stock will trade in the short term and it has been incredibly volatile. 
Tim Seymour, managing partner of Triogem Asset Management, pointed out Bill Ackman said he is buying more shares of the stock on Wednesday's drop. The stock makes up a large portion of his portfolio, nearly 30%, and he's joined by other hedge fund heavyweights, too. As long as there is no fraud at the company, investors will likely make money in Valeant based on current prices, Seymour added. 
David Seaburg, managing director and head of sales trading at Cowen and Company, said too many investors in Valeant -- and the biotech sector in general -- are "generalists," meaning they don't know enough about the companies and products. They were buying these stocks because there were the hot ones to own. Now, they're selling first and asking questions second, he said. 
eBay (EBAY) - Get eBay Inc. Report  climbed over 8% in after-hours trading Wednesday after the company beat on earnings and revenue. 
Adami wasn't overwhelmingly impressed with the results, noting operating margins decreased year over year. The stock isn't expensive, but it's not cheap either when it comes to valuation. He doesn't find it attractive. Neither does Seaburg, who said the company's 0% to 5% growth estimates are far below that of other companies in the e-commerce industry. 
Seaburg and Adami agreed investors should avoid Twitter (TWTR) - Get Twitter, Inc. Report , down 5.2% Wednesday following a downgrade from analysts at Morgan Stanley. 
"This stock should be sold," Seaburg said, with Adami adding investors should wait until it reports earnings later this month before deciding whether to buy. 

Oil prices have traded lower all week, but Paul Sankey, managing director at Wolfe Research, sees some bright spots. While he doesn't expect a robust recovery in oil prices, he said the bottom is likely in. His outlook for this quarter is for oil to end at $50 per barrel, and for the commodity to climb to $60 in 2016. 
While $60 is a nice increase from current levels, it's still too low for a lot of companies to survive, let alone thrive. He's dividing the oil industry into thirds: one-third will struggle with bankruptcy, one-third will have a very difficult time but won't need to contemplate bankruptcy, and one-third will navigate the current environment relatively well. He sees this scenario lasting through 2017, when the supply/demand outlook will tighten. It could lead to a "heavily undersupplied" market in 2018, he added. 
He likes EOG Resources (EOG) - Get EOG Resources, Inc. (EOG) Report  and has an outperform rating and $94 price target on the stock. Sankey doesn't like Exxon Mobil (XOM) - Get Exxon Mobil Corporation Report and has an underperform rating and $72 price target as a result. Seymour's top picks are EOG Resources and Apache (APA) - Get Apache Corporation Report . 
Adami added that Chevron (CVX) - Get Chevron Corporation Report has too high of a valuation given the current oil environment. As a result, he said investors should take profits ahead of earnings after the stock's recent rally.
Follow TheStreet.com on Twitter and become a fan on Facebook.