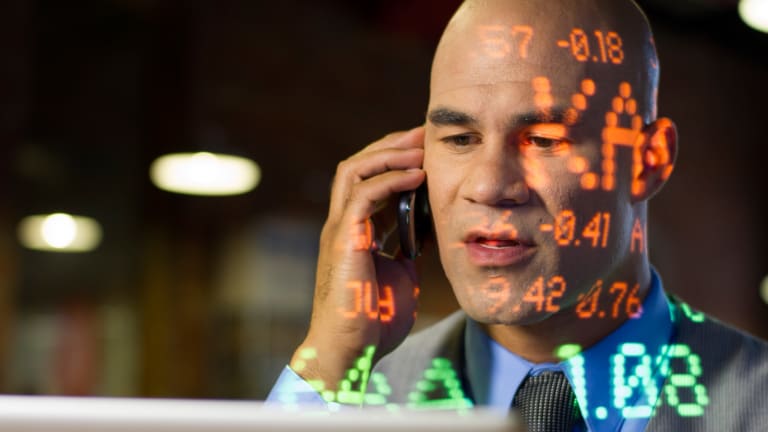 NEW YORK (TheStreet) -- Stocks were able to erase most of their losses on Friday after the release of May's labor report, with the S&P 500 closing lower by just 0.15%. However, bonds continued to move lower as yields hit their highest levels since October. 
The U.S. dollar is likely to continue its rally, Tim Seymour, managing partner of Triogem Asset Management, said on CNBC's "Fast Money" TV show. While rates can continue to go slightly higher, he argued that the upside is limited. Investors can buy the iShares 20+ Year Treasury Bond ETF (TLT) - Get iShares 20+ Year Treasury Bond ETF Report as a short-term trade. 
Seymour also said investors should sell gold, which fell 4% this week; gold's future doesn't look good as the U.S. dollar continues to strengthen. Because of the strong dollar, the euro should also continue to go lower, which will benefit German equities. Because of the currency exposure, he recommended that investors buy the iShares Currency Hedged MSCI Germany ETF (HEWG) - Get iShares Currency Hedged MSCI Germany ETF Report. 
As rates continue to rise, the consensus is that financial stocks will outperform. However, the Financial Select Sector SPDR ETF (XLF) - Get Financial Select Sector SPDR Fund Report hasn't done that well. Instead, the "layup trade" is the SPDR S&P Regional Banking ETF (KRE) - Get SPDR S&P Regional Banking ETF Report, said Josh Brown, CEO and co-founder of Ritholtz Wealth Management. 
Regional banks are more closely tied to short-term rates than the big financial institutions are, which is why they will benefit more when bond yields go higher, Brown said. 
Sticking with financials, Steve Grasso, director of institutional sales at Stuart Frankel, said Bank of America (BAC) - Get Bank of America Corp Report "has a lot more room to move higher." Likewise, he's a seller of utility stocks, which will likely underperform as bond yields go higher. 
As Europe's economy continues to improve alongside the U.S. economy, investors should be looking for companies that have global operations, according to Dan Nathan, co-founder and editor of riskreversal.com. He likes Cisco Systems (CSCO) - Get Cisco Systems, Inc. Report and General Electric (GE) - Get General Electric Company (GE) Report, which have low valuations, attractive dividends and are levered to global economies. 
Seymour disagreed, saying Cisco needs growth in emerging markets to really "move the needle." Currently, management hasn't been all that optimistic on emerging markets. 
When asked which is likely to finish higher on the year, the U.S. dollar or the yield on 10-year Treasury bonds, Seymour and Nathan said the dollar will outperform. Conversely, Grasso and Brown expect the 10-year yield to outperform. 
Apple (AAPL) - Get Apple Inc. (AAPL) Report will host its Worldwide Developers Conference next week. From 2005 to 2012, the stock has returned an average of 12.1% in the three months following the conference. 
Despite this, expectations don't seem relatively high, Nathan said. While Apple Pay has a lot of potential down the road, it's just not that big yet. "Plain and simple," it's all about the iPhone and China right now, he added.
If there's just one company in the S&P 500 that deserves the benefit of the doubt when it comes to these types of events, it's Apple, Brown said.
For their final trades, Grasso is buying Bank of America and Seymour is a buyer of the TLT ETF. Brown said to buy eBay (EBAY) - Get eBay Inc. Report and Nathan is buying Cisco Systems.
Follow TheStreet.com on Twitter and become a fan on Facebook.