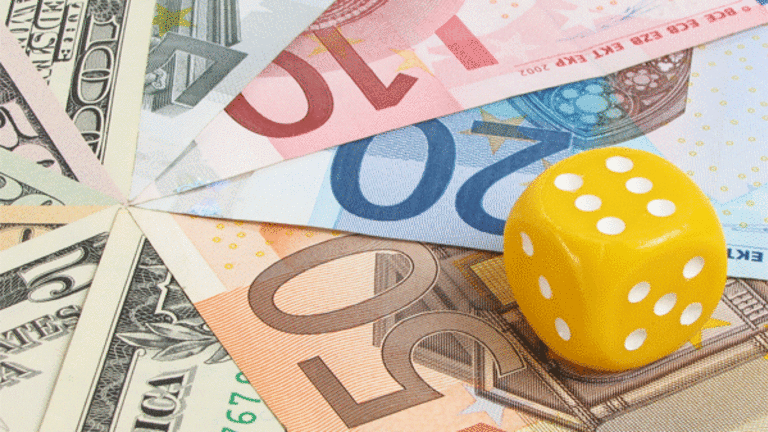 'Fast Money' Recap: Does the Rally Have Legs?
Guy Adami doesn't believe the rally can be sustained.
The
squeezed into positive territory for the first time in 2009 on Monday.
The
Dow Jones Industrial Average
jumped 214.33, or 2.16%, to 8,426.74, while the S&P 500 rose 29.72, or 3.39%, to 907.24. The
Nasdaq
was up 44.36, or 2.58%, to 1,763.56.
Guy Adami said on
CNBC
's "Fast Money" TV show that the action was "great." "We were looking for 900, and we got it," he said.
However he said he didn't think the rally could be sustained. "We can't go up 2% everyday," he said.
Tim Seymour was excited by the prospects for the commodities, which were fueled by the rally in the construction spending, China's PMI and basic materials.
Karen Finerman said it was "curious" that the rally occurred with the VIX quiet at 34.53.
Pete Najarian said the rally was all about some short covering and people on the sidelines wanting to get in. He said the rally looks a lot better this time because investors have put some protection in place, reducing the risk of panic.
Seymour said he expected other global markets to pile on to the rally on Tuesday.
Melissa Lee, the moderator of the show, asked Jeffery Harte, managing director of Sandler O'Neill, to comment on the financials ahead of the stress test results that are scheduled for release on Thursday.
Harte said the real key for these banks is whether they can take advantage of the rally to raise the capital they need. "We could have a lot of upside from here if the banks are received well," he said.
Lee shifted to the commodities which rose today, led by a rise in China's PMI to a nine-month high.
Seymour told viewers could play this space by going for the "biggest and baddest" stocks like
BHP Billiton
(BHP) - Get Free Report
,
Rio Tinto
(RTP) - Get Free Report
and
Companhia Vale Ads
(VALE) - Get Free Report
.
He also likes the steel and coal stocks such
Arch Coal
(ACI) - Get Free Report
as solid plays for those who sense an economic recovery is at hand.
Finerman said she continues to like the oil service stocks like
Transocean
(RIG) - Get Free Report
, which continue to outperform underlying oil itself.
Lee also asked Seymour to comment on emerging markets, which were up 7% today and 25% for the year. In addition to base resources and materials, he said the bank stocks rallied today and the "consumers are alive and well."
He said the
iShares MSCI Emerging Markets Index
can go even higher because of record low interest rates and healthy consumer growth.
Najarian said infrastructure spending looks attractive in China, noting the best approach to take is with the
iShares FTSE/Xinhua China 25 Index
(FXI) - Get Free Report
, which he calls a "barometer for China and the emerging markets."
Lee noted that
Research In Motion
(RIMM)
moved higher today, leading the rest of the tech sector.
Najarian said everyone has been jumping on this stock. "It feels like it's awfully rich," he said. He cautioned investors those investors who have been in tech to lighten up a bit.
Finerman said she bought some
Emulex
(ELX)
after it rejected an offer from
Broadcom
undefined
.
Both Seymour and Adami did not think Obama's move to close business tax loopholes overseas would affect companies like
Procter & Gamble
(PG) - Get Free Report
and
IBM
(IBM) - Get Free Report
which does a lot of business overseas. Adami said it might have a limited impact on banks.
Becky Hathway, a
CNBC
reporter who attended the Berkshire Hathaway annual meeting over the weekend, said Warren Buffett doesn't believe "we are nearing a bottom yet." However, Buffett said that doesn't mean investors should be buying in this stock market, she said.
Rich Greenfield, an analyst with Pali Research, was brought in to comment on
Walt Disney
(DIS) - Get Free Report
, which reports earnings on Tuesday.
Greenfield said it will be a tough quarter for Disney which has been affected by severe discounting to fill the theme parks, pressure of a writers' strike and poor local TV business.
Greenfield said he's shorting the stock on the belief that Disney's earnings will be down next year. Indeed, he believes the the stock could retrace down to its prior lows.
Lee invited Gregg Fisher, CIO of Gernstein Fisher, to talk about the value of diversification in today's market. Fisher said he would look at gold, commodities, emerging markets, foreign currencies and water as diversification themes for portfolios.
In the "Fast and Furious" segment, Dan Fitzpatrick said he believes
Foundation Coal
(FCL)
could be a break-out coal stock. He acknowledge the stocks in this space are overbought but he believes there is still some upside.
Adami noted that there is chatter that
Apple
(AAPL) - Get Free Report
is eyeing
Electronic Arts
undefined
as a takeover target.
Finerman read a letter she penned to George Economu, CEO of
Dryships
(DRYS) - Get Free Report
in which she criticized the company's excessive debt problems and a serious credibility problem, in which she accused the CEO of self-dealing when Dryships made a $160 million deal with Craig Marine, a company Economu controls.
Lee read a response from Dryships, which said the deal was at "arm's-length."
In the Rising Star segment, Adami touted
Geron
(GERN) - Get Free Report
, a company that develops treatments for cancer and stem-cell based therapeutics. He said the stock, which closed at $5.32 today, could either go to zero or to $10. His sense is that it will go to $10.
In the final trades, Seymour was for
Mobile Telesystems
(MDT) - Get Free Report
, Adami was for
IBM
(IBM) - Get Free Report
, Finerman for
Wal-Mart
(WMT) - Get Free Report
and Najarian for
Fortress
undefined
.
"Check out
"'Fast Money'Portfolios of the Week" on Stockpickr every Thursday.