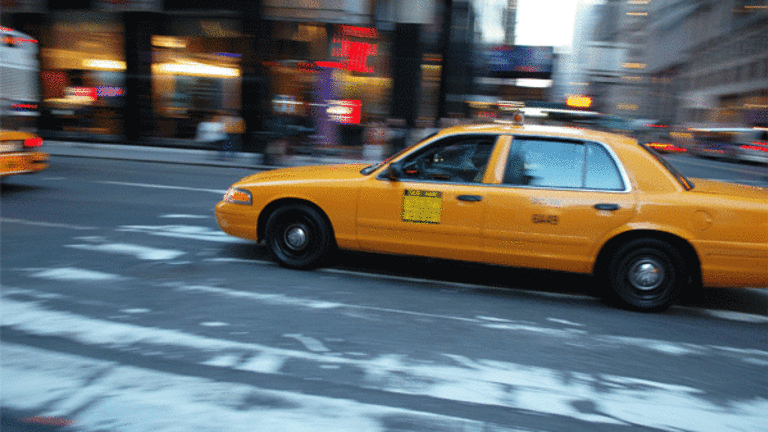 'Fast Money' Recap: Crushing Volatility
The trading panel discussed the surge in volatility and the impact of high frequency trading.
NEW YORK (
) -- The markets reacted to S&P's cut in the U.S. debt Monday with a crushing sell-off.
The Dow Jones Industrial Average
plunged 634.76, or 5.55%, to 10,809.85. The
S&P 500
lost 72.07, or 6.00%, to 1127.37. The
Nasdaq
dropped 174.72, or 6.9%, to 2357.69.
Tim Seymour said on
CNBC
's "Fast Money" TV show that he had a wish list of stocks to buy but felt no need to buy them now. He said today's selloff reflected a broad lack of confidence and a belief that policy is gone.
Joe Terranova said the situation reminded him not so much of 2008 but of 1998 when there was the Russian default on short-term bonds, Long-Term Capital Management and a precipitous decline from Aug. 25 to Oct. 8. However, he said that the market wound up 38% higher at the end of the year.
For a breakout of some stocks from a recent "Fast Money" TV show, check out Dan Fitzpatrick's "3 Stocks I Saw on TV."
3 Stocks I Saw on TV
var config = new Array(); config<BRACKET>"videoId"</BRACKET> = 1098594061001; config<BRACKET>"playerTag"</BRACKET> = "TSCM Embedded Video Player"; config<BRACKET>"autoStart"</BRACKET> = false; config<BRACKET>"preloadBackColor"</BRACKET> = "#FFFFFF"; config<BRACKET>"useOverlayMenu"</BRACKET> = "false"; config<BRACKET>"width"</BRACKET> = 265; config<BRACKET>"height"</BRACKET> = 255; config<BRACKET>"playerId"</BRACKET> = 1243645856; createExperience(config, 8);
He said he was looking for a good inflation number from China tonight. He said it's difficult to buy anything now because the market is going down so fast under the influence of electronic trading.
Karen Finerman said she waiting for the opportunity to buy stocks like
Apple
(AAPL) - Get Apple Inc. Report
and
Frontline
(FRO) - Get Frontline Ltd. Report
but couldn't come around to pull the trigger.
Dan Nathan said the economy and markets have been on life support since 2008 and is really dependent now on Washington to come up with something to get things going again. He said QE2 was a bust but acknowledged the need for a stimulus.
Seymour said the market's downward velocity was exaggerated by the impact of ETF flows as funds chased the tape. He said today's market convulsion was really an aftershock of the earthquake three years ago.
Jon Najarian said he is still waiting for values to come down before he could entertain the thought of buying. For example, he said he would get into Apple at $325. He said volatility was explosive. Never mind the 48 for the VIX today. He said the volatility zoomed to 100 for in- and out-of-the-money calls and puts in the S&P 500.
Stephen Weiss said the safety net for investors won't come until the S&P massively revises its forecast of corporate earnings. He said the forecast needs to reflect the impact of a global economic slowdown and no leadership in Europe and the U.S.
Peter Schiff, founder of Euro Pacific Capital, said the only thing S&P did wrong was to wait so long to issue a downgrade and that the downgrade wasn't steeper. He said the only reason why the Treasury market held today was intervention by China and Japan to prevent the market from breaking down.
He said gold and the Swiss franc will continue to rally as the market deteriorates.
Finerman said she would rather be in cash but she also said she would not short gold.
Financials were a big drag, with
Bank of America
(BAC) - Get Bank of America Corp Report
down more than 20% after a report that
AIG
(AIG) - Get American International Group, Inc. Report
plans to sue the bank for $10 billion over losses from mortgage-backed securities. Finerman said investor sentiment toward the bank can't get much worse, although she did not think the bank needed to raise a substantial amount of equity.
Melissa Lee, the moderator of the show, noted David Tepper had gotten out of his position in Bank of America. Finerman said banks are in a tough position because of the fear of a recession and an interest rate environment that's going haywire.
Shifting to the hedge fund trading today,
Wall Street Journal
reporter Gregory Zuckerman said a lot of hedge funds were dumping stocks, including Bank of America,
Dendreon
(DNDN)
and the debt of
MGM Resorts
(MGM) - Get MGM Resorts International Report
.
Zuckerman said the hedge funds may be caught in a redemption squeeze and be forced to sell stocks to raise cash.
Anthony Scaramucci, of Skybridge Capital, said the long-short funds were getting hit hardest the most, expecially those holding a package of widely held stocks that included
Citigroup
(C) - Get Citigroup Inc. Report
, down 16.5% today;
Supermedia
(SPMD) - Get SPDR Portfolio S&P 400 Mid Cap ETF Report
, down 28%;
Genworth
(GNW) - Get Genworth Financial, Inc. Class A Report
, down 17%.
Scaramucci said the macro traders were not doing well today along with the currency traders.
Amelia Bordeau, Westpac Institutional bank director, said the yen and Swiss franc stayed relatively strong today. She said investors were rotating into a long U.S. dollar position. She also said she was shorting the Aussie dollar because it is highly correlated to equities.
Commenting on today's sharp rise in market volatility, Najarian blamed the machines and high frequency trading. He said HFT has created such a "turbulent market that you can't see what is going on unless you are in the high frequency club."
He pointed out that
Corelogic
(CLGX) - Get CoreLogic, Inc. Report
at one point today moved from $8.60 to $8.17 and then back to $8.55 in 51 hundreds of a second. He said such trading is tantamount to "picking the pockets" of investors.
He said it was a "bad witch's brew" that the SEC should step in and investigate.
Will there be a cascade of municipal bond downgrades as a result of the S&P downgrade of U.S. debt? Alexandra Lebenthal, CEO of Lebenthal & Co., said the markets were very quiet today and taking a wait-and-see attitude. She did spot some liquidating of bond funds last week. She said that could be a problem if the net outflows increase and the funds need to see bonds.
In the final trades, Seymour said he was going to pay attention to China this evening and look for a lower inflation number. Nathan said he would take a shot and buy something if the market opens down, adding any rally would a selling opportunity. Finerman said she would roll down some protection, adding she expected the market to bounce back. And Terranova said he too expected a rally and an opportunity to go against the trend in gold, yen and Treasuries.
--Written by David Tong in San Francisco.
To contact the writer of this article, click here:
David Tong
.
To follow the writer on Twitter, go to
.
To submit a news tip, send an email to:
.
To watch replays of Cramer's video segments, visit the Mad Money page on CNBC
.
Follow TheStreet.com on
Twitter
and become a fan on