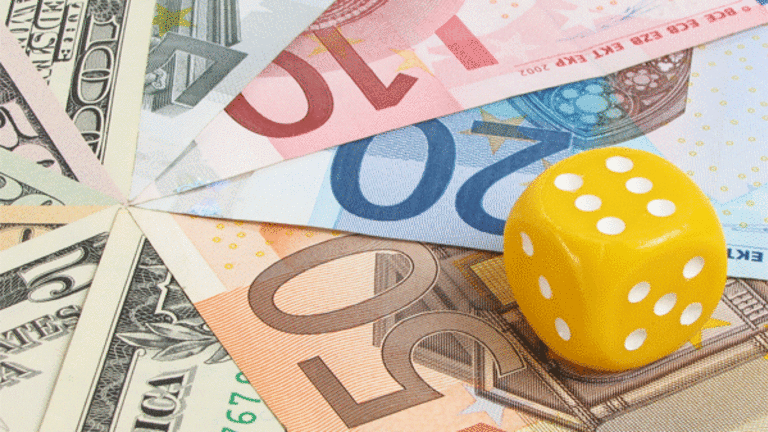 'Fast Money' Recap: Cisco Downer?
The trading panel weighed the impact of Cisco's earnings on Thursday's markets.
The trading panel weighed the impact of Cisco's earnings on Thursday's markets.
NEW YORK (
) -- The markets finished in the red Wednesday following a gloomy jobs report.
The
Dow Jones Industrial Average
fell 39.22, or 0.42%, to 9280.97, and the
S&P 500
dropped 2.93, or 0.29%, to 1002.72. The
Nasdaq
declined 18.26, or 0.91%, to 1993.05.
The recent market euphoria was dispelled by a report from the ADP and Macroeconomic Advisors that 371,000 private-sector jobs were eliminated in July.
3 Stocks I Saw on TV
Melissa Lee, the moderator of
CNBC
's "Fast Money" TV show, started the broadcast with some late breaking earnings news on
Cisco
(CSCO) - Get Report
.
For a breakout on stocks from a recent "Fast Money" show, check out Dan Fitzpatrick's "3 Stocks I Saw on TV."
3 Stocks I Saw on TV
var config = new Array(); config<BRACKET>"videoId"</BRACKET> = 31948664001; config<BRACKET>"playerTag"</BRACKET> = "TSCM Embedded Video Player"; config<BRACKET>"autoStart"</BRACKET> = false; config<BRACKET>"preloadBackColor"</BRACKET> = "#FFFFFF"; config<BRACKET>"useOverlayMenu"</BRACKET> = "false"; config<BRACKET>"width"</BRACKET> = 265; config<BRACKET>"height"</BRACKET> = 255; config<BRACKET>"playerId"</BRACKET> = 1243645856; createExperience(config, 8);
Jim Goldman, a
CNBC
reporter who was listening to the conference call, said Cisco CEO John Chambers had said that revenue for the current quarter will be down 15% to 17%. Goldman said that figure is actually good because it is better than what analysts had projected.
However, Goldman, in what he called a "squishy" guidance, said Chambers backed off from saying anything conclusive about the direction of the economy.
Otherwise, Goldman said the company's report was "very positive," with $1.5 billion in expense reductions and 65% in gross margins. He said Chambers said the company was operating in the "toughest economic environment we have seen in our lifetime."
According to Goldman, the company said there is no pressure on the margins going forward. He said Chambers sees slow business conditions in Europe, which he said is a couple of quarters behind other parts of the world.
Guy Adami said he couldn't get bullish on the stock, which has climbed from $13.50 to $21.50, "especially with the move in the S&P."
Joe Terranova was concerned with a 38% decline in sales in the emerging markets for Cisco. He said Cisco was victimized by timing: if it had reported earlier, it would have gotten a better market reception. Cisco shares were down more than 4% in after-hours trading.
Pete Najarian said the main issue for the company is the lack of growth. "It's just plodding along," he said.
Lee asked the panel what investors are supposed to do when a bellwether stock like Cisco offers "squishy" guidance.
Terranova said the big question going forward in this space is what catalysts are going to emerge to move tech after the earnings reporting period.
Moving to the financials, one of the bright spots in the market, Terranova said the run in
Mastercard
(MA) - Get Report
is over for the short term. The stock was down slightly today after being up 27% in the past six months.
Najarian was bullish about
Bank of America
(BAC) - Get Report
and
Wells Fargo
(WFC) - Get Report
, which he said has been outperforming lately
Goldman Sachs
(GS) - Get Report
and
Morgan Stanley
(MS) - Get Report
.
According to Najarian, the two banks are doing well because of their exposure to the consumer, adding there may be some life in the consumer and there might be a slowdown in foreclosures.
Terranova said he would go long
The Blackstone Group
(BX) - Get Report
if it moves above $14.50. Najarian said he's been seeing heavy call action to the upside in the stock.
Lee shifted the discussion to the federal government's cash for clunkers program and its impact on auto stocks.
Ford
(F) - Get Report
was up another 2% today.
Finerman agreed with Lee that the program is just stealing sales from the future. Adami said the Ford trade is over, and Terranova said he is staying with his short positions on
Toyota
(TM) - Get Report
and Ford on the belief they can't go up any further.
Lee said noted the runups today in
Devon Energy
(DVN) - Get Report
and
Foster Wheeler
in the power trade.
Najarian likes the direction of the these stocks, adding they are cheap where they are trading now. Adami was a little more cautious, saying he would take a wait-and-see approach because of the runup these stocks have already had.
Moving on to the ag trade, Terranova said the space is getting hot with a lot of M&A activity, with
CF Industries
(CF) - Get Report
pursuing
Terra Industries
(TRA)
and
Agrium
(AGU)
going after CF Industries.
Najarian said all this activity would leave one to believe that these names are cheap.
With retailers reporting their monthly sales Thursday, Finerman said the results are already baked into the stock prices. She said the retailers have been doing a good job of controlling inventory. She also said there's not much room for the stocks to rise anymore.
Lee invited the Nicholas DeBenedictis, CEO of
Aqua America
(WTR) - Get Report
, , to the show. The company's profits in the past quarter were up 15% from a year ago.
DeBenedictis said the company is growing by acquiring smaller water companies. He said the company has benefitted from the federal stimulus and is spending $300 million to build new pipes and water plants.
In a segment called the "slow money" trade, Finerman picked
Grupo Aeroportuar
(PAC) - Get Report
, which is up 26% year to date.
She said the company owns four of the 10 top busiest airports in Mexico. She said the company makes money off passenger fees, landing fees, cargo fees and retail space from the expansion of airport facilities.
How are the rich investing? Mark Axelowitz, director of wealth management for Morgan Stanley Smith Barney, said he has his clients in equities, corporate bonds, high-yield bonds and investment grade bonds.
Anthony Zinni, acting CEO and president of
Bea Systems
said the company is shifting into such areas as IT, cybersecurity and hybrid energy. He said the important thing is to remain balanced and not rely on just one program.
Adami said he liked
L3 Comm
(LLL) - Get Report
as a Homeland Security play. He said it's a "great" company with a fair valuation.
In the final trades, Terranova focused on
Wynn
(WYNN) - Get Report
, saying he would play it from the short side after the short squeeze. Adami liked
Johnson Controls
(JCI) - Get Report
, while Finerman chose
FLIR Sysems
(FLIR) - Get Report
. Najarian picked
Synaptics
(SYNA) - Get Report
.
-- Written by David Tong in San Francisco.
"Check out
"'Fast Money'Portfolios of the Week" on Stockpickr every Thursday.