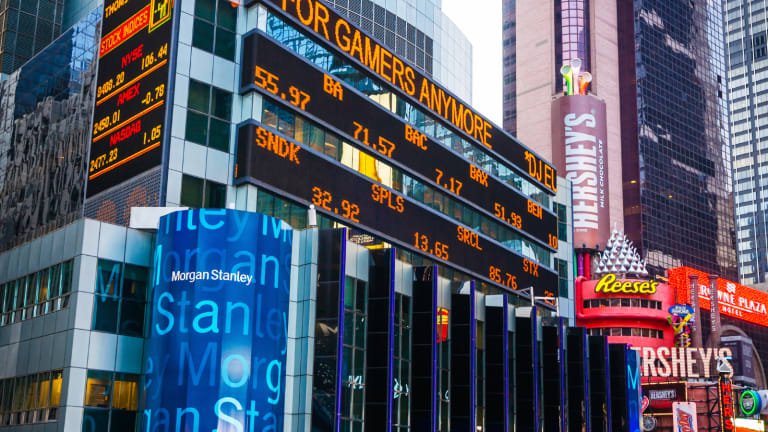 'Fast Money' Recap: Choppy Waters for the Dow, Rough Airlines, Apple's Change of Title
The Fast Money panel discussed the Dow's big drop, the struggling transportation sector and a new role for a key Apple executive -- sort of.
NEW YORK (TheStreet) -- It was a bad day for the Dow Jones Industrial Average  but the CNBC "Fast Money" panel wasn't worried Tuesday. 
"I don't think this is a panic," said Pete Najarian, co-founder of optionmonster.com andtrademonster.com. "Volumes are fairly light."
"I'm not selling any of my longs," said Karen Fireman, president of Metropolitan Capital Advisors. "The volatility index has a way to go."
The Dow hit a three-week low in light trading. This stemmed partly from a decline in the transportation index, which dropped below a key trend line. The transportation index is a key component of the Dow and sometimes foreshadows or influences larger trends. It has been languishing for more than six months.
The transportation sector, including rails, airlines, and more recently, cargo companies such as Fedex (FDX) - Get Report. 
"Transportation has not been performing since November," said Guy Adami, managing director of stockmonster.com. "I don't think you pull the ripcord yet. 
Other panelists saw buying investment opportunities. "The valuations are very cheap," said Tim Seymour, managing partner of Triogem Asset Management. Added Najarian: "I like airlines. They make money either way." 
The panelists expressed some concern about the transportation sector dragging on the Dow, but they remained optimistic. "The risk continues to be on the upside," said Adami. The S&P is holding well." He added that technology security company Palo Alto Networks (PANW) - Get Report had reached an all-time high. 
Guest Richard Ross, managing director of Evercore ISI, said that the 150-day moving averages had remained "broadly intact." "I expect the 150-day moving average to hold."
He added that he "was a buyer," and said that investors had to be selective. He pointed to opportunities in financials, technology and the Japanese market. A strong dollar has also hurt markets. 
Shares of Workday (WDAY) - Get Report fell, although the Pleasonton, Calif.-based human resources software provider said that subscriptions had soared 63%. Najarian said that buying shares was "betting on the future." 
Federal Reserve chief Janet Yellin announced she would not attend the annual conference in Jackson Hole, Wyo. Previous chairman have used the event to make major speeches on the economy. But Yellin made a major address last week on the economic outlook before Greater Providence Chamber of Commerce. She gave no timeline for expected increases in interest rates, though. "Maybe Providence is the new Jackson Hole," Seymour said. 
Finerman said the address would not impact markets. 
The panel also discussed an announcement by Apple (AAPL) - Get Report that long-time design genie Jony Ive would move into the position of chief design officer. Apple observers did not seem much significance in the company announcement. Ive was senior vice president of design and widely credited for the sleek, innovative appearance of the company's most celebrated gadgets, including the iPhone and iPad. But others saw this as indication of Ive's status as heir apparent to Cook. Finerman said that Ive was "an important asset," but the news was not sufficient cause to sell.
It was a shaky day for burger retailer Shake Shack (SHAK) - Get Report, with the burger retailer stock down 7.65%. Adami said that the New York-based company had a "ridiculous valuation." He wondered if the decline was a "one-day event" or the start of a longer decline downward. 
This article is commentary by an independent contributor. At the time of publication, the author held no positions in the stocks mentioned.