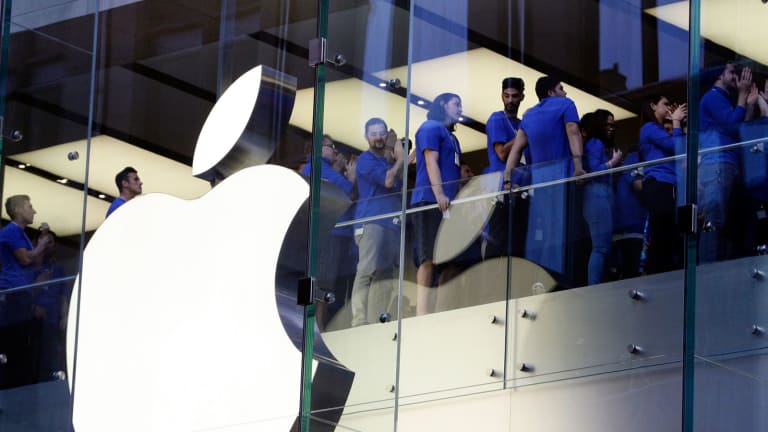 'Fast Money' Recap: Carl Icahn Shares Views on Apple, Lyft
On CNBC's 'Fast Money Halftime Report' Carl Icahn explained the rationale for his open letter to Apple, while other panelists discussed retail stocks and the impact of rate hikes.
On CNBC's 'Fast Money Halftime Report' Carl Icahn explained the rationale for his open letter to Apple, while other panelists discussed retail stocks and the impact of rate hikes.
NEW YORK (TheStreet) -- Apple investors who are intrigued by activist shareholder Carl Icahn's recent letter to CEO Tim Cook had an opportunity on Tuesday to gain a deeper understanding of Icahn's perspective when he addressed CNBC's "Fast Money Halftime Report" panel.
Icahn, chairman of Icahn Enterprises, said the intent of his open letter to Cook was to prompt the CEO and Apple's board to increase the company's stock buyback program.
"It's a no brainer," said Icahn, who has been touting this idea for a while and remains unsatisfied with the company's announcement earlier in the year to increase its buyback program from $90 billion to $140 billion.
"I think they should do more," Icahn told the panel, noting how Apple's most recent quarter showed the company has $194 billion in cash and cash equivalents. "They're sitting on $178 billion in cash that they are letting lie fallow."
Jim Cramer's charitable trust Action Alerts PLUS is long Apple.Click here for more.
And commenting on The Wall Street Journal report that Apple may not be venturing into TV anytime soon, Icahn said it's not a big issue for how he assesses this tech player.
"These guys can dominate [in whatever product category they enter] because they have this ecosystem," Icahn reasoned about Apple. And by having a strong ecosystem of products that work tightly integrated with one another and a third-party developer base for expanding those devices (not to mention consumers' willingness to pay above typical market prices for such devices), Apple makes it hard for others to compete against it.
Icahn also discussed his $100 million investment in privately held ride-sharing company Lyft, a competitor to Uber. In explaining his decision for the investment, he pointed to Lyft's $2 billion valuation compared to Uber's $50 billion valuation.
"If you think Uber is worth $50 billion, then Lyft is worth a lot more than $2 billion," Icahn said. He said his investment will help Lyft survive and compete. Both Uber and Lyft have yet to file to go public.
Although the panel queried Icahn about his ownership and thoughts on some of his investments in companies such as Hertz (HTZ) - Get Report, Netflix (NFLX) - Get Report and Federal-Mogul Holdings (FDML) , he largely declined to discuss them for legal reasons, given he is on the board of directors of Hertz and Federal-Mogul.
The panelists also touched on the retail sector, with guest panelist Tom Stemberg, managing partner of Highland Consumer Partners. He said consumers appear reluctant to spend on consumables but seem more willing to spend on home-improvement products and cars. 
Because interest rates are low, consumers seem to more ready to take on home-improvement projects, Stemberg said. Otherwise, it appears consumers are spending their money in a discretionary way.
"In general, retail is not a place to be," Stemberg said, in assessing the landscape for investors.
Rick Rieder, managing director and chief investment officer of fundamental fixed income for BlackRock, said he believes the Fed will raise interest rates in September rather than June. And when the Fed begins to raise rates, he anticipated it will be done in a series of hikes and increments of 25 basis points each time.
Reider observed that the markets do not like uncertainty. But he said once these incremental hikes begin to happen, he does not anticipate their causing duress to the markets or being disruptive since they will be very small.
The panel, as usual, offered up their buy and sell recommendations during the "traders blitz." Joe Terranova, chief market strategist for Virtus Investment Partners, said he expected to see a pullback in stocks of energy firms, such as Transocean (RIG) - Get Report, Diamond Offshore Drilling (DO) - Get Report and Ensco (ESV) . "The easy money has been made," he said.
Stephen Weiss, managing partner of Short Hills Capital, said he is staying away from Lumber Liquidators (LL) - Get Report, while Jon Najarian, co-founder of optionmonster.com, said he believes Panera Bread (PNRA)  operates in a sector where consumers are still spending.
Pete Najarian, co-founder of Optionmonster.com, is a fan of Starbucks (SBUX) - Get Report. "There's a lot of great reasons to own it -- not just because of the Spotify deal."
This article is commentary by an independent contributor. At the time of publication, the author held no positions in the stocks mentioned.