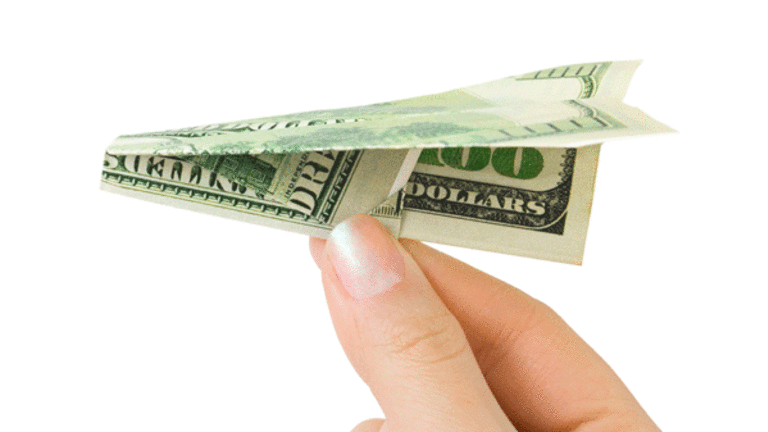 'Fast Money' Recap: Buying in May?
An expert tells the trading panel that he wouldn't follow the old adage of selling in May.
The S&P posted its best month in April since 2000 as the markets had a mixed trading session on Thursday.
The
Dow Jones Industrial Average
fell 17.16, or 0.22%, to 8,168.12, while the
declined 0.83, or 0.10%, to 872.81. The
Nasdaq
rose 5.36, or 0.31%, to 1,717.30.
Melissa Lee, the moderator of the
CNBC
's "Fast Money" TV show, asked the trading panel if the market took a turn to the south after the Chrysler bankruptcy announcement at noon.
Karen Finerman didn't think so, calling the filing a "complete non-event."
Tim Seymour said the auto names actually had a good day, but he pointed out there was some disappointing economic data, with personal income down three out of the past four months and a lack of improvement in jobless claims.
Jeff Macke said the sell-off came because the stocks got ahead of themselves after hitting the 875 resistance level.
Pete Najarian said what triggered the turnaround was that people wanted an excuse to sell.
Seymour said May typically is a difficult month, but he thinks it may be different this time around because he's seeing a desire among investors to get into the market once they get some confirmation of a rally.
Finerman said April was an enormous month for equities but much less so for fixed income. Having said that, she said today's so-called sell-off might have been more about a bit of rebalancing out of equities.
Lee shifted the discussion to the day's biggest business story: the filing by Chrysler for bankruptcy.
CNBC
auto reporter Phil Lebeau said the filing doesn't bode well for the bondholders of
General Motors
(GM)
. "Obama intends to play hardball with them," he said.
Lebeau said he was stupefied that GM stock rose today because the stock is going to be wiped out in a bankruptcy.
He also said the fate of the auto parts makers is far from clear as a result of the government-led restructuring of the auto industry.
However, Tim Manganello, chairman and CEO of
Borgwarner
(BWA)
said he didn't think the Chrysler bankruptcy filing would have an impact on his company.
He said Chrysler represents about 3.5% of its sales, adding the company has plenty of liquidity and can compensate for the loss in sales with a pickup in business elsewhere.
Lee asked the panel to reflect on the earnings season and how many companies have been beating Street estimates. Seymour said many companies have done it through cost-cutting and beating a low bar.
Finerman said there are some companies like
Flowserve
(FLS)
that have actually produced some "good solid" numbers. She said Flowserve had earnings that were 13% higher than what the Street expected as well as evidence of "real demand" and "good backlog."
Seymour said he still likes
Exxon Mobil
(XOM)
despite its disappointing earnings. He said the oil giant is increasing its capital expenditures and is well-positioned to do well once the economy turns around.
Lee asked the panel for some downside-protection ideas after a robust April. Najarian said he's seen heavy activity in downside puts in the
Industrial SPDR
(XLI)
from some people who want to have some protection in place in May.
He said the same downside put strategy is being employed with the
Discretionary SPDR
(XLY)
which 55,000 downside puts purchased Wednesday.
How much has the market rally been influenced by a short squeeze? Finerman said that has certainly been the case with
Green Mountain
(GMCR)
, which jumped $19.02, or 36%, to $71.75. She said the situation is ripe for a squeeze with a 44% short interest in the stock.
Finerman brought up a second example with
Dineequity
(DIN)
which jumped 6.48% today to $32.04. She told investors to study the pricing action of the options activity to see if it is out of whack. If it is, it means you can't get a borrow, a condition ripe for a squeeze play.
Seymour brought up a third example in
Teck Cominco
(TCK)
, where there is not only a short interest but also interest from another player. He said those ingredients pushed the stock up 25% in a day.
Lee brought in Jeff Tomasulo, of SMB Capital, for some trading ideas ahead of next week when the stress test results are released.
Tomasulo said he would go long on
Visa
(V)
if it trades above $70 and the market continues to go up. On the flip side, he said he would short it at $64 if it rolls over.
He said he would only go long with strong stocks like
Goldman Sachs
(GS)
ahead of the stress tests. He said he would also go long on
Morgan Stanley
(MS)
if the market shrugs off the stress tests.
Lee brought up an old Wall Street adage that May is usually the month to sell and go away, since the Dow historically has yielded a 4.4% return between May and October.
Joe Duran, CEO of United Capital Partners, doesn't buy the adage this time around. He said normally the period running from November to May produces a 7% return. In 2008-2009, however, the market showed a 30% decline.
Duran sees a very different environment after the rally from the March bottom. He told investors to buy into the declines in the coming months. He said there are good opportunities in the emerging markets, basic materials and technology.
Duran said "everyday investors" should stay invested. "We'll going to a lot higher in the next 12 months," he said.
In the final trades, Seymour said to sell
Wimm-Bill-Dann Foods
( WBD) while Finerman was long on Flowserve.
"Check out
"'Fast Money'Portfolios of the Week" on Stockpickr every Thursday.