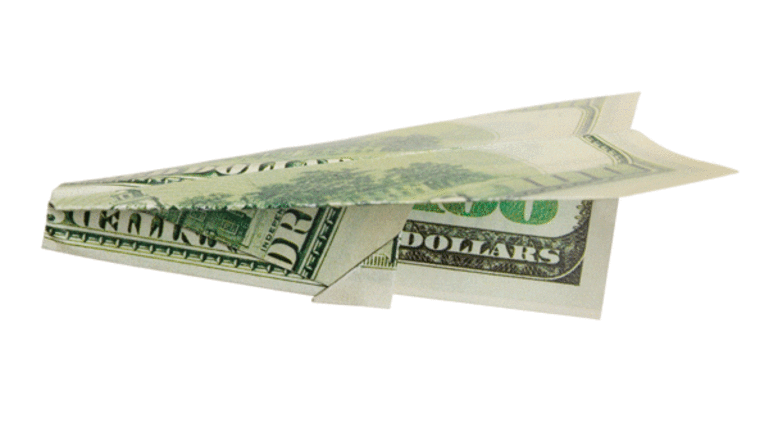 'Fast Money' Recap: Bumper Cars
The trading panel looks at the oil-crunched prospects for U.S. automakers.
Stocks in New York sank Friday on oil's continued rise and ongoing problems in the housing market. The Dow lost 1.2%, the S&P 500 fell 1.3% and the Nasdaq shed 0.8%.On CNBC's "Fast Money" TV show, Jeff Macke said he would love to buy the dips on the U.S. Oil Fund (USO) - Get United States Oil Fund LP Report. He said that buying heights on the USO will mean being on the wrong side of a V-top. He said shorting oil is the "silliest trade right now."
Tim Seymour said he wonders why the
Federal Reserve
isn't paying more attention to inflation. He said that the current environment bears eerie similarity to the 1970s.
Jon Najarian predicted a short-term top in crude oil. Guy Adami pointed out that the
UltraShort Oil & Gas
(DUG) - Get ProShares UltraShort Oil & Gas Report
ETF was actually up today. He said this might mean energy will pull back. Macke said that the rise in oil is fueled by speculation. Oil went higher on bearish events, he said.
The traders discussed the impact on businesses that depend on oil. In the automakers, Adami said he has liked
Ford
(F) - Get Ford Motor Company Report
as a turnaround story. He says he hates
General Motors
(GM) - Get General Motors Company Report
. He said he wouldn't go near any of the automakers at this point and instead recommended
Borg Warner
(BWA) - Get BorgWarner Inc. Report
as a downstream play on the autos.
Seymour said that both GM and Ford are down 20% in the past five days. He pointed out that the companies are streamlining and growing their international businesses.
Najarian said $4 a gallon for gasoline will likely remain for a very long time. Macke said that consumers are staying home rather than trading in their SUVs for hybrids.
On the airlines, Adami said he would play
AMR
(AMR)
from the long side in anticipation of a drop in oil. He recommended using a tight stop.
Najarian predicted that AMR and the rest of the domestic airlines are in bad shape. He said he's more interested in the European airlines.
Buy in Bulk
In retail, Macke said
Wal-Mart
(WMT) - Get Walmart Inc. Report
and
Costco
(COST) - Get Costco Wholesale Corporation Report
are the stocks to own. He said Wal-Mart is a one-stop shop, which is good when customers don't want to drive. He said it's best-of-breed, which is why he likes it.
The Real Macau
Of the gaming industry, Najarian said to only go near the casinos with a Macau presence.
Macke said that he wouldn't trust a turnaround in the casinos.
In tech, Najarian said he would buy this week's dip. In particular, he said he likes
Apple
(AAPL) - Get Apple Inc. Report
. He said he thinks the stock will go to $200.
Macke said he would own Apple shares but sell the stock into the launch of the new iPhone.
Yahoo!
(YHOO)
advised shareholders to vote against a Carl Icahn-sponsored changeup of the board. Macke made fun of Yahoo!.
Gartman Letter
author Dennis Gartman joined the show to talk about the rise in crude oil prices. He said he wouldn't trade oil here. He said instead he's long airlines as a bet that oil prices will decline. He said he's also long grains and gold and is not in any stocks other than airlines. He said he's playing airlines instead of directly shorting oil because he's more confident he'll be able to understand where his thesis may go wrong in the airlines.
Quicker Than the Ticker
The traders went over some of their good calls. Macke had picked the USO, which went up 11% since his call. Najarian selected
Anheuser-Busch
(BUD) - Get Anheuser-Busch InBev SA/NV Report
, which went up 16%. Adami chose
Western Digital
(WDC) - Get Western Digital Corporation Report
, which rose 20% since his most recent recommendation. Seymour said he liked
Market Vectors Russia
(RSX) - Get VanEck Russia ETF Report
, which rose 10% since his call.
The traders kicked around the idea that this summer could be dominated by Apple on its next-generation iPhone. Najarian said his fund is long the stock, and said that investors should sell the stock in advance of the release of the new iPhone. Seymour and Adami agreed. Macke said he likes
Research In Motion
( RIMM) better.
Lehman Brothers
( LEH) and other brokers were in a swoon this week. Macke said he didn't buy the dip because he was scared. He said he'll still have time to do so next week.
Seymour said the stocks still have a lot of "smoke" around them. He said the companies' balance sheets may not be as good as they had previously seemed.
Najarian observed unusual options activity in Lehman. He said that four times normal volume of puts were traded lately, and he had seen similar activity in
Bear Stearns
( BSC). That brokerage was sold in a fire sale to
Bank of America
(BAC) - Get Bank of America Corp Report
.
Macke said that the entire debt market is now questionable as a result of an admission by
Moody's
(MCO) - Get Moody's Corporation Report
that it had mispriced a substantial slice of the debt market.
This Bud's for Who?
Belgian beer company
InBev
, which brews Stella Artois among other beers, said it is interested in buying
Anheuser-Busch
(BUD) - Get Anheuser-Busch InBev SA/NV Report
. Macke said Bud is playing catch-up here. He said the deal may face antitrust headwinds. Seymour disagreed, saying InBev is more in the European market, meaning regulators won't be very concerned about consolidation as a result of the merger.
Najarian said the deal shouldn't get approval, and said the consumer is suffering as a result of insufficient regulation of big mergers.
Adami said that
Boston Beer
(SAM) - Get Boston Beer Company, Inc. Class A Report
can make big moves and is now getting toward oversold levels. Macke said he still likes
Molson Coors
(TAP) - Get Molson Coors Beverage Company Class B Report
. Seymour recommended
AmBev
(ABV)
.
Fast Fire
Adami had recommended
FedEx
(FDX) - Get FedEx Corporation Report
, which fell 11%. He said the stock logged two false breakouts and he's been "dead wrong" about the name.
Seymour had picked
Genco
(GNK) - Get Genco Shipping & Trading Ltd Report
. He said investors can buy the stock on this dip.
Najarian had chosen
Masco
(MAS) - Get Masco Corporation Report
, which subsequently declined 9%. He said to stay away.
Macke had selected
Hasbro
(HAS) - Get Hasbro, Inc. Report
, which declined. He said that it's a best-of-breed play but it's hard to fight consumer sentiment week to week.
Sunlight on Evergreen
The traders spoke with
Evergreen Solar
( ESLR) CEO Richard Feldt to the show to talk about the success of his company's stock. He said demand for solar energy continues to be strong. He also said he uses less silicon than other companies in the industry.
Macke said he's afraid of the solar names. Adami said the move is already over in the solar stocks. Najarian advised viewers to buy on dips.