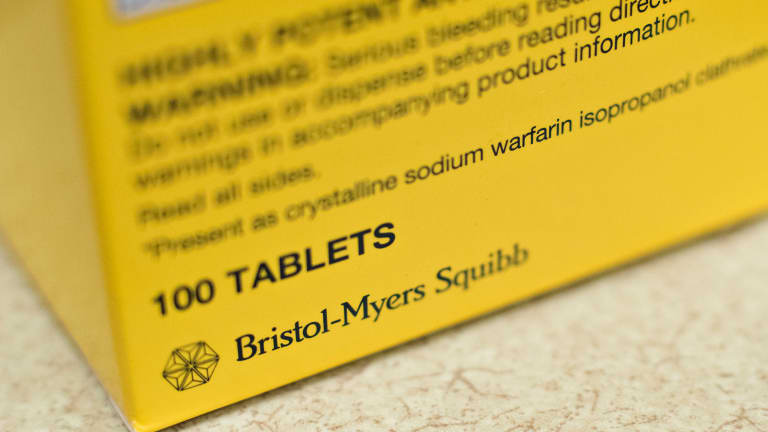 'Fast Money' Recap: Bristol-Myers' Stock Is Ailing, Health Care on the Rise
The Fast Money panel discussed the drop in Bristol-Myers' stock, a coming OPEC meeting, and the health care sector.
NEW YORK (TheStreet) -- Bristol-Myers (BMY) needed a new prescription after its stock fell 6% Friday. The drop followed news of disappointing results for a promising cancer drug. The CNBC "Fast Money Panel" agreed the stock received unfair treatment considering an otherwise strong product pipeline. 
"When you look at the depth and breadth of their products there's a lot more happening here." said Josh Brown, CEO and co-founder of Ritholz Wealth Management. 
Tim Seymour, managing partner of Triogem Asset Management, said investors "were overreacting to Friday news." He added that there would be opportunities "to pick up the stock."
The traders discussed movement in the white-hot semiconductor sector, rising oil prices and the German stock market,which has outperformed the S&P 500. 
In revisions to an earlier study, Bristol Myers reported its Opdivo was not as effective as expected in treating lung tumors and melanoma with low level proteins. The company had hoped that the drug would decrease tumor size at a range of protein levels. 
The panel didn't think that the drop in price would have repercussions for the biotech and pharmaceutical industries. Seymour said he was long Celgene (CELG) . Guy Adami, managing director at stockmonster.com, said that despite an underperforming stock price, biotech Amgen (AMGN) has "a great pipeline" of therapies. 
Oil prices have surged in recent weeks. However, guest Tom Kloza, a co-founder of the oil price research service OPIS, was certain that oil ministers from the Organization of the Petroleum Exporting Countries meeting next week would cut production. "Anything that cuts output would be an absolute shock," he said. 
He said that refiners were generating big margins charging $80 to $85 a barrel and so are not interested in challenging oil producers. "Those numbers will work for them," he said.
Oil producers and companies servicing the industry were also buoyed Thursday by a U.S. Environmental Protection Agency ruling. The EPA eased annual requirements for ethanol in gasoline. A 2007 law had required refiners to mix an increasing proportion of ethanol into gas, but the regulation had met with criticism by groups representing the oil and related service industries. 
Kloza called the Friday announcement by the EPA "a big win" for refiners" and a "loss for ethanol producers." He added, "It's going to be a great summer for refiners." 
Seymour said to short Royal Dutch Shell (RDS.A) but go long on Exxon (XOM) . Brown said that based on historical precedent, the surging oil market foreshadowed gains for the S&P 500 for the remainder of the year. He said that "the worst place to play is in the utility and energy sectors" and that investors would do better in industrial and technology. 

Health insurer Humana's (HUM) stock skyrocketed about 20% after news that it had been in talks with investment bank Goldman Sachs about a sale. Speculation about bidders centered on rivals Cigna (CI) and Aetna (AET) , although Anthem undefinedhas also been mentioned. 
The traders largely agreed the health care insurance industry is likely to remain on an upswing. "The whole complex has started trading the same way," said Steve Grasso, director of institutional sales at Stuart Frankel. "This is going to creat a rapid-fire effect." 
Seymour noted Aetna has been the most vocal about a possible acquisition of Humana or another company, but added "that they have to be careful about the values they pay."
Brown said investors should not count on an industry surge to guarantee that an investment in one of the healthcare companies will pay off. "Don't expect that you're going to get an upswing when the news is right on," he said. 
That said, Adami said Tenet Healthcare (THC) seems as if "it's breaking out."
The semiconductor index reached a 14-year high amidst a flurry of discussion about Intel's (INTC) possible purchase of Altera (ALTR)  for approximately $16 billion and speculation about other acquisitions within the industry. "The whole sector is going through a readjustment," Adami said. He is long on Intel, although he wasn't sure that an Altera acquisition will "shore up its wireless" business. 
Grasso said that semiconductor stock price increases indicated that "investors wanted to buy into growth" for the industry.  
He said that although the company's stock price has been mixed, that investors should "give Qualcomm (QCOM) a shot." 
The panel made note of a 16% increase in the German exchange compared to a 2% gain for the S&P 500. Historically when the German exchange outperforms the S&P over the first part of a year, the S&P registers strong gains over the latter half. 
Seymour considered this a correction by the DAX. He said that it had been underperforming U.S. companies in recent months. "This is catchup," he said.
Grasso said it was time to buy footwear designer Deckers Outdoor (DECK)   and Adami said to avoid retailer Abercrombie & Fitch (ANF) . "Everything about this company is wrong," he said. 
Seymour was wary of budget retailer Big Lots (BIG) , while Brown remained long on burger chain Shake Shack (SHAK) . The company's stock has plunged in recent weeks, despite solid reviews for its fare, which is considered higher quality than that of other burger chains. "The stock was beasting today," Brown said. "I've been long the name from the day it went public." He added: "I eat volatility for dinner."
For their final trades, Seymour said to buy mining company Freeport-McMoRan (FCX) , Grasso had no position on semiconductor company Nvidia (NVDA) , Brown said to buy coffee chain Starbuck's (SBUX) and Adami said to buy clothier Michael Kors (KORS) . "I like the way it traded today," Adami said of Kors. 
Follow TheStreet.com on Twitter and become a fan on Facebook.
This article is commentary by an independent contributor. At the time of publication, the author held no positions in the stocks mentioned.