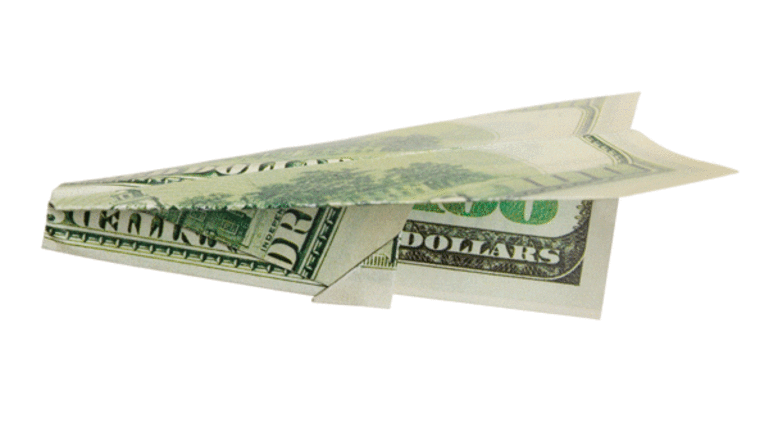 'Fast Money' Recap: Bipolar Market
Most the trading panel were stumped by the latest swing in the market.
Most the trading panel were stumped by the latest swing in the market.
NEW YORK (
) -- The markets rose Monday on the strength of transportation stocks.
The
Dow Jones Industrial Average
jumped 102.32, or 0.99%, to 10,424.62, while the
S&P 500
gained 8.99, or 0.82%, to 1,102.66. The
Nasdaq
was up 23.58, or 1.05%, to 2,269.47.
Guy Adami said on
CNBC
's "Fast Money" TV show that it looks as if the market "wants to go higher." He said the market was aided today by stronger earnings, including that of
Fedex
(FDX) - Get Report
, which raised guidance, and lower-than-expected volatility.
Steve Grasso said the S&P has to make it to the 1,128 level.
Joe Terranova said the markets can pick momentum if those currently in gold and Treasuries shift into equities.
For a breakout of some stocks from a recent "Fast Money" TV show,check out Dan Fitzpatrick's "3 Stocks I Saw on TV."
3 Stocks I Saw onTV
varconfig = new Array(); config<BRACKET>"videoId"</BRACKET> = 260745029001;config<BRACKET>"playerTag"</BRACKET> = "TSCM Embedded Video Player";config<BRACKET>"autoStart"</BRACKET> = false;config<BRACKET>"preloadBackColor"</BRACKET> = "#FFFFFF";config<BRACKET>"useOverlayMenu"</BRACKET> = "false";config<BRACKET>"width"</BRACKET> = 265;config<BRACKET>"height"</BRACKET> = 255;config<BRACKET>"playerId"</BRACKET> = 1243645856;createExperience(config, 8);
Karen Finerman said she couldn't remember seeing a market "this biolar," adding she was considering taking some profits.
Brian Kelly said he was going with the market action, even though he had thought before the earnings season that the slowdown in the economy would trump good earnings.
Grasso and Adami admitted how difficult it was read the markets to determine which way they will go on any given day.
Melissa Lee, the moderator of the show, said copper was higher for sixth straight session as it hit a 10-week high. Dennis Gartman said it's been a good turn of events for a lot of metals, including aluminum, tin and zinc. With the economy getting stronger, platinum, palladium, and silver all are gaining, along with oil and natural gas, he said.
Gartman said gold has weaken as a result, causing him to hold a "demonstrably" smaller position in it.
Adami said he was impressed with
Fluor
(FLR) - Get Report
, which topped estimates. He said the only negative was that it didn't guide higher. He also said the thought
McDermott International
(MDR) - Get Report
was a better choice in this space.
Lee said
BP
(BP) - Get Report
was up 4% ahead of earnings as reports circulated about the removal of its current CEO Tony Hayward and the selection of a replacement.
Terranova said the company needs to redefine its strategy in its call Tuesday and talk about the other 60% of its business, which he said is doing "well."
But Mark Gilman, an analyst with The Benchmark Company, said far too much is being made about a new CEO. He said the company is more than one person and that the focus should be on its current problems, such as progress with the relief well and what management intends to do in its asset sales, which he said have gone well so far.
He said he expects the company to reinstate its dividend in early 2011.
Gary Shilling, head of A. Gary Shilling & Co., said he was going to the sidelines. He said he didn't believe the second half and next year will show strength in economy. As a result, he said he was shorting the S&P and cutting back on his long dollar position. Kelly agreed, saying all the leading economic indicators are plunging.
Was the flash crash beneficial to the
Nasdaq
? Niamh Alexander, an analyst with Keefe, Bruyette and Woods, said the volatility has been good for the Nasdaq and revenues have held up. She said transaction revenue comprises only a small part of the exchange's revenue.
Boeing
(BA) - Get Report
was the best performing stock of the day. In a quick 360-degree look at the stock ahead of its earnings on Wednesday, all three experts said it was a buy. Alex Hamilton, an analyst with C.K. Cooper & Co., said the company was in the first year of a multi-year upcycle. Carter Worth, a chartist with Oppenheimer, said Boeing has shown impressive strength during the selloff. And Brian Stutland, an options trader, noted the bullish activity in the stock.
Lee noted that
Legg Mason
(LM) - Get Report
was down 5% on an earnings miss. Adami said the company's fee structure is "not good" and seems to be a victim of a "perfect storm, the wrong way."
Shifting briefly to the impact of midterm elections and the loss of the Democratic control of the House, Grasso said he did not think much of the chances of an extension of the Bush tax cuts. Finerman said the health care stocks have been excessively penalized, opening the door for investors to buy some stocks like
Becton Dickinson
(BDX) - Get Report
at relatively cheap prices.
In the final trades, Terranova said he liked
Juniper
(JNPR) - Get Report
Adami liked Becton Dickinson, while Finerman liked
St. Jude Medical
(STJ)
. Grasso said
Ford
(F) - Get Report
was a buy.
-- Written by David Tong in San Francisco
To watch replays of Cramer's video segments, visit the Mad Money page onCNBC
.
"Check out
"'Fast Money'Portfolios of the Week" on Stockpickr every Thursday.
Follow TheStreet.com on
Twitter
and become a fan on