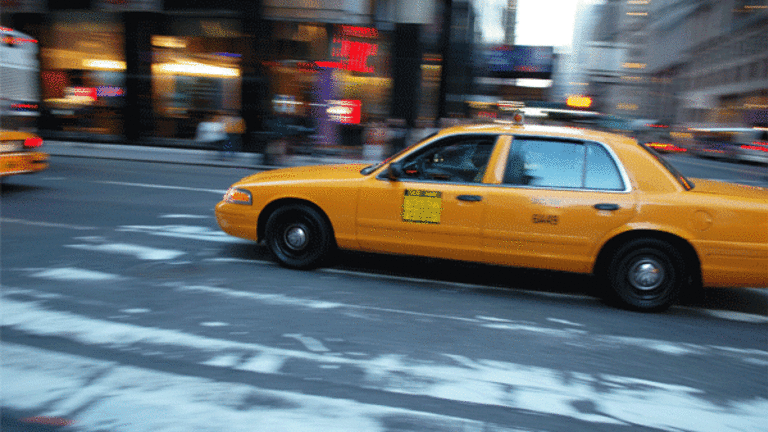 Publish date:
'Fast Money' Recap: Beyond Stocks
The trading panel explored new investing ideas for 2010.
The trading panel explored new investing ideas for 2010.
NEW YORK (
) -- The markets ended flat Wednesday on light volume.
The
Dow Jones Industrial Average
was up 3.10, or 0.03%, to 10,548.51, while the
S&P 500
rose 0.23, or 0.02%, to 1,126.42. The
Nasdaq
added 2.28, or 0.13%, to 2,291.28.
Bob Pisani, the moderator of
CNBC
's "Fast Money" TV show, continued the theme of alternative investments to stocks and Treasuries.
Brian Kelly said he's long on
Proshares Ultrashort 20-year Treasury ETF
(TBT) - Get Report
. He said the theory behind that move is based on his belief that interest rates are heading higher.
For a breakout of some stocks from a recent "Fast Money" TV show,check out Dan Fitzpatrick's "3 Stocks I Saw on TV."
3 Stocks I Saw onTV
varconfig = new Array(); config<BRACKET>"videoId"</BRACKET> = 59489607001;config<BRACKET>"playerTag"</BRACKET> = "TSCM Embedded Video Player";config<BRACKET>"autoStart"</BRACKET> = false;config<BRACKET>"preloadBackColor"</BRACKET> = "#FFFFFF";config<BRACKET>"useOverlayMenu"</BRACKET> = "false";config<BRACKET>"width"</BRACKET> = 265;config<BRACKET>"height"</BRACKET> = 255;config<BRACKET>"playerId"</BRACKET> = 1243645856;createExperience(config, 8);
Steve Cortes, taking the opposite view, said that any
Fed
moves to tighten money supply would help longer-term Treasuries. He also said Treasuries remain a valuable asset for investors.
Joe Terranova said there's no better place to be than in the stock market. He said there will be a "seamless" transition from 2009 to 2010, with investors sticking to the "comfort assets" they relied on this year. "There is no reason to jump off this boat."
Pete Najarian agreed, saying technology and energy names will continue their run.
But Pisani suggested it might be a safer, less risky move to invest in a corporate bond fund like
iShares Barclays 1-3 years
(CSJ)
with a 3 percent yield.
Najarian said a better alternative to that approach would be get into stocks in the pharmaceutical and utilities sectors that pay attractive dividends.
He and Terranova said there's no reason to believe that investors are fearing another market correction. Najarian said if there were fear in the markets, the volatility index would be running at 30% to 40% instead of 20% currently.
Kelly said utility stocks are extremely attractive for their "nice, fat" dividend yields. "These things are never going to fail," he said.
Pisani noted that
Powershares DB Commodity Index
(DBC) - Get Report
, with a 9% gain in the past six months, as a good ETF growth play. Terranova agreed, saying it's a great ETF to own because "it's all about the emerging-market recovery."
But Cortes disagreed, arguing that the commodity trade has become extremely crowded, especially in gold. "We are going to see pain in commodities."
Pisani noted that oil hit a seven-week high today. Terranova attributed the rise to an anticipated large flow of from commodity index ETFs that want exposure to energy, especially oil. He said the oil trade will turn flat by the middle of January. Cortes said he's shorting oil because he thinks the rally has been extended.
Shifting to technology, Najarian continue to be high on chip stocks. He noted
Marvell Technology
(MRVL) - Get Report
received a new price target of $25 from an analyst and draws 50% of its revenue for storage. He said
Seagate
(STX) - Get Report
has fetched a price target of $22 from an analyst. He said the story behind these stocks is the growing demand for data storage.
Pisani referred to a chart from Investors Intelligence that pointed out that the bears are in hibernation to an extent not seen since 1987. Kelly said the chart made a good point, but Terranova argued that there is no evidence to suggest "we are near a top."
Pisani brought in Anthony Fabiano, CEO of
American Science and Engineering
(ASEI)
whose stock has risen in recent days since the unsuccessful terrorist attempt to blow up an American passenger airplane over the weekend.
Fabiano demonstrated to the panel how its security scanner works to detect explosives and weapons while respecting privacy rights.
The CEO got himself scanned and then walked over to a monitor that showed an image of him with a gun at his waist along with a packet of stimulated explosives similar to the one found on the terrorist over the weekend.
Fabiano said the government has contacted the company about the scanner which costs $100,000 a machine.
Kelly said he would trade in this area with a basket of these stocks like American Science and Engineering. Cortes said he would opt for larger companies like
General Dynamics
(GD) - Get Report
.
Pisani brought on to the show federal pay czar Kenneth Feinberg to comment what he has achieved this year. Feinberg said he thought he did a pretty good job but said his job is still incompete, with five remaining banks under his statuatory jurisdiction.
He said his mandate has been to get the banks to return the TARP money they borrowed and not to micromanage their businesses.
Pisani said the lure of investing overseas was attractive in 2009 as the markets in countries such as Russia, Argentina and China outperformed the U.S. markets.
Cortes, though, was wary of investing overseas for several reasons, including the lack of transparency. Kelly said investors have to be involved outside the United States because the growth in emerging markets.
Pisani brought in Noel Archer, head of product development for US iShares, to talk about some of new overseas investing ideas. Archer said some of his company's best products offer fixed income exposure to emerging markets and the opportunity to get into commodities.
In particular, he liked
iShares JPMorgan USD Emerging Markets Bond Fund
(EMB) - Get Report
,
iShares Barclays 1-3 Year Credit Bond Fund
(CSJ)
and
iShares S&P GSCI Commodity Index Trust
(GSG) - Get Report
.
In the final trades, Terranova liked
Semiconductors HLDRs
(SMH) - Get Report
, while Cortes said he would short oil. Kelly liked
Toronto-Dominion Bank
(TD) - Get Report
. Najarian said he liked
Bunge
(BG) - Get Report
.
-- Written by David Tong in San Francisco
To watch replays of Cramer's video segments, visit the Mad Money page onCNBC
.
"Check out
"'Fast Money'Portfolios of the Week" on Stockpickr every Thursday.
Follow TheStreet.com on
Twitter
and become a fan on