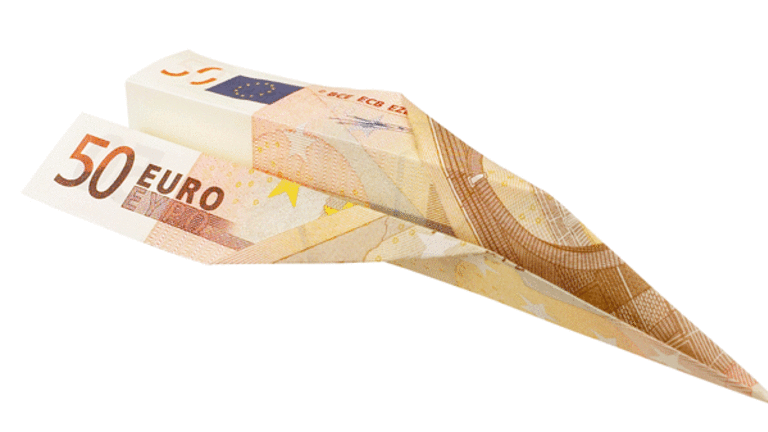 'Fast Money' Recap: Beware of Falling Banks
The trading panel discusses whether banks are bargains or traps.
Dylan Ratigan began CNBC's "Fast Money" by mentioning how the financials are down during market hours, bringing down the major indices. Some notable financials trading to the downside are Freddie Mac (AZO) - Get AutoZone, Inc. Report, down 18% to $4.82, Fannie Mae( FNM), down about 18% to $6.52, and Goldman Sachs (GS) - Get Goldman Sachs Group, Inc. Report trading down 2% to $160.25.
Joe Terranova said, "I'm still long on Goldman," and he said he feels that investors who are willing to buy a great financial firm for the long term should consider getting in below $160.
Jeff Macke said that if you held on to Freddie or Fannie, you would be down about 18% today. He said there is no fundamental reason to own financials, and regarding Freddie Mac and Fannie Mae specifically, he said "these are stocks you cannot own."
Zachary Karabell stated, "I agree with Macke: Avoid these financials."
Pete Najarian returned to talking about Goldman Sachs, stating, "Goldman is the leader, and sooner or later the bad news will come to an end." He said that makes this financial worth buying in the long term.
About the Buck
Ratigan brought up how the U.S. dollar trending downward today after trading at six-month highs.
Macke is still long on the dollar, stating, "It was due for a pullback." He finds the pullback healthy and continues to remain bullish on the dollar.
Karabell said he feels the pullback in commodities could be temporary, since China and other countries are still demanding for iron ore and crude oil. Karabell said commodities potentially be making a move back to the upside.
On the Retail Side
Ratigan brought up two retailers,
Lowe's
(LOW) - Get Lowe's Companies, Inc. Report
and
Home Depot
(HD) - Get Home Depot, Inc. Report
.
Macke said he does not feel there is any reason to invest in retailers, especially Lowe's and Home Depot. He said retailers' "trailing earnings are going to be weak" and the fundamentals are not strong, causing Macke to feel this sector should be avoided.
Najarian feels investors should "wait for the opportunities."
The Chart of the Day was the Russell 2000. Karabell commented that small-cap stocks have rallied strongly since they were "beaten up" just like the financials and retailers have been beaten up. Therefore, he feels the rally is short term, and that is why he does not feel compelled to invest in small-cap names.
Ratigan brought up how
Hewlett-Packard
is down 4% to $43.94 before it reports its earnings on Aug. 19.
Najarian said he believes investors are trading Hewlett-Packard and
Dell
(DELL) - Get Dell Technologies Inc Class C Report
as a dollar trade. He said "HP gets most of its money overseas, while Dell gets most of its money within the United States."
Exchange Partners
Nymex
( NMX) plans to approve the merger with
CME Group
(CME) - Get CME Group Inc. Class A Report
by next week.
Terranova finds the merger very positive for CME and suggests its stock could be worth buying.
Jon Najarian, co-founder of OptionsMonster.com, came on the show and started by discussing
Zimmer Holdings
(ZMH)
. He said there is a rumor that Zimmer is going to be bought out by
Johnson & Johnson
(JNJ) - Get Johnson & Johnson Report
. While this is just a rumor, Jon stated he noticed there has been very active call option activity for Zimmer Holdings.
Jon Najarian continued by talking about how
Broadcom
undefined
could be worth buying. He said that "if Apple is doing as well as it seems to be doing with its iPhone," Broadcom should benefit quite well financially, since it supplies parts such as the GPS chips for the iPhones.
Karabell mentioned how analysts' making predictions what the
S&P 500
earnings will be is "meaningless, since a part of the sector is falling off the cliff while the other is doing considerably well." He said the sector falling off the cliff was the financial group, while some sectors in technology are doing quite well.
A Nat-Gas Play
Aubrey McClendon, CEO of Chesapeake Energy, came on the show, stating he has seen "good demand switching in around" when natural gas trades at $8. McClendon said he feels natural gas is at a bottom and feels it could move to the upside in the near future. In the end, he does not feel the selloff in shares of
Chesapeake Energy
(CHK) - Get Chesapeake Energy Corporation Report
is warranted.
Terranova said that after thinking about what was said from the CEO of Chesapeake, this could mean "coal is a good play right now."
Macke reiterated how he feels with Lowe's and Home Depot, stating, "I'm a seller of both Lowe's and Home Depot." He said he does not feel the bad news is fully priced into the stocks.
Peter Garcia is a finance major at Seton Hall. He provides invaluable research support as an intern at TheStreet.com.