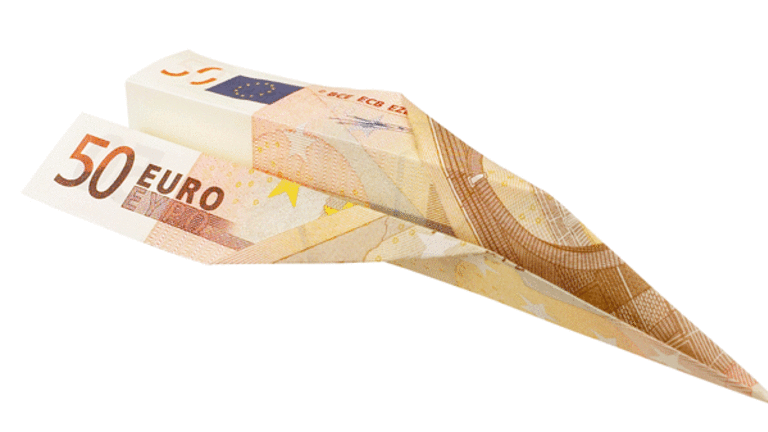 'Fast Money' Recap: Berkshire Surprise
Whitney Tilson of T2 Partners told the trading panel that Berkshire Hathway will have a blowout quarter and that analysts have underestimated its net income by a substantial amount.
NEW YORK (
) -- The markets were down Thursday as the European financial crisis deepened.
Gary Kaminsky said on
CNBC
's "Fast Money" TV show that the European economy is collapsing and that is why he continues to short it through
Utrashort Europe Proshares
(EPV) - Get Free Report
.
Jon Najarian said the slide in Europe could spill over to the U.S markets.
Steve Cortes, taking the contrarian view, argued that there's been an overreaction to the events in Europe. He said the "euro-yen cross" is not having much of a bearing on the
.
For a breakout of some stocks from a recent "Fast Money" TV show,check out Dan Fitzpatrick's "3 Stocks I Saw on TV."
3 Stocks I Saw onTV
varconfig = new Array(); config<BRACKET>"videoId"</BRACKET> = 68577764001;config<BRACKET>"playerTag"</BRACKET> = "TSCM Embedded Video Player";config<BRACKET>"autoStart"</BRACKET> = false;config<BRACKET>"preloadBackColor"</BRACKET> = "#FFFFFF";config<BRACKET>"useOverlayMenu"</BRACKET> = "false";config<BRACKET>"width"</BRACKET> = 265;config<BRACKET>"height"</BRACKET> = 255;config<BRACKET>"playerId"</BRACKET> = 1243645856;createExperience(config, 8);
Cortes said he's also bullish on the euro because European bank stocks are trading "pretty well."
Guy Adami disagreed, saying the grave situation in Greece and other European countries as well as China putting on the brakes will impact U.S. equities.
Melissa Lee, the moderator of the show, said she contacted S&P to find out what impact Greece's debt problems would have on U.S. multinationals such as
Exxon Mobil
(XOM) - Get Free Report
and
Ford
(F) - Get Free Report
with large exposure to Europe. She said the information showed they would be negatively affected in the next earnings season.
Kaminsky said based on his 20 years of experience, he is sure that these companies will adjust their outlooks lower.
He also said it's important to remember that the European banks are trading off strong fourth-quarter numbers and not the first troublesome months of 2010.
Lee shifted the conversation to
Goldman Sach
's
(GS) - Get Free Report
reportedly sullied role in helping Greece deal with its debt problems with swaps and brought in Brad Hintz, an analyst with Sanford Bernstein, to elaborate.
Hintz said that while Goldman didn't do anything illegal, banks are now being held to higher standards. He said the questions being asked now is whether Goldman's conduct was "troubling" and whether it acted "responsibly."
Hintz, a former Lehman CEO, said the answers to these questions will affect its dealings with its clients and regulators. He said Goldman's core M&A business won't be affected as much as its discretionary business.
Najarian said Goldman's troubles reminded him of those of
UBS
(UBS) - Get Free Report
, which had to deal with U.S.-related tax evasion issues and how long it took that bank to resolve it before its stock rebounded. For that reason, he said he was staying away from Goldman for a quarter. Cortes, on the other hand, said Goldman looks like an "incredible buy" if it can get above $160.
Lee noted gold was reversing course on a report from a Russian news agency that China may step in and buy the remaining gold held by the IMF. Adami said he found it difficult to believe that China would do that.
Lee brought in David Henry, CEO of
Kimco Realty
(KIM) - Get Free Report
to talk about the commercial real estate industry.
He agreed with Lee that high- and low-end retailers are doing well, with those in the middle struggling.
As for his own company, he said it stands in an excellent position with plenty of capital to lease new space. He said the company's Canadian stores are doing well and noted growth opportunities in Mexico, which he said is "under-retailed" to the extent companies like
Home Depot
(HD) - Get Free Report
and
Wal-Mart
(WMT) - Get Free Report
are moving in quickly to take advantage of the opportunity.
In the "whale watching" segment, Lee brought in Whitney Tilson, founder and managing partner of T2 Partners, to get his latest take on his company's stake in
Berkshire Hathaway-B
undefined
.
Tilson said he was adding to his position because both Berkshire-A and Berkire-B shares are trading at a 20% discount to where he believes they should be at $150,000 and $100, respectively.
Contrary to analysts' expectations, he expects Berkshire to report a blowout fourth quarter with $4 billion in net income.
He said the analysts are not accounting for $2 billion from its operating business, $1 billion from a reversal of a non-cash charge involving index put options and $1 billion from what Buffett used to finance the
Burlington Northern Santa Fe
undefined
purchase.
Tilson told Kaminsky that Berkshire remains the same company it's been with the same strategy, only that it's bigger now and can't do a lot of things "to move the needle."
-- Written by David Tong in San Francisco
To watch replays of Cramer's video segments, visit the Mad Money page onCNBC
.
"Check out
"'Fast Money'Portfolios of the Week" on Stockpickr every Thursday.
Follow TheStreet.com on
Twitter
and become a fan on