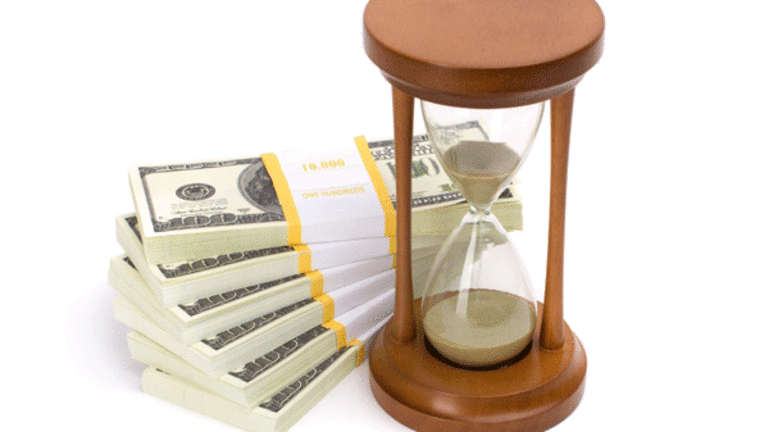 'Fast Money' Recap: Behind the Selloff
The trading panel discussed what might have been behind the sharp pullback in today's trading session.
The trading panel discussed what might have been behind the sharp pullback in today's trading session.
NEW YORK (
) -- The market suffered a sharp late day selloff Wednesday despite the
Fed
's moves to bolster the economy.
The
Dow Jones Industrial Average
dropped 81.32, or 0.83%, to 9748.55, while the
S&P 500
was down 10.79, or 1.01% to 1060.87. The
Nasdaq
fell 14.88, or 0.69%, to 2131.42.
The Fed's policy-making arm had moved to keep the fed funds rate near zero and extend its $1.25 trillion program to purchase mortgage-backed securities into the first quarter of 2010.
For a breakout of some stocks from a recent "Fast Money" TV show,check out Dan Fitzpatrick's "3 Stocks I Saw on TV."
3 Stocks I Saw onTV
varconfig = new Array(); config<BRACKET>"videoId"</BRACKET> = 41655475001;config<BRACKET>"playerTag"</BRACKET> = "TSCM Embedded Video Player";config<BRACKET>"autoStart"</BRACKET> = false;config<BRACKET>"preloadBackColor"</BRACKET> = "#FFFFFF";config<BRACKET>"useOverlayMenu"</BRACKET> = "false";config<BRACKET>"width"</BRACKET> = 265;config<BRACKET>"height"</BRACKET> = 255;config<BRACKET>"playerId"</BRACKET> = 1243645856;createExperience(config, 8);
Karen Finerman said on
CNBC
's "Fast Money" TV show that the selloff didn't feel like a panicky move, adding it left the markets where they were on Monday.
Pete Najarian said a downward move by the financials in the last 45 minutes pushed the markets lower.
Joe Terranova said the market was confusing and frustrating for investors, especially after the Fed's bullish move to keep interest rates low.
Tim Seymour said the market's reaction to the Fed's move is that "things are better." He said it's understandable for the S&P to pull back since it is 20% above its 200-day moving average.
With crude oil dropping 3.9% to below $69, Joe Terranova said that money managers are in a quandary on what is the better trade: oil or natural gas. He thinks natural gas is stabilizing and might be the better trade going forward.
He said it is important to remember that oil doesn't have to move higher for the equities market to move higher. Melissa Lee, the moderator of the show, observed that the markets want to see oil move higher, but oil moves up to a certain point before hitting "headwinds."
Terranova said investors in the natural gas trade will be better off staying away from
United States Natural Gas
(UNG) - Get Report
and sticking with "real companies" with exposure to natural gas like
Apache
(APA) - Get Report
and
Chesapeake Energy
(CHK) - Get Report
.
Lee shifted the discussion to tech stocks, several of which hit 52-week intraday highs. Seymour said technology companies like Google might have to achieve growth through acquisitions.
Terranova maintained his views that tech companies are in a strong position to grow because of the upcoming product cycle and strong corporate balance sheets. Lee noted the tech sector is the first to close above pre-Lehman levels, while other panelists said tech companies will continue to well because they have the cash to make deals, international exposure, margin growth, low inventories and consolidation plans.
Lee shifted to the options space and the heavy activity today in
Electronic Arts
( ERTS). Najarian said the company has underperformed and struggled to show growth and profits. Still, he said 250,000 options contracts traded today versus 16,000 on a normal day. He said the bullish sentiment might be coming from rumors that
Microsoft
(MSFT) - Get Report
might be interested in acquiring it.
Dennis Gartman appeared on the show and said the Fed's statements today were no different from those in the past. He told Terranova that it's been a rough few days for copper futures and that could pose problems for
Freeport-McMoRan
(FCX) - Get Report
.
He said he believes someone is trying to keep gold below $1,030 a ounce.
With the G-20 meeting starting Thursday, Lee brought in David Riedel, founder and president of Riedel Research. Reidel believes the U.S. will focus on a weaker dollar to drive exports. As a result, he said to watch for gold plays and fuel and food price inflation.
He agreed with Seymour's optimism about Brazil's economy and said the best way to play that is through the credit card processors. He said the way to do that is through
Companhia Brasileira de Distribuicao
(CBD) - Get Report
and
Itau Unibanco Holding SA
(ITUB) - Get Report
.
He said the Chinese are upset with the failure of the U.S. to undertake any regulatory reforms and warned the Europeans may move first and come out with "harsher" reforms.
Lee shifted the discussion to
Ford
(FORD) - Get Report
and its announced plans to sell a low-cost vehicle in India.
Terranova called it a smart move and advised investors to pick up the stock "north of $7." Seymour said he was impressed with how Ford has increased its cash position by $3 billion in the past quarter, knocked down debt and lowered its cost basis through debt restructuring.
Lee brought in Jim Suva, Citigroup analyst, to comment on
Research In Motion
( RIMM) on the eve of its earnings report. Suva said the stock can easily move to $100 in the next 12 months. He said the company has enjoyed an impressive 35% growth in unit sales year over year during a recession, a number that is bound to get better once the economy improves.
He agreed with Finerman on making derivative trades with
Flextronics
(FLEX) - Get Report
and
Jabil Circuit
(JBL) - Get Report
.
Peter Darbee, CEO of
PG&E
(PCG) - Get Report
to talk about his company's decision to withdraw its membership from the U.S. Chamber of Commerce over differences on the issue of climate change and what needs to be done.
Darbee said scientists agree something needs to be done quickly to avoid a global catastrophe. He agreed with the panel that natural gas is a good transition from coal to natural gas. Ultimately, he said, the country needs to move to energy efficiency, renewables, nuclear energy and clean coal.
In a segment on
Morgan Stanley
(MS) - Get Report
, a survivor of the financial crisis, Lee said the bank hasn't done as well as others like
Goldman Sachs
(GS) - Get Report
because of its conservative trading moves.
Still, Seymour said one shouldn 't underestimate its ability to normalize earnings and compete with Goldman in the capial markets business.
In the final trades, Seymour said
Petrobras
(VALE) - Get Report
is headed for a shallow pullback to the low $40s. Terranova was long
Gilead Science
(GILD) - Get Report
; Finerman liked
Becton Dickinson
(BDX) - Get Report
; and Najarian liked
eBay
(EBAY) - Get Report
.
-- Written by David Tong in San Francisco
To watch replays of Cramer's video segments, visit the Mad Money page onCNBC
.
"Check out
"'Fast Money'Portfolios of the Week" on Stockpickr every Thursday.
Follow TheStreet.com on
Twitter
and become a fan on