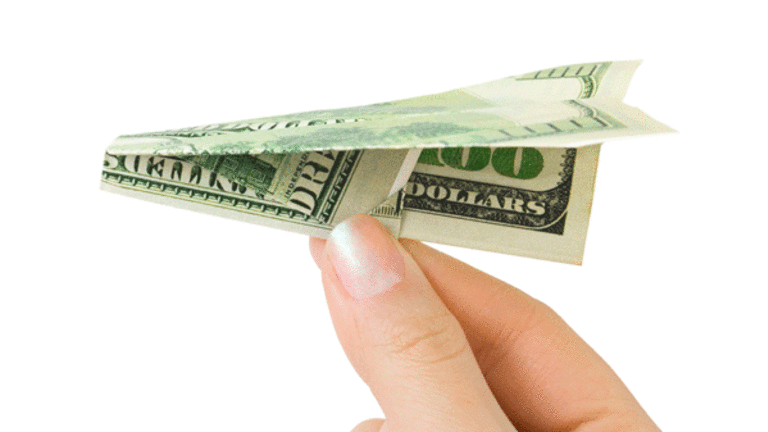 'Fast Money' Recap: Bailout Weighs on the Market
The market enjoyed a modest rally despite the uncertainly around the bailout efforts in Congress.
The market enjoyed a modest rally despite the uncertainly around the bailout efforts in Congress.
The bulls eked out a modest rally at the end of Wednesday's trading session as the uncertain fate of the auto bailout bill weighed heavily on the markets.
The
Dow Jones Industrial Average
was up 70.09, or 0.8%, to 8761.42, while the
S&P 500
rose 10.57, or 1.2%, to 899.24. The
Nasdaq
was up 18.14, or 1.2%, to 1565.48.
Jeff Macke said on
CNBC's
"Fast Money" TV show that the market performed well and showed some stability with the S&P at the 900 level.
Karen Finerman said it was difficult for her to figure the market action, with oil rising despite an increase in inventories and China going up despite bad numbers coming out of the country.
Tim Seymour said the commodities are rising because the economies around the world are "reflating."
Dylan Ratigan, the host of the show, asked the trading panel for their comments on the credit problems of companies such as
American Express
(AXP) - Get Report
, which was down 8% after Citigroup rated it a sell, and
Wells Fargo
(WB) - Get Report
which moved lower after a downgrade from Merrill Lynch.
Finerman said she is short
Capital One
(COF) - Get Report
. "They have a big portfolio of auto loans, and they have some international credit card exposure," she said.
Adami was optimistic about a rebound for
Mastercard
(MA) - Get Report
, saying people will use plastic when they start spending again.
Ratigan asked CNBC's political reporter John Harwood for an update on the auto bailout talks. Harwood said the bill is in trouble. He believes there are enough votes in the House to get it through, but the problem is in the Senate, where Republican senators are resisting because they feel they weren't included in talks between the Democrats and White House.
Harwood said the Democrats might need 60 votes in the Senate to overcome a filibuster. Still, he believes it will pass, though it will be tough.
He said the biggest sticking point will be environmental restrictions. The Senate bailout bill calls for the auto companies, as part of their restructuring, to wave federal auto emission requirements. The House bill leaves open the idea it may have to stick with state emission requirements.
Harwood said bankruptcy still on the table as an option if the restructuring efforts failed.
Ratigan cited the results of a CNBC Wealth Survey that shows Americans more optimistic about the economy and attributing much of it to the election of Barack Obama as president.
Adami said he was optimistic about Obama as president, especially since he's moving more to the center on issues.
Ratigan returned to one of the themes in today's modest market rally: a surge in commodities, with energy and industrials up 4% and 6% respectively over the past three days while the S&P was flat.
Joe Terranova said investors are willing to pay a premium for energy names like
Exxon
(XOM) - Get Report
that have a high level of cash and low level of debt.
But he said investors should move cautiously in January because there has been a significant sell-off in that month in the past three years that he attributed to hedging activity.
On the spike in commodities, Seymour likes the prospects of iron ore, where there is an oligopoly that has cut production, offering a chance of price stability.
Seymour said investors should not treat commodities all alike. Aluminum, he said, is in trouble, while copper and oil are not.
Ratigan shifted the discussion to stocks with high-yielding dividends. He asked the panel for their opinions on what makes some stocks in this category worthwhile and others to stay away from.
Finerman said she likes stocks like
Atria
(MO) - Get Report
and
Diageo PLC
(DEO) - Get Report
because they have good business models with predictable cash flows. She said both companies were able to handle bond offerings.
On the other hand, Ratigan said a stock like
Harley Davidson
(HOG) - Get Report
, with a dividend yield of 7.9%, is risky because of its exposure to consumer credit.
Adami said he didn't like
Pfizer
(PFE) - Get Report
, which has a dividend yield of 7.8%, because it is still years away from having anything in the pipeline. He said he would prefer investing in
PG&E
(PCG) - Get Report
with its "nice" dividend.
Ratigan asked Joseph Duran, CEO of United Capital Financial Partners, to comment on what people should do with their money in this economic slump.
Duran said many investors had seen their porfolios slashed by as much as by 30% to 40%. He said they may have to cut their spending and postpone their retirement by a few years to make up for their losses.
The final segment was an outlook for real estate next year. Adami said home buying activity should pick up with interest rates coming down to 41/2%. One stock that he likes is
Home Depot
(HD) - Get Report
, which has been moving up.
But Seymour took the opposite view. Despite a decline in mortgage interest rates, it's still difficult to get credit to buy homes and obtain mortgages, he said.
Check out "'Fast Money' Portfolios of the Week"on Thursdays. Last week's edition:http://www.stockpickr.com/problog/1209/
This article was written by a staff member of TheStreet.com.