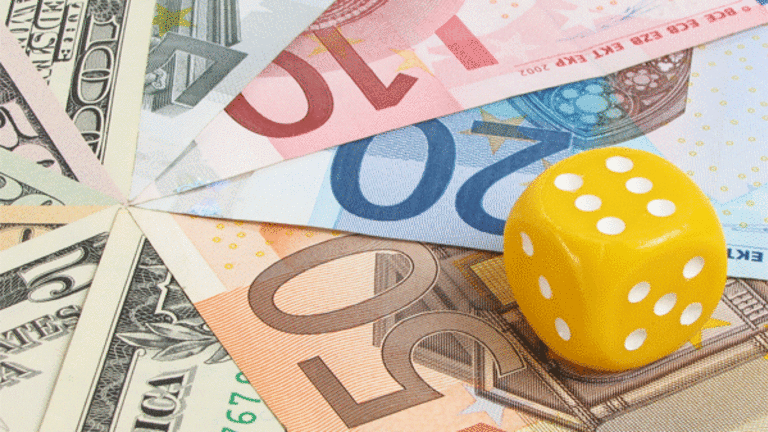 'Fast Money' Recap: Apple Loses Its Luster
The trading panel discusses the fallout over Steve Jobs' health problems.
Shares of
Apple
(AAPL) - Get Report
fell sharply Wednesday on deepening concern's of CEO Steve Jobs' health.
The news came on a day when the
Dow Jones Industrial Average
plunged 248.42, or 2.9%, to 8,200.14, while the
S&P 500
fell 29.17, or 34%, to 872.62. The
Nasdaq
dropped 56.82, or 3.7%, to 1,489.64.
Most of the show dealt with the latest events at Apple and a report that
Bank of America
(BAC) - Get Report
is seeking more money from the federal government to cover losses from its acquisition of Merrill Lynch and boost capital. Both stocks were off at one point 10% in after-hours trading.
Dylan Ratigan, the moderator,
CNBC
's "Fast Money" TV show, was upset over how Apple handled the release of information on the deteriorating health of Jobs, who had said in a letter recently that his weight loss was due to a hormone imbalance. He said the company has an obligation to its shareholders to be more forthcoming in telling the truth.
Jeff Macke called the action of Apple's board "a case study of how not to handle the succession plan for your CEO."
Guy Adami said, "As an investor, you're mad, but as a trader, you're thrilled. You're going to see a 100-million share trade day, at least."
Tim Seymour called Jobs' health problems an "eventuality." "I don't think you can challenge the medical opinions because it's a very slippery slope."
Pete Najarian said that Apple, with $28 billion in cash and strong products, is "getting awfully cheap."
Jim Goldman said Apple insiders had told him last week that they were very concerned about Jobs' appearance and health. He said Apple sat on the news that began to leak out from people who should know. Instead, he said Apple made the mistake of dribbling out the information in bits and pieces, without telling the "whole truth."
"Leaking it out like this doesn't do anyone any good," Goldman said.
Goldman also cited a source in the tech industry who said that Jobs is in "serious denial of his health circumstances."
Gene Munster, an analyst with Piper Jaffray, said Tim Cook, Apple's chief operating officer, will take over the reins while Jobs is away. He said Cook is Jobs' right-hand man and is very capable in running the opportunities.
Munster agreed with the panel that it's a good time to buy Apple because the company, despite Jobs' health, is fundamentally strong and is expected to hit its numbers for the next earnings report. "People still want to buy Apple's products," he said.
Ratigan asked Munster what he thought Apple shareholders should do in this situation. He said they should ride out of the storm and wait for the new products to come.
Ratigan went on to ask the panel for comments on a story from the
Wall Street Journal
that the Bank of America was in talks with the federal government for billions of dollars to digest the Merrill Lynch acquisition.
At what point, he asked pointedly, will the government allow the banks to fail in an orderly fashion instead of "pouring money into holes created by idiots." Instead of wasting taxpayers' money, it would more logical to use the public funds to encourage the formation of new banks, he argued.
David Konrad, managing director of Keefe, Bruyette & Woods, said it would be smarter to "ring fence the bad assets and attract new capital into the industry."
Barry Ritholtz, equity research director for Fusion IQ, said the latest BofA bailout effort raises questions about the government's approach to the financial sector, especially the assumption that institutions like
Citigroup
(C) - Get Report
are too big to fail.
Ritholtz said these financial institutions indeed may be too big to succeed because they are too unwieldy to manage and their risk-management is impossible. Instead, he said the government would be better off taking a more selective approach on whom it should rescue and whom it should not.
"They should spin off the viable assets to good hands and take what's bad and get rid of it," he said.
He said public anger is mounting over the lack of transparency and action of the federal government, as it has gone about doing things "on the fly" with "no strategy." He said the government needs to set up some objectives and metrics to evaluate performance of those on the receiving end of the bailout.
With the weak retail sales numbers in December, the panelists said they were shorting some stocks. Macke said he was trying to short
Sears
(SHLD)
, while Seymour said he was shorting
Sony
(SNI)
.
Meanwhile, Najarian said
Whole Foods
( WFMI), "still trades at a premium to a lot of the competition."
In the final trades, Macke said he was buying Apple. Adami likes
Testoro
(TSO)
. Seymour said to sell
SPDR Gold Trust
(GLD) - Get Report
down to $72. Najarian said he liked
ABB Limited
(ABB) - Get Report
as an infrastructure play.
"Check out
"'Fast Money'Portfolios of the Week" on Stockpickr every Thursday.