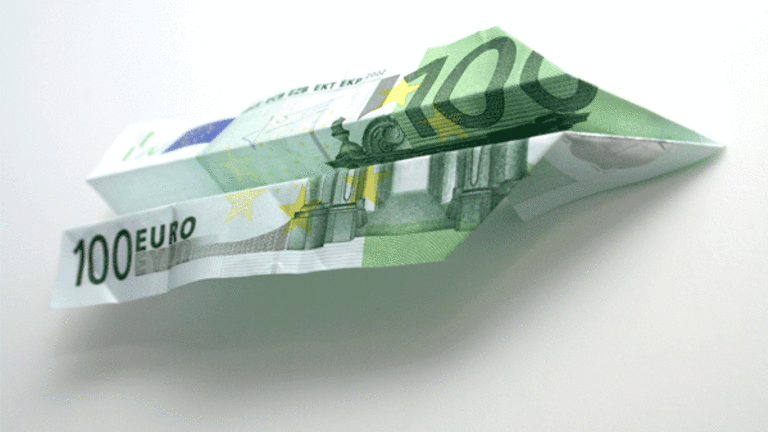 'Fast Money' Recap: An Unconvincing Rally
The trading panel expressed their doubts about the strength of today's rally.
The markets shook off a three-day slide Thursday, ending on the upside.
The
Dow Jones
Industrial Average was up 46.43, or 0.56%, to 8,331.32, while the
S&P 500
rose 9.15, or 1.04%, to 893.07. The
Nasdaq
jumped 25.02, or 1.5%, to 1,689.21.
Melissa Lee, the moderator of
CNBC
's "Fast Money" TV show, said a comeback by bank stocks helped end the three-day losing streak.
Still, Guy Adami was cautious about today's market action, which he said was "encouraging." He said he is not convinced that the market is going to snap back higher. He said Friday's market is going to be a "great tell for everything," including equities, commodities and especially oil. Overall, he said he still thinks the path of least resistance is downward.
Jeff Macke said the market still looks pretty weak, with a poor showing by
Target
(TGT) - Get Target Corporation Report
and
Sears Holdings
(SHLD)
which closed flat after being strong earlier in the day. He also said another market leader,
IBM
(IBM) - Get International Business Machines Corporation Report
, couldn't hold on to its gains.
Pete Najarian also was encouraged by today's market action, saying he would like to see the S&P rise above 900. He said the VIX has stalled this month, hovering between 31.5 and 34, a range that means the S&P could move 2% in either direction on any given day.
Karen Finerman called today's session "uneventful," saying the pullback has been mild so far after the big run in the past two months.
Lee said bank stocks saw some life today. Macke said he's still long
Wells Fargo
(WFC) - Get Wells Fargo & Company Report
and has his eye on
Goldman Sachs
(GS) - Get Goldman Sachs Group, Inc. Report
.
Najarian remained impressed that investors are putting money into bank stocks that are trading above the secondary prices.
Lee shifted the discussion to tech stocks, which made a comeback led by
Apple
(AAPL) - Get Apple Inc. Report
and
Intel
(INTC) - Get Intel Corporation Report
.
Adami said he would take profits on IBM, which closed just above $101 today, but would buy it on a pullback if it slips to $98 to $100.
Macke criticized
Sony
for a forecast of a second straight year of losses. He said its CEO Howard Stringer has bungled the job, noting the lack of synergy and communication within the company, a non-functioning entertainment division and a staggering $1.76 billion loss in its Blu-Ray DVD unit.
Najarian wondered whether there might be a pullback in
Best Buy
(BBY) - Get Best Buy Co., Inc. Report
as a result of Sony's misfortunes.
Lee shifted the panel's attention to the ag names, which she said made "monster moves to the upside."
Macke said the fertilizer names are finally making a comeback after spending a "year in the penalty box." He told investors they can now play
Agrium
(AGU)
and
Potash
(POT)
. Of the two, Adami thought Potash was the better play.
Lee brought on Dennis Gartman for his thoughts about the market's direction. Gartman said Wednesday's move was the start of a big correction and today's uptick was just a correction of the correction. He expects the market will head lower for a while, saying a correction is needed after the big 35% rally.
In terms of plays, he said he's out of banks, owns copper and believes ag is going to lead the market higher. He said the run on natural gas is just beginning and he's long on energy and crude.
Dan Fitzpatrick, president of stockmarketmentor.com, said the market is in good shape in the short run if the
Dow Jones Transportation Average
(DJT)
holds at 3,000. In the long run, he expects the S&P to move in a trading range between 930 on the upside and 666 on the downside. He said he's been looking for a catalyst but doesn't see any.
Mike Huckman, the
CNBC
's bio-pharmaceutical reporter, came on the show to talk about the release of 4,000 studies on cancer treatment tonight by dozens of pharamecutical and biotech companies ahead of the American Society of Clinical Oncology's meeting later this month.
Huckman said some of the companies to look out for are
OSI Pharmaceuticals
(OSIP)
,
Cougar Biotech
(CGRB)
,
Exelisis
(EXEL) - Get Exelixis, Inc. Report
,
Allos Therapeutics
(ALLOS)
and
Genomic Health
(GHDX) - Get Genomic Health, Inc. Report
.
Lee asked Finerman to comment on a
Bloomberg
report that the
Securities and Exchange Commission
is considering a proposal to allow shareholders owning 1% of a company to nominate directors.
Finerman said the move would be very good for activist shareholders who otherwise would have to spend a lot to mount their own proxy fights. He said they can now be on the company's proxy. "It's a good first step," she said.
In the final trades, Adami was for going long
XTO Energy
(XTO)
and Finerman liked
Nokia
.
"Check out
"'Fast Money'Portfolios of the Week" on Stockpickr every Thursday.