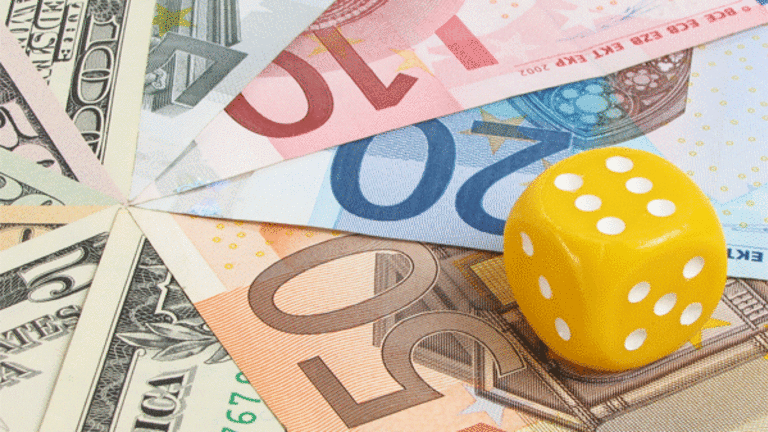 'Fast Money' Recap: An Encouraging Rally
The trading panel saw some positives in today's market rally.
The trading panel saw some positives in today's market rally.
Wall Street endured another topsy-turvy day on Tuesday with a rally that took some of the sting from Monday's brutal market collapse.
The
Dow Jones Industrial Average
jumped 270, or 3.3%, to 8419.1, while the
Nasdaq
gained 51.7, or 3.7%, to 1449.8. The
S&P 500
was up 32.60, or 3.9%, to 848.8.
Guy Adami said on
CNBC
's "Fast Money" TV show that he expects the market to head higher and extend its gains.
Pete Najarian called the "most incredible part" of today's rally was the "big move" in the shares of
Apple
(AAPL) - Get Report
,
HP
(HPQ) - Get Report
and
IBM
(IBM) - Get Report
at the end of the trading session.
Daylan Ratigan shifted the discussion to the plight of the automakers who are scheduled to testify again in Washington on Thursday and Friday. The trading panel was extremely skeptical of the gains of the General Motors and Ford today.
Jeff Macke said it's foolish for anyone to believe that the stocks are worth anything. Karen Finerman said she would "in no way buy the equity" of the companies.
Adami, though, said he would short GM, noting that "might be the right trade here."
Ratigan asked Finerman to comment on
Sears Holdings'
(SHLD)
plans to buy back $500 million worth of stock. Finerman said the buyback made no sense at all and that the company would be much better off buying back its debt. "I just think they are trying to manipulate the stock to go higher."
Najarian, though, saw some merit in the move. He said "there's a huge short interest" in the "badly beaten" stock and "they are trying to squeeze this thing back up."
Ratigan then asked Brad Hintz, a securities analyst with Sanford Bernstein, to comment on
Goldman Sachs
(GS) - Get Report
future as a bank holding company. Ratigan said Goldman figures to have a difficult time, with "diminished leverage" as a bank holding company.
Hintz said Goldman's problem is that more than 60% of its revenue comes from its capital intensive business such as trading and merchant banking. "Take that leverage away and the performance drops," he said.
He said there's nothing wrong with Goldman's investment banking and asset management businesses, but they don't make up what it was getting from its trading business.
The analyst said Goldman needs to restructure its business mix while dealing with the "instrusive regulatory" eye of the
Fed
and the New York superintendent of banks.
Hintz said Goldman is going to see its "momentum slow" because "suddenly it can't take the risks it used to take."
Pressed by Ratigan for a price point for Goldman stock, Hintz said one would "have to look through to the recovery and say this is a great stock." "The problem is we have an institutional brokerage stock in a debt-credit market that just isn't going to generate great returns" except for what it gains from "government trading."
Jon Najarian told the trading panel there is a great trading opportunity in commodities, which have been "sold off so severely that their asset value is grossly understated." Adami agreed, saying it's just a matter of time before commodities become a good play, when deflation moves to inflation sometime next year.
Najarian noted three commodities plays that have caught his eye:
Silver Wheaton
(SLW)
,
Nexen
(NXY)
and
BP
(BP) - Get Report
.
Najarian told investors to give these stocks three to four months to make their move up.
Ratigan asked the trading panels for their comments on a note from Bill Gross on stock valuation in this bear market. Finerman said one would have go back to 1980s or the past 10 years to find the mean. Adami said he thought the market would dictate the mean.
Pete Najarian said
Johnson & Johnson
(JNJ) - Get Report
is a great value here if one looks at the consumer products it's offering in this troubled economy.
Macke, on the other hand, said the financials were a "black hole": "There's no way of valuing it."
Ratigan asked Finerman if
DryShips
(DRYS) - Get Report
was a cheap stock worth getting into. The stock, which trades just above $4, is 90% off its peak.
In no uncertain terms, Finerman nixed the idea. She said the stock is where it is at today because day rates have dropped "somewhere north of $200,000 to $1,000." In addition, there is an overabundance of ships and a huge amount of debt that is piling up.
She thought
Diana Shipping
(DSX) - Get Report
was a better play, with its balance sheet. She is short
Genco Shipping and Trading
(GNK) - Get Report
.
Najarian said one alternative he favors to investing in individual financial stocks is to invest in something like
Ultra Financials ProShares
(UYG) - Get Report
.
This article was written by a staff member of TheStreet.com.