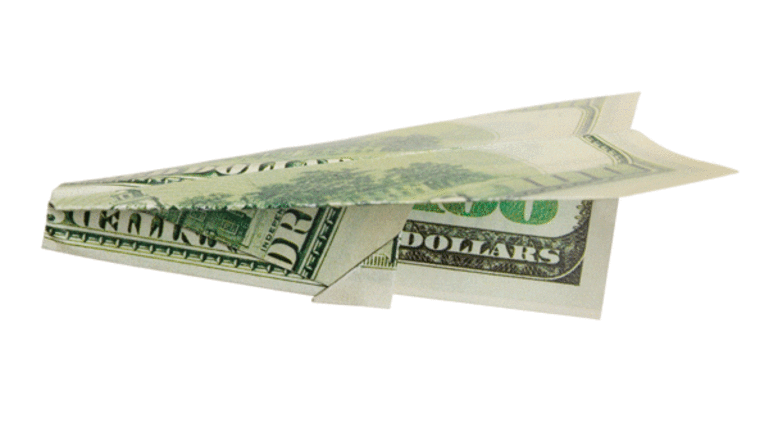 'Fast Money' Recap: AIG Misbehaving
The traders note that an AIG collapse would have a much greater impact on the market than Lehman Brothers'.
Dylan Ratigan hosted CNBC's "Fast Money" Tuesday night. He began the show with a discussion of late-breaking news out of Bloomberg that a conservatorship is under consideration for American International Group (AIG) - Get Free Report. Ratigan explained that the model of a conservatorship would mean very limited equity value and government responsibility for the orderly management of liabilities and exposures at AIG.
"I would be surprised if this happens, but if it does, the equity will be wiped out," said Karen Finerman. Jeff Macke blamed the credit agencies for the mess in financials. "It's lousy if you work their or own the stock, but it's a better solution for the people out there watching the "Fast Money" show, added Guy Adami.
Pete Najarian said he took a shot in AIG, but he says the stock could very easily go to zero, considering the breaking news. Macke said buying AIG today was a wild "putting all your money on red or black" bet, so you get what you deserve. Adami pointed out that former AIG CEO Hank Greenberg had the opportunity for many years to figure out what the firm was trading.
Ratigan asked the traders if there are any other major banks that have such a big exposure to AIG that could cause them to fail. Najarian said the AIG shareholders shouldn't be shocked if they were following the preferred yields. Macke highlighted
Ameritrade
(AMTD) - Get Free Report
, which has avoided any major problems, and is at a 52-week high.
Ratigan brought up
Morgan Stanley
(MS) - Get Free Report
, which reported earnings after hours that beat Wall Street estimates. Finerman said it's possible that the market is blowing the AIG situation out of proportion when you consider the numbers out of Morgan. Macke said look at
Goldman Sachs
(GS) - Get Free Report
, which rallied from $116 to $130. "The volatility on the equity side is a reflection of you have no idea what is going on under the sheets," he added.
Ratigan explained that the cost of borrowing money exploded higher today. "If it holds up, it will result in a meaningful "jacking up" of mortgage payments ,which will only make the housing problem worse," he said. Adami feels it's just a short-term phenomenon. Finerman agreed with Adami that it's just a short-term issue. Macke said it's a crisis of confidence.
Najarian told viewers that he owns some put spreads on
Wachovia
(WB) - Get Free Report
because the yields and options are telling him that the risk in this stock is high.
CNBC's
on-air contributors, Charlie Gasparino and Steve Liesman, joined the traders to discuss AIG. Gasparino said the government is weighing some sort of bailout for AIG like a conservatorship. Liesman said the idea of conservatorship doesn't make a whole lot of sense. He said the government had the authority with
Fannie Mae
undefined
and
Freddie Mac
undefined
, but has no legal grounds to put AIG under conservatorship. "The big problem here is, the amount of assets in AIG's holding company is less than the amount of money that AIG needs," Liesman added. Gasparino mentioned he has heard the same thing.
Liesman also said if the government does come in and bail AIG out, it will be sold politically as a bailout of the "policy holders" and not of the shareholders. Gasparino pointed out that a Democrat David Patterson came out and begged the
Fed
to bail out AIG. Macke advised viewers to stay away from trading the financials and instead look at boring stocks like
Wal-Mart
(WMT) - Get Free Report
,
Procter & Gamble
(PG) - Get Free Report
,
Johnson & Johnson
(JNJ) - Get Free Report
and
McDonald's
(MCD) - Get Free Report
.
Najarian told viewers to consider
Hewlett-Packard
(HPQ) - Get Free Report
. Adami mentioned that
U.S. Bancrop
(USB) - Get Free Report
hit a 52-week high today. Finerman said during crisis periods, she likes to fall back on
Philip Morris
(PM) - Get Free Report
.
Michael Lewitt, president of Harch Capital Management joined the traders to discuss AIG. Lewitt said AIG does business with just about every financial institution in the world.
"If AIG is unable to meet its obligations, every other institution it does business with will have some kind of problem," he said. He believes AIG is on a scale that is much larger than
Lehman Brothers
undefined
and much more worrisome. "We are going to have some serious, permanent, systemic damage that is going to take a very long time to unwind," he added.
Ratigan mentioned breaking news that
SanDisk
(SNDK)
received a $26-per-share cash takeover offer from Asian company
Samsung
. Finerman said the price is kind of a shock. Macke pointed out that SanDisk was down 52% going into this deal. He thinks the company will fight the offer.
Joe Terranova and Tim Seymour joined the traders to discuss the impacts of forced selling pressure in emerging markets and commodities from hedge funds. Terranova advised viewers to look at equity names in the energy space because the futures are too volatile. Seymour said emerging markets are experiencing blowouts from redemptions in the hedge fund world.
Terranova said he likes
National-Oilwell Varco
(NOV) - Get Free Report
,
ConocoPhillips
(COP) - Get Free Report
and
EOG Resources
(EOG) - Get Free Report
here.
Seymour told viewers to consider the private equity firms like
Fortress
undefined
and
Blackstone
(BX) - Get Free Report
. He believes private equity players will spend money to buy distressed assets in emerging markets. Finerman disclosed she bought
Devon Energy
(DVN) - Get Free Report
today. Adami said there are real stories in
Baker Hughes
(BHI)
and
Schlumberger
(SLB) - Get Free Report
and it feels like the hedge funds have blown-out of these names.
This article was written by a staff member of TheStreet.com.