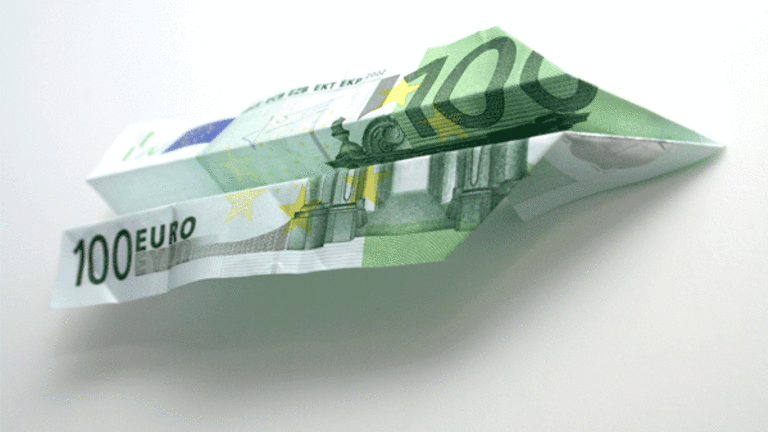 'Fast Money' Recap: A Surprising Jobs Report?
Joe Terranova said that prospect might lead to a trade in the financials.
Joe Terranova said that prospect might lead to a trade in the financials.
NEW YORK (
) -- The markets shrugged off the upcoming unemployment report as the
Dow Jones Industrial Average
snapped a four-day losing streak on Thursday.
The Dow rose 63.94, or 0.69%, to 9344.61, and the
S&P 500
added 8.49, or 0.85% to 1003.24. The
Nasdaq
was up 16.13, or 0.82%, to 1983.20.
The markets were encouraged by better-than-expected retail sales, a drop in initial jobless claims and an improving outlook in the services sector. Overhanging Wall Street was Friday's unemployment report.
For a breakout of some stocks from a recent "Fast Money" TV show,check out Dan Fitzpatrick's "3 Stocks I Saw on TV."
3 Stocks I Saw onTV
varconfig = new Array(); config<BRACKET>"videoId"</BRACKET> = 36837826001;config<BRACKET>"playerTag"</BRACKET> = "TSCM Embedded Video Player";config<BRACKET>"autoStart"</BRACKET> = false; config<BRACKET>"preloadBackColor"</BRACKET> = "#FFFFFF";config<BRACKET>"useOverlayMenu"</BRACKET> = "false"; config<BRACKET>"width"</BRACKET> = 265;config<BRACKET>"height"</BRACKET> = 255; config<BRACKET>"playerId"</BRACKET> = 1243645856;createExperience(config, 8);
Tim Seymour said on
CNBC
's "Fast Money" TV show that today's market was all about light volume and fears about being short ahead of tomorrow's big unemployment report. "They shouldn't be," he said.
Pete Najarian said a late surge by the financials carried some other sectors with it and helped pushed the markets higher by the end of the day.
Joe Terranova said investors weren't fearful of Friday's jobless report. Indeed, he said some traders believe the report might be a surprise with a better-than-expected number that should boost a trade in the financials.
Guy Adami said two tech heavyweights -
IBM
(IBM) - Get Report
and
Intel
(INTC) - Get Report
were trading lower today and that "should tell you something."
On the other hand, Najarian said
Goldman Sachs
(GS) - Get Report
, another market barometer referred to by the panel, was up today.
Melissa Lee, the moderator of the show, shifted the discussion to the retail sector, where August same-store sales came in better than expected. Adami was especially impressed with
Gap
(GPS) - Get Report
, which was up 8% today, and the performance of its Old Navy unit, which saw comparable same-store sales move into plus territory.
Terranova said the retail outlook is improving as inventories decline and retailers move to replenish them.
Shifting to gold, which inched toward $1,000, Seymour said a number of factors may be moving it up, including a belief that inflation may be coming back into the economy.
But
CNBC
reporter Rick Santani said the sharp rise in the gold in the past 72 hours is nothing but a "short squeeze" and a regulatory crackdown on commodity EFTs.
Seymour also said the demand for aluminum is growing. He alluded to comments from
Alcoa
's
(AA) - Get Report
CEO, who said that China's demand for aluminum could push demand from flat to possibly "up 4%."
Terranova said copper was up today on a nice intraday reversal that benefitted
Freeport McMoRan
(FCX) - Get Report
. He also told investors to exercise some caution on
Potash
(POT)
because the fundamentals "are not there."
Najarian said investors should take a look in the coal trade at
Siemens
(SI) - Get Report
, which finished at $84.55. He also said options activity has been heavy on the call side on a Finerman favorite,
PRIDE
( PDE), which he said continues to go higher.
Shifting to the smartphone trade, Adami said the best way to be invested in that trade might be in
Qualcomm
(QCOM) - Get Report
for the long term.
Seymour said investors interested in Macau casino trade should look at
Melco PBL Entertainment
(MPEL)
.
Shifting to tomorrow's jobless report, Michelle Meyer, a U.S. economist for Barclays Capital, believes the report will show a decline of 200,000 in nonfarm payroll. She said that number would represent a considerable slowing in pace of job cuts. She said it also would show the labor market is improving and that the economy is emerging from the recession.
Adami said investors can take those presumably positive numbers and pick up staffing firms such as
Manpower
(MAN) - Get Report
and
Monster Worldwide
(MWW)
.
Shifting to the swine-flu trade, Najarian said the safest way to play it is with
Johnson & Johnson
(JNJ) - Get Report
and its Purrell hand sanitizer.
Lee brought in Steve Davis, CEO of
Bob Evans Farms
(BOBE)
, a restaurant and food product chain whose stock is up 21% year to date. He attributed the company's success to "innovating at lower price points without discounting." For example, he said the company might select a certain price point for a meal like $5.99 and tack on a favorable margin.
Davis said the company will try to maintain earnings growth through product innovation and higher productivity.
CNBC
reporter Charles Gasparino, author of a new book called
The Sellout
, said one thing that hasn't changed since the collapse of Lehman has been the rating agencies.
He said these agencies operate on a conflicted business model because they get paid by the very entities they are supposed to rate. He said this arrangement, if it continues to go unchanged, is a "setup for disaster."
He said the agencies aren't really needed at all and that all they do is lend a false sense of security.
Lee spoke briefly about David Einhorn, the noted hedge-fund manager who shorted Lehman before its collapse. Einhorn claimed Lehman was undercapitalized and held risky mortgage assets.
She referred to chart of stocks and funds from gurufocus.com that Einhorn is currently shorting.
They include
SPDR S&P 500 ETF
(SPY) - Get Report
,
Pfizer
(PFE) - Get Report
, URS,
Teradata
(TDC) - Get Report
,
Wyeth
( WYE),
Cardinal Health
(CAH) - Get Report
,
Market Vectors Gold Miners ETF
(GDX) - Get Report
,
Allegheny Energy
( AYE),
EMC
(EMC)
, and
Einstein Noah
.
In the final trades, Seymour said he liked
Vimpel-Com
(VIP)
. Adami was long
URS
(URS)
. Terranova liked
Amazon
(AMZN) - Get Report
. And Najarian said he liked
Foster Wheeler
.
-- Written by David Tong in San Francisco
"Check out
"'Fast Money'Portfolios of the Week" on Stockpickr every Thursday.
Follow TheStreet.com on
Twitter
and become a fan on