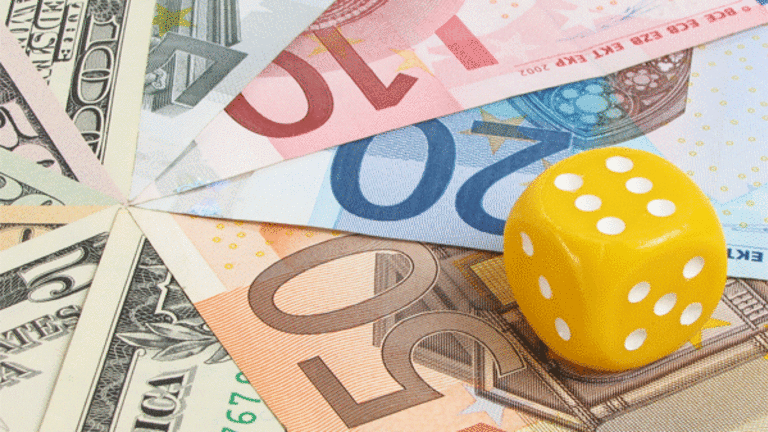 'Fast Money' Recap: A Panic Rally
The trading panel says many stocks went up for no fundamental reason.
Dylan Ratigan hosted CNBC "Fast Money" show Thursday night. He began the show with a discussion of the 10% intraday range in the Dow and the big move in crude oil. Pete Najarian said the trading range in the volatility index we saw today is normally seen in weeks. He says, "If you're in this market, you better have real time quotes."
Karen Finerman said there is just as much fear on the upside as there is on the downside, and it's just as irrational. Guy Adami told viewers we saw an old-fashioned capitulation market reversal today. He says "the rally will continue into tomorrow." Jeff Macke explained that this was a panic rally and there was no fundamental reason for the run. He says "
Best Buy
(BBY) - Get Best Buy Co. Inc. Report
rallied 8%, and their Christmas is going to be unimaginably horrible."
The "Chart of the Day" was the
S&P 500
. Ratigan pointed out that the S&P 500 broke the old intraday low back from Oct. 10 and then rallied like a rocket and never looked back. Najarian mentioned that
General Electric
(GE) - Get General Electric Company Report
saw its market cap swing up $21 billion in just an hour and a half.
Macke said he wasn't crazy about the quarter from
Wal-Mart
(WMT) - Get Walmart Inc. Report
, but it's as good as it's going to get for the retailers. He says "I am long Wal-Mart, but
Nordstrom
(JWN) - Get Nordstrom Inc. Report
was no good today and
Target
(TGT) - Get Target Corporation Report
is going to miss." Finerman said she wouldn't buy Wal-Mart, but she certainly wouldn't short it.
Ratigan moved the conversation to the energy sector. Finerman mentioned that energy names such as the
Oil Service HOLDRs
(OIH) - Get VanEck Oil Services ETF Report
exploded higher today. Adam said we had capitulation selling in the energy complex. Macke pointed out that crude oil is down $90 a barrel in the last three months. He says "this was the other side of the mountain of a popped bubble."
Najarian said to look at
Freeport McMoRan
(FCX) - Get Freeport-McMoRan Inc. Report
and
ArcelorMittal
(MT) - Get Arcelor Mittal NY Registry Shares NEW Report
. He says "Mittal traded under a price-to-earnings of 2 today before moving up 10%."
Ratigan said the headline of the day was the
Intel
(INTC) - Get Intel Corporation Report
warning. Adami said technically this is a key reversal day in Intel on monster volume. He says "you don't want to fade this, folks." Macke explained it was a "bullish tell" that Intel warned and was still able to rally.
Ratigan turned the discussion to
Las Vegas Sands
(LVS) - Get Las Vegas Sands Corp. Report
. Najarian told viewers that the options volume on Las Vegas Sands was incredible. He says "someone came out and bought 24,000 December $7.50 calls for the upside short-squeeze potential." Macke told viewers he is long
MGM Mirage
(MGM) - Get MGM Resorts International Report
.
Carter Worth, chief market technician at Oppenheimer, joined the traders to discuss where the market goes from here. He explained that as we started to break below the lows from last month, it almost felt like it was the end of the world. He said as the panic has returned to the market, it's better to buy than to sell. Worth says "this is an incredible inflection point, and the odds favor moving higher, not lower."
Macke told viewers that this rally should have a few days to go, but he is still a net seller into strength. Worth said he would be long
Aloca
(AA) - Get Alcoa Corporation Report
, which has fallen from $45 per share to $9 per share. He also likes
Dollar Tree
(DLTR) - Get Dollar Tree Inc. Report
for a major breakout play.
Crazy Talk
The crew spoke with Dan Ariely, author of
Predictably Irrational
about the current market psychology. Ariely said that Hank Paulson's announcement yesterday caused people to realize how little we understand the market. He says "not too long ago, Paulson told us to buy to toxic packages from the banks, and yesterday he said this wasn't the right approach." He explained this quick shift in thinking creates depression and a loss of hope in the market. Ariely told viewers that Paulson needs to be less certain with his statements, because when he changes his mind, it shows he has no clue.
G20 Rescue
The "Fast Money" traders talked with Zachary Karabell, president of River Twice Research, about whether the G20 meeting tomorrow can save the market. He said it's in the self-interest of the holders of capital in places such as China, the Middle East and Norway to make sure the system doesn't implode. Karabell says "even if we don't like China, they are now a creditor."
He told viewers that factors such as power generation, iron ore consumption and steel consumption are less falsifiable for a communist country like China. Najarian says "if electricity consumption is really down in China than they are dropping off a cliff." Karabell said look at what China is buying "outside" like raw materials, oil and inputs and look at what they are selling to places like Wal-Mart.
Trader Radar
Shares of
Urban Outfitters
(URBN) - Get Urban Outfitters Inc. Report
were among the most active names on the
Nasdaq
Thursday.
Final Trade
Adami recommended Intel. Finerman picked
UnitedHealth Group
(UNH) - Get UnitedHealth Group Incorporated (DE) Report
. Najarian said he likes
Micron Technology
(MU) - Get Micron Technology Inc. Report
.
This article was written by a staff member of TheStreet.com.