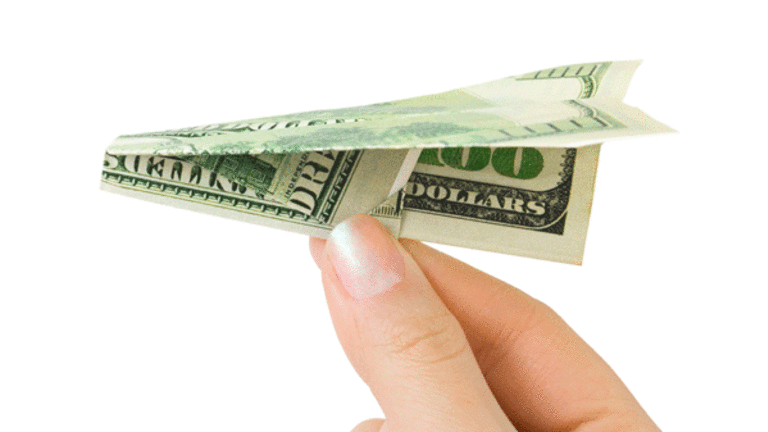 'Fast Money' Recap: A Gift From Commodities
Oil's continued downtrend helps the stock market, particularly retailers.
"Fast Money's" Dylan Ratigan, in a special 1 p.m. EDT show because of NBC's Olympic coverage, noted how crude oil and gold were pulling back Monday, helping various sectors rally strongly -- most notably financials and retailers.
Goldman Sachs
(GS) - Get Goldman Sachs Group, Inc. Report
was up 3% to $181.74.
Amazon.com
(AMZN) - Get Amazon.com, Inc. Report
soared 12% to $90.34, thanks to expectations for its Kindle book-reader.
Crude oil futires were down about 2% to $113.37, and gold was down about 4% to $832.40.
Joe Terranova believes that commodities are in a bearish stance and with their downtrend, are helping the stock market, particularly retailers.
Jeff Macke mentioned he is long the dollar and believes it will continue to rally.
Jon Najarian is also long the dollar. He said the way he is playing the dollar rally is by shorting gold.
Terranova said he is bearish on crude oil short term, but in the long term he still believes it will trend higher. He said he is long oil, with a December 2012 contract.
The chart of the day is
Home Depot
(HD) - Get Home Depot, Inc. Report
, which broke its 200-day moving average. The stock is up about 9% to $28.65. Ratigan asked the "Fast Money" crew if the move could continue.
"I like the chart break," Macke said, but added that all the consumer names are rallying today. He believes people simply missed the rally and shouldn't be so quick to rush in. He went on to say that the
Costco
(COST) - Get Costco Wholesale Corporation Report
move makes sense.
Najarian is very positive on Goldman Sachs. He thinks it's a buy even after a big move.
Quint Tatro said if you are nervous or hesitant on buying a particular financial to buy the financial ETF
Select Financial Sector SPDRs
(XLF) - Get Financial Select Sector SPDR Report
. He also said he would buy Goldman Sachs.
Macke said he believes the financial rally is not sustainable and the stocks could pull back in the near future.
Ratigan mentioned the strength in the chip sector, as well as in
Apple
(AAPL) - Get Apple Inc. Report
.
Najarian stated the strength in Apple's stock had to do with Steve Jobs mentioning today that the company's online applications store for the iPhone reached $30 million in sales during its first month. Najarian is bullish on Apple, stating that the software application business could be a billion dollar business.
Macke said he is not too sure about
Microsoft's
(MSFT) - Get Microsoft Corporation Report
acdtion today, moving up less than 1% to $28.30, but feels bullish on the tech sector.
Najarian stated "consumer sentiment has changed" and feels confident that the dollar will not will change its current uptrend. He said "billions of dollars" are being poured into the dollar, which he feels is temporary but naturally will continue to prop up the greenback. As a result, with the dollar moving higher, this presumes the stock market will move higher because crude oil will move down.
Tatro disagreed with the importance of the dollar movement, stating that it did not move higher until crude oil started to move downward. Therefore, he said, "it's all about oil and not the dollar." He suggests investors watch crude oil and believes the real test for the stock will be when or if oil bounces higher.
Najarian noticed money flowing into alternative energy names such as
Energy Conversion Devices
(ENER)
but believes investors should take some profits, as he is.
Najarian discussed the strong put-option activity the weekend before Bear Stearns went under and had to be bought out by
JPMorgan Chase
(JPM) - Get JPMorgan Chase & Co. Report
, suggesting that insiders knew the company was in serious trouble.
Ratigan discussed the armed conflict between Georgia and Russia, saying that it may not be priced in and it could eventually send crude oil prices back up.
Tim Seymour, founder of Seygem Asset Management, said America will not get involved in the Russian conflict. Regarding the downtrend in the Russian markets, Seymour stated that he believes Russia is cheap but be wary of its volatility.
Get your daily dose of Jim Cramer and all the stocks in his head. Sign up for the free Daily Booyah! newsletter by clicking here.
This article was written by a staff member of TheStreet.com.